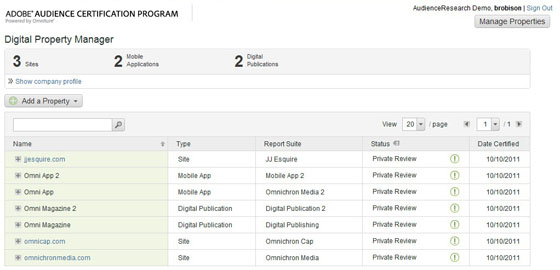 Adobe has released a new tool called AudienceResearch that gives publishers and authors of magazines the ability to measure customer data more then ever before!
If you use Adobe Digital Publishing suite to make your magazines and content, you can now elect to have AudienceResearch built right into the magazine. This gives you the ability to measure metrics and important information on who is reading your publication. Many companies, such as Condé Nast and NBC Universal, have tested this program to make sure it is up to snuff.
In order to take advantage of this new program, you must be a registered as an Adobe Certified Partner. The data gleaned will help marketers and publishers make important decisions for advertisers and the reach of their particular publication. Publishers currently using Adobe SiteCatalyst can become an Adobe Certified Publisher, which assures advertisers that the certified digital audience size and engagement metrics provided by the Adobe Certified Publisher have met certain requirements for data collection integrity and reporting accuracy.
Adobe's senior vice president and general manager of its digital marketing business unit, Brad Rencher, says: "AudienceResearch has the potential to provide the industry with a reliable, cross-channel currency for measuring digital audience size and engagement, bringing greater confidence into the digital advertising planning, buying, and selling process."