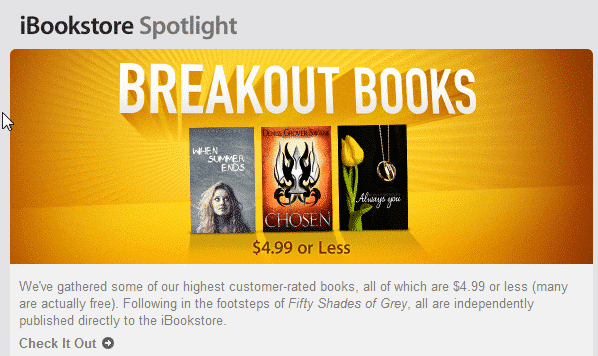 Apple iBooks is running a promotion in Australia and New Zealand which will give customers a chance to check out some indie favorites. Thousands of authors are getting the chance to shine and Smashwords is contributing a large amount of content.
Apple uses promotional pictures that gives customers a visual cue of what type of books fall into the Breakout Books promotion. Two of the ones currently displayed actually are Smashwords published authors and rank in the top 10 of bestselling ebooks in Australia.
Users can browse specific genres within the Breakout Books area and tailor the random searches to their particular niche. The categories include Top Picks, Latest Releases, Free, Romance, Young Adult, Crime & Thrillers, Sci-Fi & Fantasy, and All-Time Bestsellers as the main areas. The ebooks are also fairly affordable, with the most expensive copies costing only $4.99.
Breakout Books is slated to only last the next two weeks, but we may see it become a regular feature as customer demand increases. Apple also sent emails to iBooks customers within Australia and New Zealand that said, "We've gathered some of our highest customer-rated books, all of which are $4.99 or less (many are actually free). Following in the footsteps of Fifty Shades of Grey, all are independently published directly to the iBookstore."