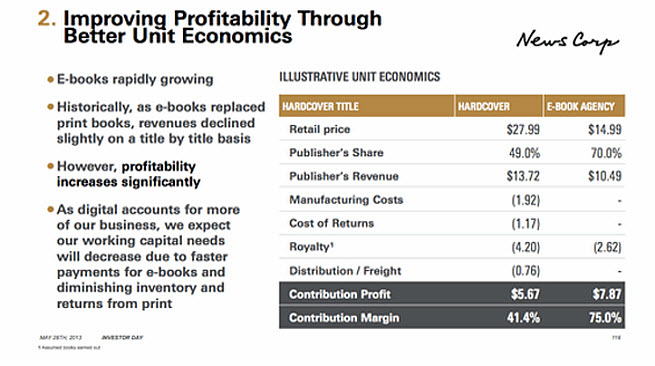 Authors who belong to major imprints and labels are apparently getting the shaft when it comes to ebook royalties. The commission cut has been fixed at around 25% for a few years now and is rarely the subject for intense debate. This all changed when HarperCollins hosted an investors day and told the assembled audience about the greater financial returns with ebooks.
If you look at the standard hardcover book, it normally retails for around $27.99 and gives a $5.67 profit to the publisher and $4.20 royalty to author. If you look at the average cost of an ebook, it tends to float around $14.99 and gives a profit of $7.87 to publisher and $2.62 royalty to author. Even though digital publishing has a lower overhead to produce and distribute, the author actually earns less money.
Authors are petitioning HarperCollins and other publishers and they hope to attain the same royalty structure that print books have. Essentially, the publisher earns $2.20 more per copy and the author makes $1.58 less. This may not seem like a lot, but it is no small wonder why the major publishers now see 21% of their revenue stem from digital sales. The publishers' argument is that the 39% profit for digital offsets the growing print costs and the investment of expanded capital investments in technology. You also have to consider that most authors' books don't cover the advances they are given and this ebook profit helps offset that as well.
It is well established that paperback books are on the decline and the average buyer has switched to the lower priced ebook format. Agents are advising their cadre of clients to switch to ebooks for wider distribution and a growing audience. This puts authors in a precarious position of their hardcover edition reaping the majority of the royalties, but when it switches to paperback, they are seeing diminished sales. If authors are now being encouraged to switch to the ebook format that pays less per book sold, it is no surprise why self-publishing is more appealing.
You might have heard of the buzzword "hybrid author" that was coined in 2012. This is the type of person that has cut their teeth in the traditional publishing world, created a buzz for themselves, and then switched to self-publishing. In some cases, you have had self-published authors cross the digital divide and land some lucrative deals. Amanda Hocking and Sylvia Day come to mind, as examples on indie darlings making blowing up the self publishing world. Finally, this term can be applied to authors who continue to self-publish and also deal with an existing publisher, or sell them a series of standalone books. Bella Andre is a great example of someone writing a ton of books and selling a new series to a major publisher while continuing her normal ebook exclusives.
The hybrid author moniker is starting to gain popularity as authors are turning to self-publishing to earn higher commissions and offer their books to a global audience. You often hear of the success stories of authors switching from a major publisher to self-publishing, but there are more failures than successes. There are also predatory companies, such as Author Solutions, that make millions a year on non-savvy writers trying to break into the industry.
In the end, it is likely the royalty and commission structures that HarperCollins and the majority of the other top companies employ will not change. The shift to digital ebooks as a money maker is still relatively new, and there is a large investment being made on content distribution platforms, ebook discovery engines, and all the other algorithms that go into crafting the digital book experience. Authors don't have a lot of bargaining power in the traditional publishing market and self-publishing is beginning to look very appealing.

Michael Kozlowski has been writing about audiobooks and e-readers for the past twelve years. His articles have been picked up by major and local news sources and websites such as the CBC, CNET, Engadget, Huffington Post and the New York Times. He Lives in Vancouver, British Columbia, Canada.