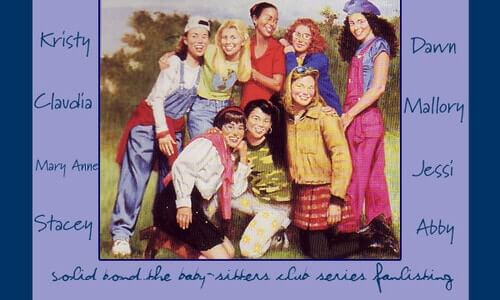 Scholastic has announced that the first twenty books for the Baby-Sitters Club will be available on December 1st. Over 76 million books are currently in print and the company is hoping to replicate the success in eBook form.
The Baby-Sitters Club was originally released in the late 1980's and many young women were enamored with Kristy, Mary Anne, Claudia, and Stacey. Over 250 books were released over the years and spawned not only a movie but also a television series. Now that these books will be accessible in digital form, it will appeal to a new generation of readers.
Scholastic will release exclusive content through the official The Baby-sitters Club Facebook page,  a hub for the original fans of the series where they can connect and reminisce about their favorite "BSC" moments. The Baby-sitters Club Facebook page will feature regular updates including special announcements, trivia, photos, videos, and various series-related content from the web. The Facebook page will also debut a new The Baby-sitters Club Facebook app where fans can preview the new ebooks, take quizzes, weigh-in on polls, and scroll through nostalgic "BSC" images and memorabilia.
"When I created the characters in The Baby-sitters Club in the mid-1980s, I never would have imagined that twenty-five years later there would be BSC fan sites, and blogs about the fictional lives of the characters," said author Ann M. Martin. "I'm humbled and thrilled when I hear from readers, including original fans, that The Baby-sitters Club fueled a love of reading, or when I hear from fans that the series inspired them to become writers, editors, and teachers. Those are the best compliments I could hope for."