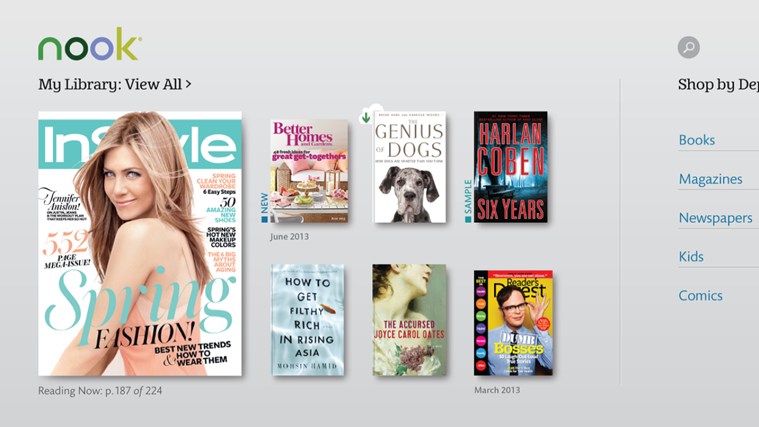 Barnes and Noble has been operating a Windows 8 e-reading app since 2012 that allows users to buy e-books and magazines. It is available in 40 different countries and instead of paying the bookseller directly it's done via your Microsoft Account. Did you like using this app on your PC, smartphone or tablet? Sadly, its being discontinued and all purchases will be lost.
The largest bookseller in the US has announced that they are closing the Nook app for Windows 8 on August 7th 2015. The only two markets that will have access to it is the US and UK and everyone else will no longer be allowed to open any Nook related content.
An Email was sent out to all international users who have purchased an e-book or magazine. It stated "We recently announced that Barnes & Noble and Microsoft have agreed to terminate their commercial partnership. As a result, payments through your Microsoft account no longer supported. In addition, the NOOK App for Windows will from August 7, 2015 are no longer available outside the United States. This means that your NOOK content can no longer open on a Windows platform.
Our records indicate that you are outside the United States and that you are using your Microsoft account as a payment method in your NOOK App for Windows account. Therefore, you may be eligible for a refund from Microsoft for any purchases you have made with your Microsoft account."
I think its a cool move to be able to get a refund on any digital content you have purchased if you live outside the US and UK. Normally when something like this happens users just lose everything and the store just disappears.
It is very disappointing that the Nook for Windows 8 app will no longer be available. What is even more damning is that anyone who has a Microsoft Account will not be able to view their content on any Nook e-reader, tablet or Nook for Web, since Microsoft and Nook user accounts or two separate entities.