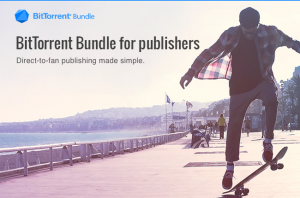 An exciting new launch, BitTorrentBundle, has paved the way for filmmakers, artists, and musicians to put their creations in front of fans without having to go through the gatekeeper process. The Alpha launch has been widely successful, with a number of major content developers coming on board to publish their material through the direct-to-consumer aspect. But can this work for books as well, and if so, isn't that pretty much what's already happening?
From their announcement today: "The Internet has powered a creative revolution: a world where any of us – a world where all of us – can post and share our work. The old rules about art don't apply. It's not about gallery walls or walled gardens. Instead, creative objects are, and are valuable, because they're social objects. We make differently. So, how do we make it work?"
Rather than feeling like authors are being left out of BitTorrent's model, it's a safer assumption that authors have enjoyed this level of freedom and control–quite successfully–for years; now it's time for other avenues of art to experience the say ability to generate content and make it available without having to seek the approval of an established go-between.
While critical sentiments on Amazon's structure for publishing and self-publishing run that gamut from "the death of quality books" to "they've revolutionized publishing," one thing is indisputable: Amazon opened doors for authors to put their works in front of readers without having to please the "industry." Shortly after, sites like Smashwords followed suit, giving authors a self-launching pad for their material. BitTorrent has essentially taken the same freedom that authors have enjoyed and found an effective way to apply it to artists of other media.
"The BitTorrent Bundle for Publishers Alpha project will allow more artists and content creators to tap into the direct exposure and precious data capture capabilities that only a select few of us in the industry have had the privilege to experience so far," said Kavi Halemane, Executive Vice President Digital, The Collective, to BitTorrent. "A future where any creative individual can easily use these kinds of technologies to go beyond the confines of traditional distribution methods and reach the whole world is a future I'm very excited about."
Mercy Pilkington is a Senior Editor for Good e-Reader. She is also the CEO and founder of a hybrid publishing and consulting company.