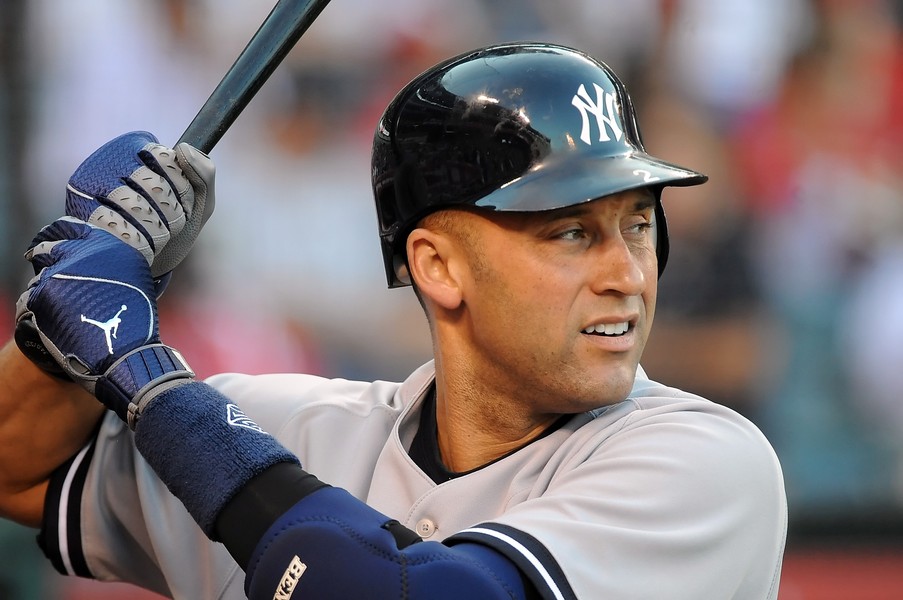 Getting into book publishing business isn't generally the most preferred post-retirement plan that most sportsmen would opt for though Derek Jeter, that is exactly what he had set his sights on. The New York Yankees shortstop and captain has already got on to the act, having sealed a deal with Simon & Schuster that would act as a partner to his own firm, Jeter Publishing. Jeter spent the most of this year nourishing injuries that had limited him to feature in just 17 games. However, that also provided him enough time to introspect what he'd like to achieve once he hangs up his boots.
"I've had a lot of time to myself to think," he said. "The whole last year has been sort of a blur. Being away from it for so long gave me the opportunity to think about what the future may hold after baseball."
As for his getting into the publishing business, Jeter explained that saying he has always harbored interest in business and content which made enough sense to set up Jeter Publishing.
"I've always had an interest in business, and my interest in business has really expanded over the years," Jeter said. "And I have an interest in content. So this gives me the opportunity to really combine the two. And it gives me the opportunity to curate and share interesting stories and share content with the public."
Among the first titles that Jeter Publishing wishes to release will be 'Derek Jeter guide to baseball', which is hardly surprising. Jeter also added the book will be updated every year. Among the other titles forthcoming from Jeter Publishing include children's titles, picture books as well as adult fiction, middle grade fiction, biographies among others.
"I understand how important content is this day and age," Jeter told reporters for the Daily News. "You get an opportunity to share people's stories–it doesn't necessarily have to be baseball–that I find interesting, I'm happy I get an opportunity to do it. I'm looking forward to it. This is my publishing imprint. It has my name on it. I'm going to try and make everyone proud."
Jeter though said his number one priority right now is to bow out of the game on a high. The 40 year old has recently been signed for one year in a deal worth $12million.
Meanwhile, Jeter Publishing will have a working relationship with Wicked Cow Entertainment, a firm 'that manages strategy for sports and entertainment brands and will be looking for "brand extensions" for books.'
Sovan Mandal is the senior tablet and tech corespondent for goodereader.com. He brings a international approach to news that is not just applicable to the North American market, but also Asia, India, Europe and others. Sovy brings his own writing flavor to the website and is interested in Science Fiction, Technology and Writing. Any questions, send an email