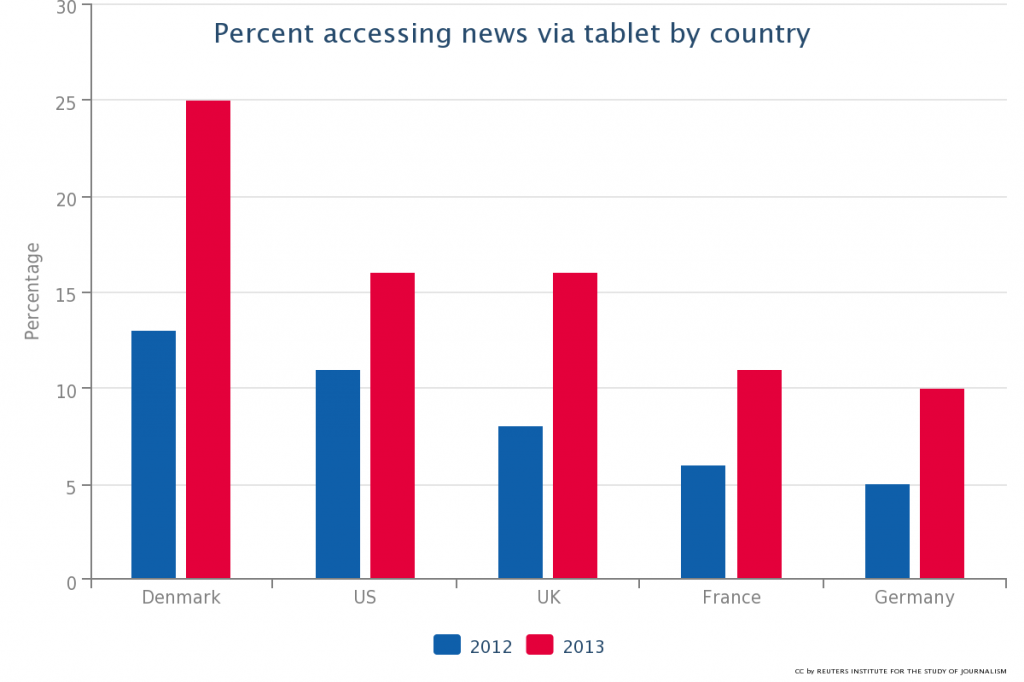 When it comes to reading traditional newspapers or websites that specialize in news, customers are increasingly using more than one device and the overall adoption rate has doubled in the last year. Digital news is becoming more mobile, more social, and more real-time. This year's Reuters Survey takes a look at some of the devices people are employing to read news and the countries in which the adoption is most prevalent.
In the last ten months, using tablets to read online news has almost doubled. Weekly online news use has risen from 8% to 16% in the United Kingdom and 13% to 25% in Denmark. All across the board, readers are choosing tablets for the social media and interactive elements that digital brands are starting to provide.
Digital Newspaper subscribers are on the rise. Newspaper subscriptions and purchases remain high in most countries. It is currently strongest in Japan (68%), Italy (59%), and Germany (56%) and lowest in France (39%) and the US (42%).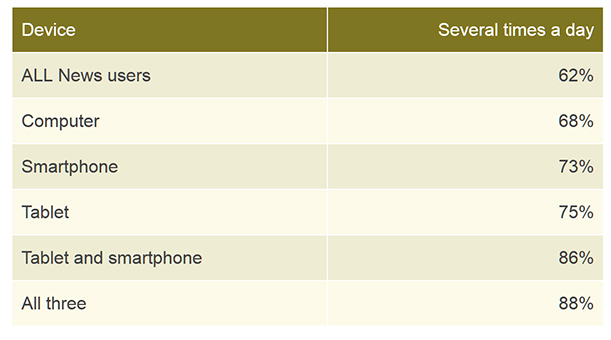 Not only are readers being engaged more on tablets to catch up with their favorite newspaper or website, but most are checking it constantly on their smartphone. In many countries smartphone users are now in the majority and most of them use these devices to access news every week. Denmark leads the way with 43% weekly news usage from a smartphone. Germany lags with 22%.
One of the most telling trends in readers habits, is the fact they read on more than one device. Gone are the days, where people use a singular medium to consume their news and the vast majority are using two or three devices on a daily or weekly basis. One-third of readers now gets news on at least two devices and 9% use more than three. Some devices are used more heavily for news than others. 85% of computer users say they access news on that device each week, compared with 63% of smartphone users, 60% of tablet users, 54% of smart TV users, and only 17% for the e-reader. The e-Reader numbers are especially telling, because companies tend not to focus on the pure text experience and its not what readers want.
So exactly what devices are customers employing to read digital newspapers the most? In Denmark, Japan, US and UK, there is a relatively equal split between Apple iPhones and other devices, such as Android and Blackberry. Apple has only a quarter of the market in Germany (26%) and Spain (25%).
Nic Newman of Reuters mentioned "Clearly news brands still matter but a strong name and long heritage is no longer enough. Our data show that there still is a yearning – in an ocean of content – for trusted news across a range of subject areas, but newer brands like Yahoo and the Huffington Post are also proving they can fill that role alongside a raft of specialist providers, blogs, and social media too. Against this background, it is not surprising to see more and more anguished debates around editorial and distribution strategies. Most news organizations are reconfiguring their workflows for the multi-platform age – trying to drive more output to more platforms with the same number (or fewer) journalists. Finding new audiences and revenues is proving more challenging. Some news organizations are looking to exploit niches, others are pushing for scale and paywalls are going up around the world. As ever, success will depend on a combination of clear strategies and a strong understanding of changing audience behaviors. In that respect, we hope this annual survey provides useful and insightful data to help inform the challenges to come."
Thanks to Titanweb and Titan web's Youtube for sponsoring this news item.
Michael Kozlowski is the Editor in Chief of Good e-Reader. He has been writing about audiobooks and e-readers for the past ten years. His articles have been picked up by major and local news sources and websites such as the CBC, CNET, Engadget, Huffington Post and the New York Times.