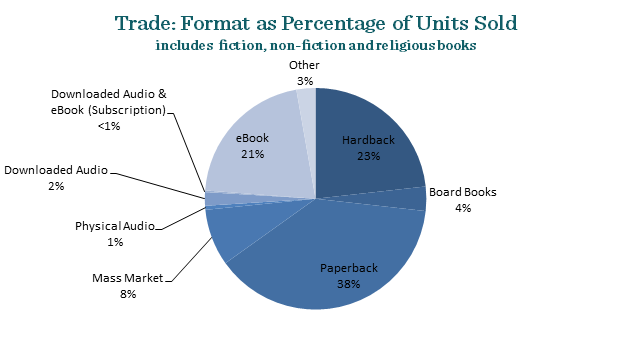 The e-reader and e-book industry often run in parallel when it comes to consumer demand and broad acceptance of reading digitally. Since 2013 the sales of electronic books have been more or less flat, rising or falling by a percentage point or two. It looks like from all of the data currently available that e-book sales have peaked and it is very unlikely the format will ever account for more than 21% of global sales.
There is no denying that the printed format is enjoying a resurgence and many booksellers are reporting accelerated sales in during the last calendar year. The CEO of the largest bookstore in the UK, Waterstone's, went so far to say that Kindle sales have fallen off a cliff and nobody is buying them anymore.
The Amazon Kindle came out in 2007 and a year later only ten million e-books were sold. This figure dramatically increased by over four thousand percent a few years later, but demand for the electronic format has waned. Now less than 4% of people now read e-books exclusively, print continues to enjoy a 4:1 ratio over the electronic form.
The Association of American Publishes annual data that actually backs up the fact that e-books have peaked and are no longer enjoying double digital growth as they once did. Over the course of 2014 2.7 billion books were sold in the US, 510 million of which were e-books. It sounds like a large figure, but sales actually fell 6% over 2013.
"We still see a steady transition in reading from to print to digital," says Amazon vice president Russ Grandinetti. He attributes the smaller growth rate to "the law of large numbers. As e-books have grown from practically nothing, you can't expect it to keep doubling every year."
The e-book industry has consolidated in the US from many different players to only two. Sony closed one of the longest lived e-book stores in the world and discontinued making e-readers. Kobo got the hell out of the US and is instead focusing on international markets and B&N continues to lose customers by the boatload, but somehow despite themselves still in business. In a few years Amazon will likely be the last one standing, as they already control 75% of the US market and 95% in the United Kingdom.
If you read lots of statistics and reports on the e-book and e-reader industry like I do, you start to notice trends. e-reader and e-book sales peaked in 2012 and have been stagnant ever since. The people who made the decision to read digitally are already doing it and the folks who enjoy the print format will continue to buy it. There will likely never be another e-reading boom period for at least a generation.

Michael Kozlowski is the Editor in Chief of Good e-Reader. He has been writing about audiobooks and e-readers for the past ten years. His articles have been picked up by major and local news sources and websites such as the CBC, CNET, Engadget, Huffington Post and the New York Times.