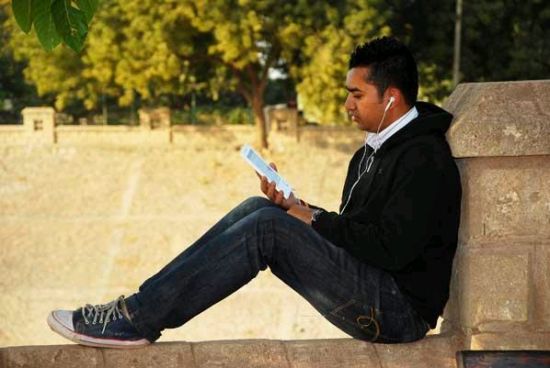 eBook reading devices may still make for a miniscule segment in India, though ebooks are already showing a healthy growth rate in the country. Not surprisingly, it is the youngsters who have shown a profound interest in the digital version of books. The reasons are already well known, seeing as ebooks make for a much more portable and compact means of reading. Surprisingly, the same can't be said of dedicated ebook readers, which continue to be an extremely niche segment in India. Instead, the gen Y has found it more convenient to get along with their reading on laptop or desktop devices or even on smartphones for the more avid types. All that they need to do is download their favorite titles on their desktop or laptop device and carry on with the reading. This way, they are saved from having to carry bulky printed books everywhere. The extremely limited scope of an e-reader is another reason for the segment to remain largely nascent in India. This since the best thing one can do with an e-reader is read books while everything else with it seems to be an afterthought.
What is even more interesting is that the greater proliferation of ebooks has not led to a decline in sales of printed books. On the contrary, booksellers state the emergence of ebooks has only acted as a catalyst towards an even greater acceptance of books in the traditional format. Booksellers confirm they have witnessed the segment growing at 10-15 percent, which they largely attribute to the ebooks.
As a student puts it, "I love reading books online, which is pocket-friendly and useful for students who can't always afford to buy expensive books. We also get interesting promotional offers from time to time from the e-pub sites. And after reading books like Autobiography of Steve Jobs, Harry Potter, and Chetan Bhagat's Revolution 2020, I was tempted to buy these books for my personal collection."
eBooks have also proved to be a boon for students like Anup pursuing fine arts. Anup says: "For me, e-books are of great help because study material on fine arts isn't readily available in bookstores in the city. On Google, we can get a lot of information but the reliability of those is questionable. So, I download ebooks of world-renowned artists and their art and art shows on my desktop and then transfer these to my phone, which has an Android reader. It's also easier to search particular portions from ebooks by typing out some keywords instead of having to read the entire books."
This is in stark contrast to the trend being witnessed in other parts of the world where ebooks and e-readers enjoy a far wider audience. However, that has come at the cost of printed books. That said, it could still be too early to predict the future of printed books in India as an even greater popularity of ebooks may ultimately lead to the demise of their printed counterparts. However, while that remains shrouded in uncertainty, what is not is that ebooks are already here and is poised for an even greater acceptance in the coming days. Tablet like device are expected to make a big splash in the coming days and ebooks are a likely beneficiary of such a development.
Sovan Mandal is the senior tablet and tech corespondent for goodereader.com. He brings a international approach to news that is not just applicable to the North American market, but also Asia, India, Europe and others. Sovy brings his own writing flavor to the website and is interested in Science Fiction, Technology and Writing. Any questions, send an email