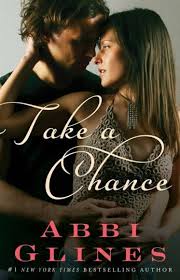 Verdict: 3 Stars
Self-published sensation turned traditionally published romance/erotic romance author Abbi Glines has created a side story in the book Take A Chance that pulls several characters from an existing series of hers and offers up some insight into their relationship.
This new adult title, though, falls into the trap that has plagued a number of other titles in this genre. While the NA category was originally created by authors to give an edgier sense of realism to young adult and to differentiate between titles that are decidedly for preteens and teens and those that are intended for a more mature audience, it's disturbing that the genre has been hijacked into erotica featuring people who may very well have not been old enough to vote in the last Presidential election. Characters in this book and many others being released recently–even by major publishing houses–feature some entirely too descriptive sex scenes (including unbelievably detailed and awkward "firsts," usually for the female main character) involving characters who are under twenty-one years of age.
Glines' latest title is no exception. While finally treating her readers to the love story between two side characters, there were tones and details reminiscent of a famous and often talked about book by EL James.
However, kudos do go to the author for breaking from tradition and not insisting on the pat formula that so many romance titles fall into. She carved out her own story line and arc, as well as her own unique ending.
Take A Chance went on sale yesterday.
Mercy Pilkington is a Senior Editor for Good e-Reader. She is also the CEO and founder of a hybrid publishing and consulting company.