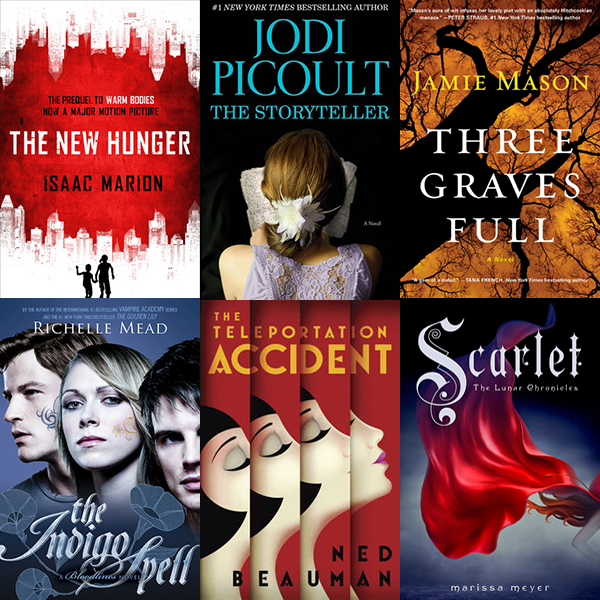 The Good e-Reader Staff has banded together to give you a new monthly feature, where we highlight the must read ebooks of any given month. Today we have a number of great reads that are sure to expand your literary horizons!
Isaac Marion once again demonstrates his remarkable gifts as a storyteller as he brings the world of WARM BODIES back to life. Grounding his characters in real emotion, Marion makes you root for them to save the world even as they simply try to stay alive.
Cinder returns in the second thrilling installment of the New York Times-bestselling Lunar Chronicles. She's trying to break out of prison—even though if she succeeds, she'll be the Commonwealth's most wanted fugitive.
The Storyteller by Jodi Picoult

Sage Singer is a baker. She works through the night, preparing the day's breads and pastries, trying to escape a reality of loneliness, bad memories, and the shadow of her mother's death. When Josef Weber, an elderly man in Sage's grief support group, begins stopping by the bakery, they strike up an unlikely friendship. Despite their differences, they see in each other the hidden scars that others can't, and they become companions.
The Teleportation Accident by Ned Beauman (must read)

The Teleportation Accident by Ned Beauman was on the longlist for the 2012 Man Booker Prize. It is a historical fiction novel that is also part L.A. Noir, part science fiction. The Teleportation Accident takes place in seventeenth century Berlin and involves the "Teleportation Device" that is used in plays for transporting actors from one scene to the next. Problems arise when the machine malfunctions and actors end up dead. Then there is a physicist who is trying to invent an actual teleportation device. This is Beauman's second novel.

Three Graves Full by Jamie Mason
For fans of the Coen brothers' films or for those who just love their thrillers with a dash of sharp humor—an engaging and offbeat story about a man driven to murder, who then buries the body in his backyard only to discover that there are two other shallow graves on his property.

The Indigo Spell by Richelle Mead
In the aftermath of a forbidden moment that rocked Sydney to her core, she finds herself struggling to draw the line between her Alchemist teachings and what her heart is urging her to do. Then she meets alluring, rebellious Marcus Finch–a former Alchemist who escaped against all odds, and is now on the run. Marcus wants to teach Sydney the secrets he claims the Alchemists are hiding from her. But as he pushes her to rebel against the people who raised her, Sydney finds that breaking free is harder than she thought. There is an old and mysterious magic rooted deeply within her. And as she searches for an evil magic user targeting powerful young witches, she realizes that her only hope is to embrace her magical blood–or else she might be next.

Michael Kozlowski is the Editor in Chief of Good e-Reader. He has been writing about audiobooks and e-readers for the past ten years. His articles have been picked up by major and local news sources and websites such as the CBC, CNET, Engadget, Huffington Post and the New York Times.