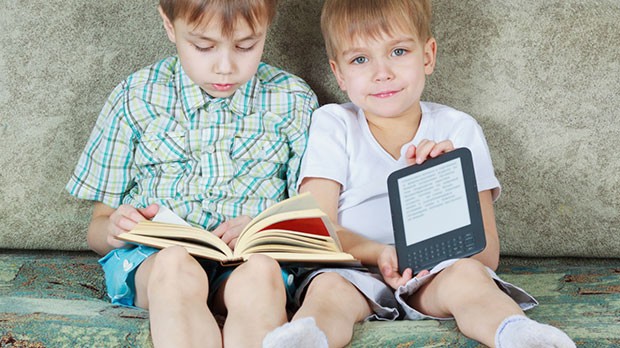 Digital Books first started getting into the gifting game back in 2010.  Amazon, Apple, Barnes and Noble, Kobo and Sony all often the ability to gift digital books in some very different ways. In some cases you have to buy a digital/tangible gift card and use the code during checkout and others allow you to send the book directly to be redeemed via an email address.  Christmas is right around the corner, and it is time to look at each major online bookstore and what you have to do to gift an eBook.
Amazon

In 2010 Amazon developed an online gifting platform in order to people to buy their friends or family Kindle eBooks. The success has been massive and is very intuitive to use for your average person.
Gifting a Kindle Book is quite easy. All you have to do is browse the website for the Kindle edition you wish to purchase.  Underneath the "Buy Now with 1 Click"  button is an option in orange that says "Give as Gift." You click on that option and you enter your billing/user details and then enter your friends email address.  There is a date system, so you can have it sent over on a specific date. You can also elect to email yourself the book and use the code in a proper card or personalized message.
Apple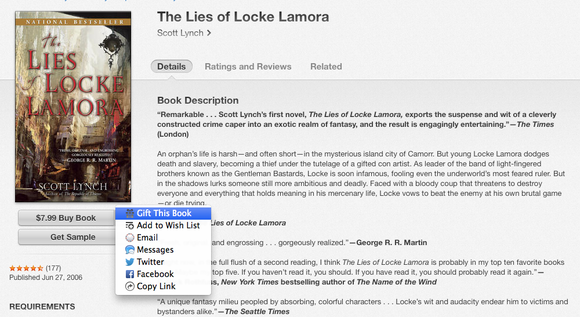 Apple just got into gifting eBooks directly with the iBookstore a week ago. The company has been late to the game in offering an easy solution to purchase eBooks for everyone on your nice list.
Just choose the book you'd like to gift, then tap either the dropdown arrow next to the price (on a Mac) or the Share button (on an iOS device). On a Mac, select "Gift This Book"; on iOS, choose "Gift"—then add the recipient's email, the sender's name, a brief message, and the date you want it sent (now, or later). One note: On iOS, it looks like you have to tap the "Today" field under "Send Gift" in order to change to a different date.
Barnes and Noble

Barnes and Noble makes gifting eBooks very easy and is similar to Amazon in the way you purchase and send the book via email. In order to gift a Nook Book you have to visit their online website on any PC, MAC or Tablet and search for the book.
You will see a big orange "Buy Now" button and to the right of that in plain text is a Buy as Gift option. You will have the option to enter your recipient's email address and an optional gift message. You can also schedule the date of delivery of the email, so that the person can enjoy the book on exact date you want.
Kobo

Canadian based Kobo does not let you gift eBooks digitally in the same way Apple, Amazon and Barnes and Noble does. Instead, you have to buy digital/tangible gift cards directly from Kobo or one of their MANY retail partners.  Most sell the cards directly on their website or in the physical store. This is likely the least intuitive way to impulse shop or to do something last minute due to the amount of hoops you have to jump through.
Once you purchase a the card, it is up to the end user to use it to purchase digital books. The first thing you need to obviously do is find the book you want to buy. Once you add it to your cart and then are redirected to the purchase screen on the top right-hand corner is a menu to use your gift card to complete the purchase. Simply enter the code and the book will be automatically added to your Kobo account or fleet of devices.
Sony Reader Store
Sony does not have a digital gifting option that allows you to pay and send the book to someones email address. They have a better system than Kobo, because you can buy a card directly from the Sony Reader Store and send it directly to your loved ones email address.
In order to buy someone a Sony Gift card you first have to visit their online gifting center. This is where you can buy and redeem the codes used to purchase books. You can buy the cards in incriminates of 25$ and send the code directly to the email address of the person you are buying it for. The end user simply has to login to their Sony Reader Store account and click on the redeem code  feature and add all of the credits to their account.
Wrap up
Google does not offer a gifting program for books from the Google Newsstand or the Google Bookstore. It is very hard to do this directly, but you can buy a generic Play gift card and allow them to pick and choose what type of content they want to buy. Apps, Games, books etc?
Livrada is a startup to watch. They allow companies and publishers to gift specific titles to be redeemed directly on their website or in their stores. A number of European bookstores have jumped on the bandwagon and they are even in 1800 Target Stores in the USA to purchase specific titles like "50 Shades of Grey"

Michael Kozlowski has been writing about audiobooks and e-readers for the past twelve years. His articles have been picked up by major and local news sources and websites such as the CBC, CNET, Engadget, Huffington Post and the New York Times. He Lives in Vancouver, British Columbia, Canada.