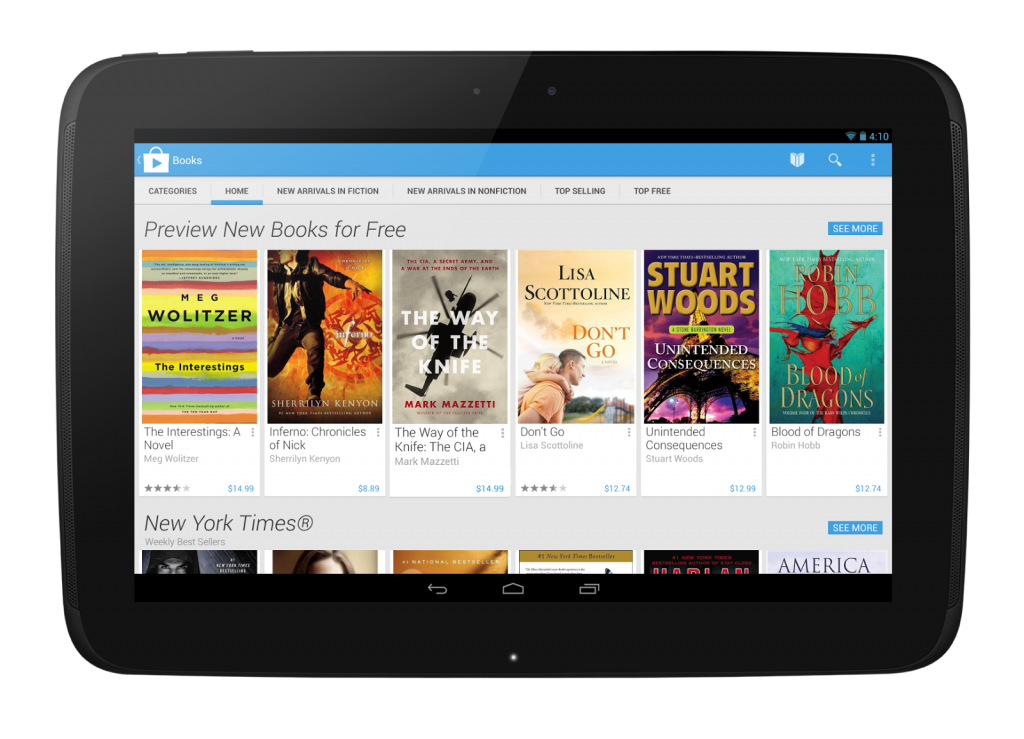 Google Play Books is quickly becoming a den of iniquity and a veritable cesspool of piracy. It is ridiculously easy for someone to start a publishing company and upload thousands of pirated books and piggyback on the success of established authors. Google won't do anything about the pirated copies and has even told authors inquiring about their illegitimate books that they have to contact the publisher. It is a vicious cycle and so far Google Play Books is firmly endorsing piracy.
If you casually browse the Google Play Books section, it is fairly easy to find all of the modern bestsellers, at a fraction of the price. This includes pirated copies of the entire 50 Shades trilogy by E.L. James, all seven Harry Potter books, or even George RR Martin's A Song of Ice and Fire series – all bundled together and sold alongside legitimate content offerings.

So how exactly are pirated books being uploaded to Google Play Books? There are a few commonality factors that are currently being employed. Fake authors such as Flamanca Hollanda are posting a ton of books and racking up thousands of dollars in sales, which Google gets a cut. Upon closer inspection these books were really written by legitimate authors such as Sylvia Day, Orson Scott Card or Tom Clancy.
Fake publishing companies are also taking advantage of the Google Play Books Partner Program. This allows anyone to call themselves a publishing company and sell books on behalf of the authors.  One dastardly company particular is called Bestsellers – Books USA Press and they sold hundreds of pirated e-books for a number of years.
Books USA Press is officially shut down, but it took a number of news outlets to  petition Google in order to bring it to their attention. What is not known, is how much the pirate publisher made in the last few years selling bestsellers for only a few dollars.  Likely the publisher is already back on Google Play Books under a new name.
Currently Amazon controls 75% of the digital book market in the US and 95% in the UK. Apple, Barnes and Noble, Kobo and Google fight over the rest of the users. It is no small wonder why pirates are turning to Play Books, after all it comes installed on most modern Android smartphones and tablets, similar to how iBooks is bundled on the iPhone and iPads.
Google made the following statement to Good e-Reader when asked about the rampant piracy issue on Play. "Google Play takes copyright seriously. We take swift action when we receive a DMCA complaint, which the copyright holder can complete here. Additionally, we're constantly improving our systems to provide a better experience."
It honestly does not seem like Google is taking piracy seriously at all. They do not have cover art algorithms that cross-reference newly published content with an original author.  Not does it employ any methods to scan for ISBN numbers and reference it against the Open Library or any other mainstream database.
Googles indifference to piracy may change as the Dutch Publishers Association has been made aware of the issue, due to Netherlands based authors complaining that their books are being pirated.  Authors closer to come are start to bring it to the attention of Penguin Random House and HarperCollins. They said they are aware of the issue are doing their due diligence to see how wide spread the issue is. A HarperCollins spokesperson said: "Piracy threatens the creativity and intellectual rights of authors; as publishers we seek to protect both our authors and their work. We are aware that there is currently an issue with pirated titles being uploaded onto Google Play. We have highlighted this to Google and are working closely with them to resolve the issue."
Will it take a lawsuit by a major publisher in order for Google to see the error of their ways? After all, lawsuits have spurned innovation that has reverberating effects on the entire industry. After all, it took a lawsuit against YouTube to implement ContentID. This results in videos uploaded to YouTube are scanned against a database of files that have been submitted to them by content owners. Copyright owners get to decide what happens when content in a video on YouTube matches a work they own. When this happens, the video gets a Content ID claim. Will we get a similar system for Google Play Books? Likely not without a major lawsuit.

Michael Kozlowski has written about audiobooks and e-readers for the past twelve years. Newspapers and websites such as the CBC, CNET, Engadget, Huffington Post and the New York Times have picked up his articles. He Lives in Vancouver, British Columbia, Canada.