Library lending of ebooks and other digital content is finally gaining a foothold in the industry as publishers and lending institutions come to some measure of agreement on how to make it work. While libraries need access to up-to-date but affordable content, and publishers need some guarantee they they will be compensated for allowing their titles into lending catalogs, the model is slowly taking off in greater numbers of libraries.
Besides the drawback that publishers are still imposing checkout limits and raising the price of an ebook by as much as 300% for libraries, the biggest obstacle may be instituting the lending program itself. While companies like OverDrive and 3M Library System are to be commended and have certainly pioneered the current lending model by striking agreements with major publishers, the subscription fee to participate in those models is still an overwhelming budget item for most smaller libraries.
hoopla digital, the recently launched digital division of library content supplier Midwest Tape, has launched a lending model for libraries that stands to change that. This model, which relies solely on pay-per-transaction, is a great alternative for libraries who balk at the cost of joining one of the major digital supplier's subscriptions.
"We wanted to give libraries a way to be relevant in the digital age," explained hoopla's Jeff Jankowski in an interview with Good e-Reader. "Why take the limitations of the physical world and apply them to start of the art digital?"
These limitations that Jankowski referred to include things like wait periods and simultaneous checkouts, along with the subscription required to offer content to library patrons. This pay per use model means there are no longer any holds or unavailable books, as libraries only pay when patrons consume content.
"You can't retain customers if you have dissatisfied customers. Publishers like [hoopla] because no holds or waits means no dissatisfied customers. This helps libraries stay relevant."
That relevance is really the key to what makes hoopla an ideal model. As libraries joyfully spread the news that they now offer ebook lending, the reality is that patrons often go to the media console for their specific libraries only to find a limited catalog filled with older backlist titles, many of which are checked out because that's all there is to read. This frustration has led many patrons to think their libraries can't even do a good job when they do offer 21st century content capabilities.
hoopla works as a single app for patrons to use in order to download ebooks, stream movies, or stream music, all of which libraries only pay for as the content is borrowed. Of course, there are parameters libraries can set up individually, such as patron checkout caps or loan periods so they don't find themselves with an unexpected bill due to a high volume of patron traffic. Libraries can also see an up-to-date dashboard of traffic and fees, and also receive alerts when they are nearing their monthly budget limit.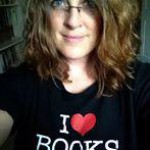 Mercy Pilkington is a Senior Editor for Good e-Reader. She is also the CEO and founder of a hybrid publishing and consulting company.