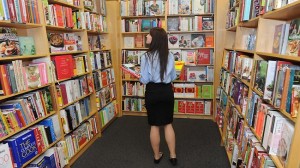 At the same time five of the then-Big Six publishers and Apple were sweating under a multi-million dollar lawsuit and investigation for trying to bring down Amazon, three independent bookstores in the US filed a suit alleging the Amazon and the Big Six publishers had created a conspiracy to squeeze out independent booksellers by artificially working the DRM-status of Kindle ebooks in order to prevent indie stores from selling ebooks to customers with Kindles.
Earlier this year, the owners of The Book House of Stuyvesant Plaza in Albany, N.Y., Fiction Addiction in Greenville, S.C., and Posman Books in New York City, filed a lawsuit against Amazon and the publishers for both the DRM conspiracy and a separate allegation that they were in violation of the Sherman Act–the same Act that factored in an important way in the DOJ lawsuit against Apple–for trying to gain a monopoly on the industry.
The judge in the case, Jed Rakoff, didn't just quietly disagree with the plaintiffs in his decision, but rather in his eighteen-page decision on the case had some strong words for the plaintiffs, including stating how "remarkable" it was that the plaintiffs didn't demonstrate any secret meetings, collusion attempts, email records, or other examples of conspiracy. In fact, the suit does not even specifically name which publishers met with Amazon to purposely ruin independent bookstores, a fact that Judge Rakoff pointed out.
Essentially, the complaint seems to come down to the fact that the American Booksellers Association has a partnership with Kobo to let indie bookstores not only sell the devices in their shops, but also to sell ebooks to customers while making a small affiliate-style profit on it. This scenario is not in place with Amazon, so a Kindle customer who comes into a bookshop cannot buy an ebook through the store. The plaintiffs alleged that this is a conspiracy-level decision and that the publishers were in on it.
Interestingly, one key idea seems to have been overlooked by the plaintiffs: as the DOJ investigation showed us, the publishers are willing to do almost anything to keep Amazon from getting even more powerful. The idea that the publishers would purposely help Amazon monopolize the ebook industry and take down a tiny mom-and-pop bookstore is unfathomable, given the current concerns over pricing and distribution.
Mercy Pilkington is a Senior Editor for Good e-Reader. She is also the CEO and founder of a hybrid publishing and consulting company.