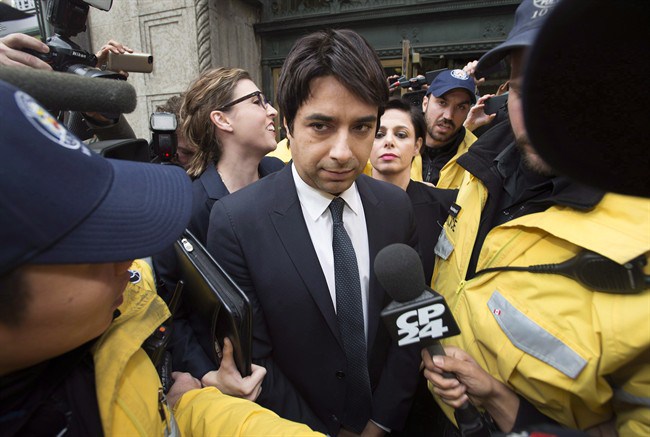 Kobo has picked up the exclusive digital publishing rights to the upcoming title, Jian Ghomeshi – Secret Life. The book will reveal details and background info about the superstar radio interviewer, his tell-tale past and how his actions conspired to getting fired from his post at CBC Radio One.
Jian had a spectacular fall from grace, amidst heavy controversy on his personal life. The upcoming title will be penned by Toronto Star investigative reporter Kevin Donovan, and is slated for release in late June.
In an industry first, the book will be published by Kobo, which will offer the digital version, and ECW Press, one of Canada's most diversified independent publishers, which will offer the print version to the North American marketplace.
[showhide type='pressrelease']
Kobo, a Rakuten company and leading innovator in the digital reading space, has signed a deal to publish a book that tells the true story behind one of the most spectacular falls from grace in recent memory.
Working with Kevin Donovan, the award-winning investigative journalist who covered the story for the Toronto Star, Kobo and ECW Press will publish Jian Ghomeshi – Secret Life, revealing details and background about the superstar radio interviewer, his tell-tale past, and ultimately how events and actions conspired to see him fired from his post as the star of the popular CBC Radio One show Q.
Donovan is represented by agents Jesse Finkelstein and Samantha Haywood of Transatlantic Agency.
After interviewing a number of women and former colleagues from Ghomeshi's past, Donovan will tell the story of who the broadcaster with the winning touch really was behind the scenes.
In an industry first, the book will be published by Kobo, which will offer the digital version, and ECW Press, one of Canada's most diversified independent publishers, which will offer the print version to the North American marketplace.
"This is an opportunity for me to take the investigative work we did at the Toronto Star and go further with the story by using a new publishing model to get stories into the hands of an even wider audience," said Donovan.
"I am pleased that not only is the book going to tell the whole story, but the way it is being published is a first."
"ECW is a pattern-breaker and exactly the fresh-thinking partner we needed to reach the widest possible audience for this book," says Pieter Swinkels, a former publisher himself who is currently Kobo's Vice President, Publisher Relations. "The topical nature of the Ghomeshi case makes the story perfect for original digital publication, but we felt it wouldn't be enough to publish a book in only one format. ECW has proven it isn't afraid to publish current news-driven non-fiction and loves innovation as much as we do. We look forward to working with ECW not only to offer a print edition through the network of retailers it has ready access to, but also to push the boundaries of the traditional publishing model itself."
"The book as envisioned and reported by one of Canada's leading investigative journalists struck us as the kind of story that needed to be published widely and smartly," says ECW co-publisher David Caron. "Not only for the story itself, which has captured people's interest, but also for the larger social implications of the story, the issues it raises about the power of celebrity, violence against women, and the veil of propriety in a beleaguered but beloved broadcaster. Plus ECW loves to work with really great partners, and the chance to work with the uber-innovative Kobo as an ebook/print dynamic duo is a delicious one. From the start, our discussions with Kobo have proven that they have the talent to develop a great book."
In his heyday Ghomeshi was able to pull some of the most media-shy celebrities onto his show, including a rare interview with Barbra Streisand, and gained North America-wide notoriety for his off the rails chat with Billy Bob Thornton, where the movie star and musician went on a rant — a raw moment virtually unheard of in this media savvy era. Ghomeshi was known for his incisive interviews and baritone voice, and a manner that sometimes hid pointed questions and made for the kind of radio that attracted millions of listeners who made Q a daily habit.
Ghomeshi seemed to be able to do no wrong. Then in a long Facebook post he revealed he had "strange", "enticing" and "weird" tastes in sex – kicking off a series of revelations in the Toronto Star by Donovan, who along with Canadaland podcaster Jesse Brown had been researching allegations of Ghomeshi's sexual abuse.
The story also kicked off a wider discussion regarding sexual assault, sexual politics and the politics of power in the workplace.
"I am thrilled to be working with Kevin Donovan, one of the most impressive and best investigative journalists Canada has today. His book on Ghomeshi is not just the outrageous true crime story he exposed – it's a thought-provoking story that forces us to look again at social, cultural and gender roles." says Swinkels.
The book is slated for late June release in both digital and print formats.
About Rakuten Kobo Inc.
Rakuten Kobo Inc. is one of the world's fastest-growing eReading services offering more than 4.5 million eBooks and magazines to millions of customers in 190 countries. Believing that consumers should have the freedom to read any book on any device, Kobo provides consumers with a choice when reading. Kobo offers an eReader for everyone with a wide variety of E Ink eReaders and Google-Certified Android tablets to suit any reader's style including the award-winning Kobo Touch™, Kobo Mini, Kobo Glo, Kobo Aura, Kobo Aura HD, Kobo Aura H2O, Kobo Arc, Kobo Arc 7, Kobo Arc 7HD, and Kobo Arc 10HD. Along with the company's free top-ranking eReading apps for Apple®, BlackBerry®, Android®, and Windows®, Kobo ensures the next great read is just a page-turn away. Headquartered in Toronto and owned by Tokyo-based Rakuten, Kobo eReaders can be found in major retail chains around the world.
About ECW
Publishers Weekly recognized ECW Press as one of the most diversified independent publishers in North America, and one of the fastest growing indie presses in 2015. ECW Press books are distributed throughout the English-speaking world and translated into dozens of languages. In the next year ECW Press will release 50 new titles and will continue to support and promote a vibrant backlist that includes poetry and fiction, pop-culture and political analysis, pop science, sports books, biography, and young adult. Books by writers whose names you know and love — and by those who we're very pleased to introduce for the first time.
About Kevin Donovan
Kevin Donovan is an investigative reporter and editor at the Star. He has won three National Newspaper Awards, two Michener Awards for public service journalism and three Canadian Association of Journalists Awards. He is the author of The Dead Times, a mystery novel, and co-author with Nick Pron of Crime Story and author of ORNGE: The Star Investigation That Broke the Story.
[/showhide]
Michael Kozlowski is the Editor in Chief of Good e-Reader. He has been writing about audiobooks and e-readers for the past ten years. His articles have been picked up by major and local news sources and websites such as the CBC, CNET, Engadget, Huffington Post and the New York Times.