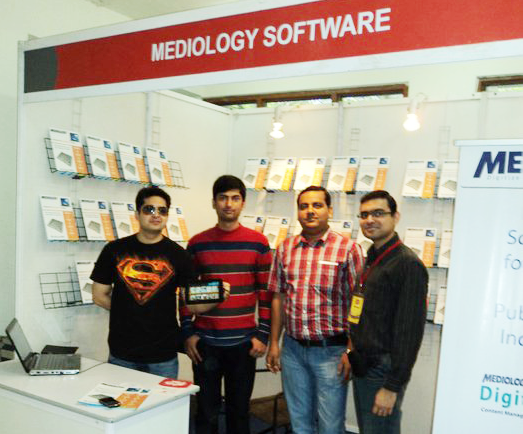 Mediology, the company that had earned itself a slot among seven global finalists in the Amazon Web Services (AWS) Start-Up Challenge 2010 has launched a Virtual Bookstand and Newsstand at the World Book Fair now underway at New Delhi. Mediology's Virtual Bookstand comes after the company had just a few months back launched Readwhere.com that specializes in offering digital publishing services.
This marks the first such development in the country where ebooks and emagazines have hit on a steep popularity curve. Whether such a venture holds immense potential can be gauged from the marked change in consumer preference for tablet devices. Internet usage with a mobile device has already surpassed that of desktop internet usage and experts are indicating tablet PCs will emerge as the preferred reading device in future.
"We have brought the concept to India for the first time which is all set to be a game-changer in the delivery of digital content," said Manish Dhingra, Director and Co-founder, Mediology Software.
The Virtual Bookstand and Newsstand will enable readers to select and buy their books either via their smartphones or tablet devices. The content gets delivered over the air via Readwhere.com to their preferred reading device, which can be a smartphone, tablet device, or the more traditional laptop/desktop device. The buyer will be able to scan the QR codes with their smartphone or tablet device. This will land them in a page where the deal has to be concluded by making the payment. This can be accomplished either via credit cards, net banking, or by making cash payment to the person manning the store.
"In many ways we are introducing the future of book purchasing and reading at this year's World Book Fair," said Dhingra, before also adding: "If bookstores show interest in this unique concept at the World Book Fair, these virtual bookstands can open up in all parts of the country for which we are equipped to provide them the entire infrastructure and e-commerce services."
Sovan Mandal is the senior tablet and tech corespondent for goodereader.com. He brings a international approach to news that is not just applicable to the North American market, but also Asia, India, Europe and others. Sovy brings his own writing flavor to the website and is interested in Science Fiction, Technology and Writing. Any questions, send an email