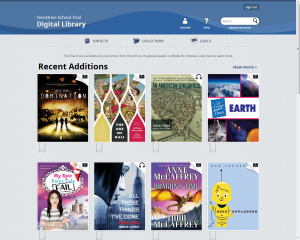 OverDrive, one of the world's largest digital content and media suppliers to academic and public libraries, has rolled out a new update to its web interface that will make searching for content even more streamlined. The first enhancement helps ensure that users who access the interface via computer, tablet, or smartphone will see a very similar storefront, helping make searching easier by keeping information in as uniform a space as possible across the different platforms.
But it is the second feature, Recommend to Library, that may offer the most assistance to both patrons and library directors. By allowing students to search the OverDrive catalog for content and then clicking to recommend that title, libraries can keep up with what content their patrons are requesting. In addition, once a title has been added to the catalog by the library, the requesting patron will receive an email stating that it is now available through the library.
Of course, with so much recent attention focused on the accidental exposure of children to inappropriate subject matter in different ebook stores due to metadata miscalculation, OverDrive has taken measures to ensure that only age-appropriate content can be requested by patrons at public school libraries. Using the Recommend to School feature, students can only request that their libraries purchase titles "with Juvenile or Young Adult subject categories, titles that have school metadata, such as Lexile/ATOS scores, ortitles that have been added to other school library collections."
Finally, teachers have been provided with even greater tools for seeking out student reading material. "Users are now able to search for titles based on standardized reading level information such as Lexile, ATOS and Accelerated Reader scores. This new metadata will assist teachers in identifying the most appropriate content for their students."
Within the new interface, users can select from three different visual themes, can adjust their lending periods, and can alter their account settings to pre-select different categories of books.
Mercy Pilkington is a Senior Editor for Good e-Reader. She is also the CEO and founder of a hybrid publishing and consulting company.