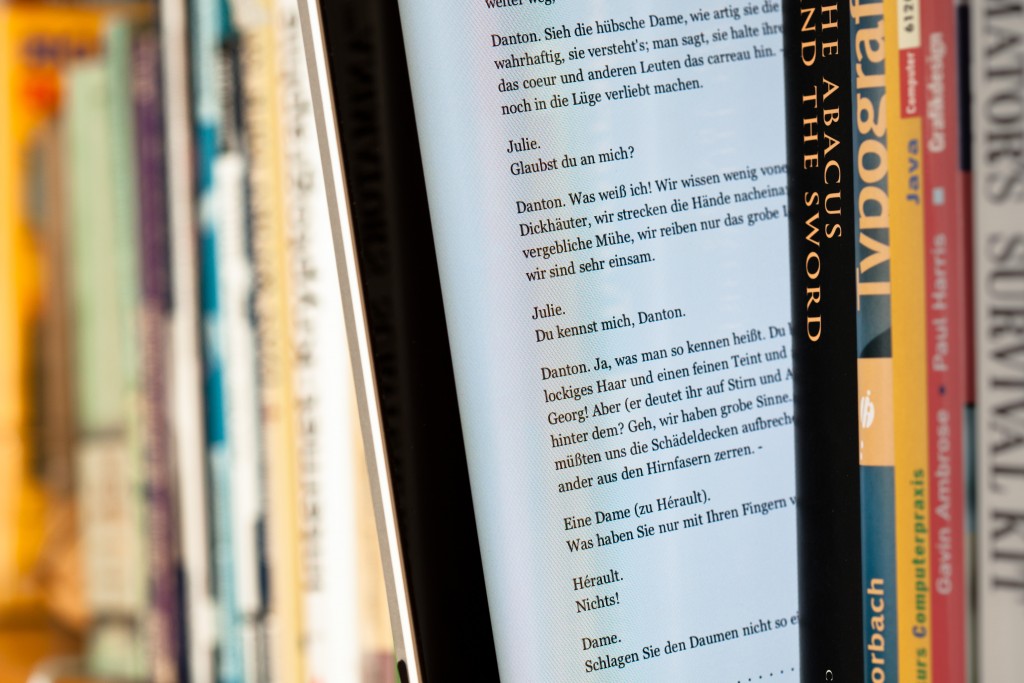 The primary benefit of a print book is the clear path of ownership. Once you procure it from your favorite online or brick and motor store, its yours. There is no problem with loaning it out to a friend or rereading it for the hundredth time. e-books on the other hand is a convoluted nightmare.
When you purchase an e-book from a retailer like Apple or Amazon, you don't own it. Instead, you are merely licensing it from the retailer for an indeterminate period of time. If you break one of the many terms of service, the book can be taken away by the retailer, or if the bookstore goes bankrupt, you lose everything.
e-books are often purchased by online retailers that act as agents for the publisher. They often provide the e-reading experience, from dedicated hardware to apps for Android or iOS.  The terms of service that a retailers provide are often 50 to 100 pages of text.  In some cases, they absolve themselves of all liability.
The Apple iBooks store makes sure to let you know that "IN NO EVENT SHALL LICENCOR BE LIABLE FOR PERSONAL INJURY OR ANY INCIDENTAL, SPECIAL, INDIRECT, OR CONSEQUENTIAL DAMAGES WHATSOEVER, INCLUDING, WITHOUT LIMITATION . . . DAMAGES OR LOSSES, ARISING OUT OF OR RELATED TO YOUR USE OR INABILITY TO USE THE LICENSED APPLICATION, HOWEVER CAUSED, REGARDLESS OF THE THEORY OF LIABILITY (CONTRACT, TORT, OR OTHERWISE) AND EVEN IF LICENCOR HAS BEEN ADVISED OF THE POSSIBILITY OF SUCH DAMAGES. "
Amazon on the other hand spells out the situation with daunting precision "Your rights under this Agreement will automatically terminate if you fail to comply with any term of this Agreement. In case of such termination, you must cease all use of the Kindle Store and the Kindle Content, and Amazon may immediately revoke your access to the Kindle Store and the Kindle Content without refund of any fees. . . . If you do not accept the terms of this Agreement, then you may not use the Kindle, any Reading Application, or the Service."
In contrast, the print edition of a book has a more simpler copyright notice. It makes perfect sense and is not not written by an army of lawyers. "No portion of this book may be copied, reproduced, or transmitted in any form or by any means, electronic or otherwise, including recording, photocopying, or inclusion in any information storage and retrieval system, without the express written permission of the publisher and author, except for brief excerpts quoted in published reviews."
In the last few years the entire e-reader and e-book industry has experienced massive setbacks. The Sony Reader Store was the first digital bookstore that was incorporated on a series of e-readers.  They had a good run and closed up their online store in the US, UK, Europe and Australia last May. Hundreds of thousands of customers suddenly woke up one day that could not buy books anymore and had to deal with another company. Diesel e-Books, Txtr, Scholastic Storia and Blinkbox Books have all closed in the last calender year, leaving customers in a lark.
It is my belief that consumers are losing confidence in e-books because so many stores are closing and taking their purchases with them. In other cases they are sick of all the Apple anti-trust and Amazon vs the world drama. Others are pissed they can't loan out e-books to friends or find themselves locked into one specific ecosystem and can't transfer their purchases to other phones they buy, due to DRM.
Major publishers are also reporting diminished sales when it comes to e-books. In a recent financial earnings report Simon & Schuster stated that e-book sales only increased by one percentage point in the last three months, while HarperCollins said sales were  down 3%.
In the last few years I have gravitated away from exclusively buying e-books and am buying print again. Apparently, I am not alone.  Nielsen BookScan, which tracks what readers are buying, found the number of paper books sold went up 2.4% last year.
As Publishers Weekly puts it, "the 2014 figures are further evidence that print books are selling better than they have since sales of e-books exploded in 2010." The paper tome apparently hit rock bottom in 2012, but has since rallied in categories from children's books to adult non-fiction, and formats from trade paperback to hardcover.
In the end, its hard to have any faith in e-books.

Michael Kozlowski has written about audiobooks and e-readers for the past twelve years. Newspapers and websites such as the CBC, CNET, Engadget, Huffington Post and the New York Times have picked up his articles. He Lives in Vancouver, British Columbia, Canada.