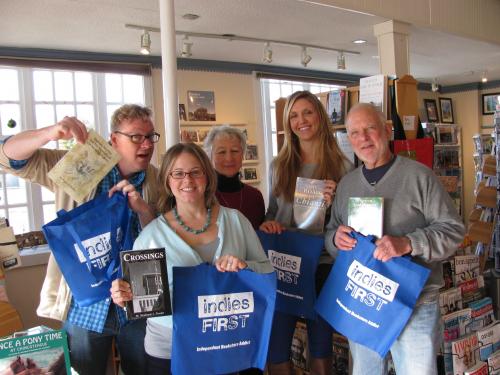 A number of articles have been written lately, like this prominent one from the Washington Post (love how the article in a paper owned by Amazon CEO Jeff Bezos actually has the words, "Amazon is king."), about the slow-but-serious growth of independent bookstores, both in terms of launches and in sales. Data from the American Booksellers Association actually points to both increased membership and increased sales in its member bookshops.
But while everyone focuses on why consumers may be turning to indie bookstores–articles like the Post's indicate the awareness and popularity of the "buy local" mindset and the increased behavior of readers who like both print and ebook formats, for example–they're still missing the mark in what could really save the independent bookstores.
As it currently stands, brick-and-mortar bookstores are among the last great holdouts for independently published authors. The ridiculous hoop jumping that authors have to endure in order to have their books even sold in a "real" bookstore, let alone featured, means that indie physical stores have the power to offer authors something they can't get otherwise, while at the same time not simply competing as violently with major online retailers. And if there was a way to somehow combine one of the other major holdouts–reviews, signings, and interviews–with bookstore sales, authors would line up to take part.
One thing that the digital-versus-print era has taught us is that there's no competition between the two, as there are viable reasons for both format. That same attitude can be applied to the indie-versus-giant retail industry. We live in a time when drones can drop unbelievably low-priced items at our homes; obviously a store with prime real estate rent to pay and who does a nearly invisible fraction of the revenue of those giants cannot compete by offering the identical products. Rather than competing, indie bookstores can find and unfilled niche and become that arm of the publishing industry.
Mercy Pilkington is a Senior Editor for Good e-Reader. She is also the CEO and founder of a hybrid publishing and consulting company.