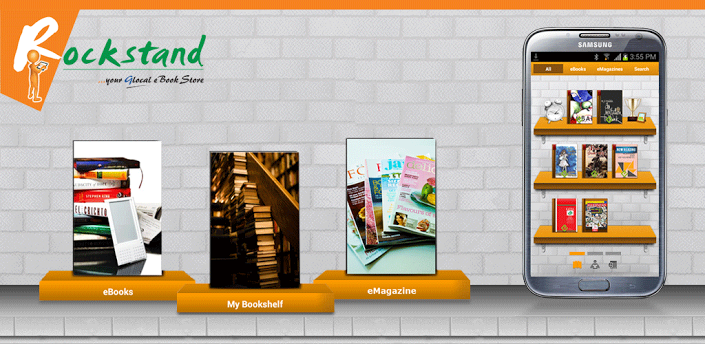 Rockstand, the India-based ebook and emagazine app store, announced having recently crossed the data usage limit of 1 TB per day. That's an important milestone in a country where ebook reading is still considered to be in its nascent stages. Rockstand has also stated it is the regional content that has emerged as the most preferred download, a segment where the company has been putting a lot of effort, interesting considering the multilingual country India is. Also, usage is showing no signs of slowing down, but rather it is on an upward swing with the average download recorded per user at about five to eight ebooks or emagazines on a daily basis. That translates to about 40 – 60 MB downloaded per user per day.
"We are amazed to see this kind of data usage, as we were expecting excellent response, but this figure is overwhelming & motivating. On that particular day, we crossed 15000 downloads due to regional content promotion and great offers, discounts provided. From the time since India got into era of digitization, Games and Songs have dominated digital space and enjoyed uninterrupted reign of data usage in country. Now it's time for eBooks and eMagazines to rule digital space in India," said Head of Rockstand Digital Pvt. Limited, Mr. Rishi Mohan Jha.
"Special mention to Regional eBooks and eMagazine, as we can see great opportunities there and thus to tap this burgeoning market, we are bringing exclusive and exciting content for our readers. Conversion of regional content is a big challenge and we are proud to say that we have been successful in dealing with this problem and thus offering flawless digital reading experience to our users," further added Jha.
Among the languages that have drawn the maximum downloads are Hindi, Telegu, Tamil, Gujarati. Rockstand also offered heavy discounts to commemorate India's Independence Day on Aug 15th. The discounts were valid for the 14th and 15th of August, with both days recording a heightened buying spree among readers. Average books or emags downloaded during those two days shot up to 10 to 15 for every user.
Sovan Mandal is the senior tablet and tech corespondent for goodereader.com. He brings a international approach to news that is not just applicable to the North American market, but also Asia, India, Europe and others. Sovy brings his own writing flavor to the website and is interested in Science Fiction, Technology and Writing. Any questions, send an email