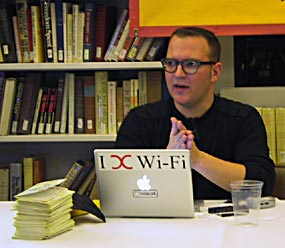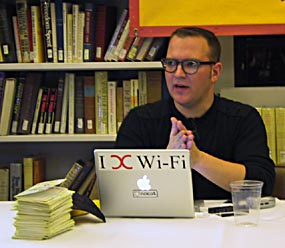 It's a long-held and possibly undocumented belief that the man who invented the flip phone designed it in such a way as to look like one of the original Star Trek communicators. Accordingly, the Star Trek franchise has actually been responsible for a number of design features–and political changes, if credit be given to its multi-racial and gender equal cast–that currently complement our lives. But since not all science fiction paints as rosy a picture of the utopian future that the Federation offered, should we be concerned that science fiction has a wonderful habit of becoming science fact?
In a very telling article by Eileen Gunn for Smithsonian.com, the future apparently could go either way. We could all enjoy the benefits of a peaceful, equality-driven society where self-betterment is the goal and harmonious co-existence is the reality, or we could end up cleaning the cameras outside our communal silos before suffocating on noxious gases.
"Because science fiction spans the spectrum from the plausible to the fanciful, its relationship with science has been both nurturing and contentious," wrote Gunn. "For every author who meticulously examines the latest developments in physics or computing, there are other authors who invent "impossible" technology to serve as a plot device (like Le Guin's faster-than-light communicator, the ansible) or to enable social commentary, the way H. G. Wells uses his time machine to take the reader to the far future to witness the calamitous destiny of the human race."
According to Gunn, science fiction is not only a fun genre, but actually a pathway to innovation by inspiring readers to think, "What if?" While society wrestles with a good-versus-bad, Star Trek-versus-Hunger Games existence for ourselves in the future, these concepts and ideas put out today can help readers–from top innovators to every day citizen voters–develop the future they want to see.
Mercy Pilkington is a Senior Editor for Good e-Reader. She is also the CEO and founder of a hybrid publishing and consulting company.