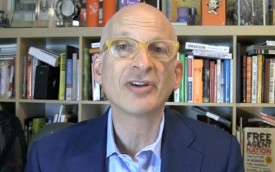 Seth Godin recently attended the IDPF conference in New York and talked to us exclusively about the power of ebooks. Godin explained that there are countless strategies to make a digital book more viable in terms of searching and purchasing. He then declared he is a publishing paradigm changer, not a publisher. Speaking of paradigms, Godin launched his Kickstarter campaign for a new books, titled The Icarus Deception, at 5:05 a.m. ET, PaidContent reports. Less than three hours later the campaign hit its funding goal of $40,000, Godin announced in an update appended to the campaign. At 9:30 AM Pacific he has raised over $107,657 with no sign of the funding abating.
Pledges begin at $4 with four-day online access to the book ahead of its release. A pledge of $22 fetches one hardcover copy of Icarus upon publication, including the price of shipping. Five people have already pledged more than $1,100 to be interviewed and mentioned in the book.
Godin has been one of the most outspoken opponents to tangible books and proclaims the future of publishing is digital. However, this is not stopping him from releasing the book in the traditional print form. He has partnered with an unnamed publisher that will help with distribution and promotion.