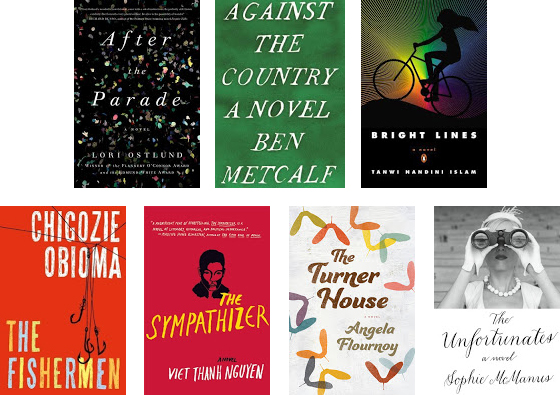 The First Novel Prize is awarded every year to the best debut novel published between January 1 and December 31 of the award year. The author of the winning book is awarded $10,000 and each shortlisted author receives $1,000. This year the award ceremony is held on December 8 at The Metropolitan Club in New York.
After the Parade by Lori Ostlund (Scribner)
Sensitive, big-hearted, and achingly self-conscious, forty-year-old Aaron Englund long ago escaped the confines of his Midwestern hometown, but he still feels like an outcast. After twenty years under the Pygmalion-like direction of his older partner Walter, Aaron at last decides it is time to stop letting life happen to him and to take control of his own fate. But soon after establishing himself in San Francisco—where he alternates between a shoddy garage apartment and the absurdly ramshackle ESL school where he teaches—Aaron sees that real freedom will not come until he has made peace with his memories of Morton, Minnesota: a cramped town whose four hundred souls form a constellation of Aaron's childhood heartbreaks and hopes.
Against the Country by Ben Metcalf (Random House)
In a voice both perfectly American and utterly new, Ben Metcalf introduces the reader to Goochland County, Virginia—a land of stubborn soil, voracious insects, lackluster farms, and horrifying trees—and details one family's pitiful struggle to survive there. Eventually it becomes clear that Goochland is not merely the author's setting; it is a growing, throbbing menace that warps and scars every one of his characters' lives.
Bright Lines by Tanwi Nandini Islam (Penguin Books)
For as long as she can remember, Ella has longed to feel at home. Orphaned as a child after her parents' murder, and afflicted with hallucinations at dusk, she's always felt more at ease in nature than with people. She traveled from Bangladesh to Brooklyn to live with the Saleems: her uncle Anwar, aunt Hashi, and their beautiful daughter, Charu, her complete opposite. One summer, when Ella returns home from college, she discovers Charu's friend Maya—an Islamic cleric's runaway daughter—asleep in her bedroom. As the girls have a summer of clandestine adventure and sexual awakenings, Anwar—owner of a popular botanical apothecary—has his own secrets, threatening his thirty-year marriage. But when tragedy strikes, the Saleems find themselves blamed. To keep his family from unraveling, Anwar takes them on a fated trip to Bangladesh, to reckon with the past, their extended family, and each other.
The Fishermen by Chigozie Obioma (Little, Brown)
Told from the point of view of nine year old Benjamin, the youngest of four brothers, The Fishermen is the Cain and Abel-esque story of an unforgettable childhood in 1990's Nigeria, in the small town of Akure. When their strict father has to travel to a distant city for work, the brothers take advantage of his extended absence to skip school and go fishing. At the ominous, forbidden nearby river, they meet a dangerous local madman who persuades the oldest of the boys that he is destined to be killed by one of his siblings. What happens next is an almost mythic event whose impact-both tragic and redemptive-will transcend the lives and imaginations of its characters and its readers.
The Sympathizer by Viet Thanh Nguyen (Grove Press)
It is April 1975, and Saigon is in chaos. At his villa, a general of the South Vietnamese army is drinking whiskey and, with the help of his trusted captain, drawing up a list of those who will be given passage aboard the last flights out of the country. The general and his compatriots start a new life in Los Angeles, unaware that one among their number, the captain, is secretly observing and reporting on the group to a higher-up in the Viet Cong. The Sympathizer is the story of this captain: a man brought up by an absent French father and a poor Vietnamese mother, a man who went to university in America, but returned to Vietnam to fight for the Communist cause.
The Turner House by Angela Flournoy (Houghton Mifflin Harcourt)
The Turners have lived on Yarrow Street for over fifty years. Their house has seen thirteen children grown and gone—and some returned; it has seen the arrival of grandchildren, the fall of Detroit's East Side, and the loss of a father. The house still stands despite abandoned lots, an embattled city, and the inevitable shift outward to the suburbs. But now, as ailing matriarch Viola finds herself forced to leave her home and move in with her eldest son, the family discovers that the house is worth just a tenth of its mortgage. The Turner children are called home to decide its fate and to reckon with how each of their pasts haunts—and shapes—their family's future.
The Unfortunates by Sophie McManus (Farrar, Straus & Giroux)
Cecilia Somner's fate hangs in the balance. A larger-than-life heiress to a robber baron's fortune, once known as much for her cruel wit as for her tremendous generosity, CeCe is now in opulent decline. Afflicted with a rare disease and touched by mortality for the first time, she finds her gilded, by-gone values colliding with an unforgiving present. Along with her troubled son, George, and his out-sider wife, Iris, CeCe must face the Somners' dark legacy and the corrupting nature of wealth. As the Somner family struggles to find a solution to its troubles, the secrets and lies between CeCe, George, and Iris grow entangled. CeCe's world topples, culminating in a startling turn of events that is as unforgettable as it is life-changing.

Michael Kozlowski is the Editor in Chief of Good e-Reader. He has been writing about audiobooks and e-readers for the past ten years. His articles have been picked up by major and local news sources and websites such as the CBC, CNET, Engadget, Huffington Post and the New York Times.