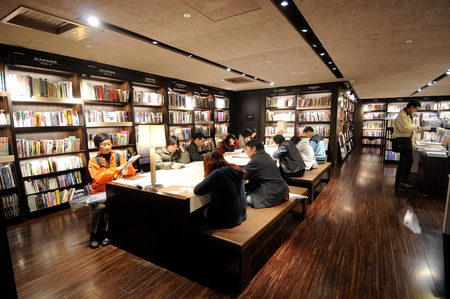 Simon & Schuster and Yilin Press today announced an unprecedented distribution and publishing agreement that will greatly expand the availability of electronic editions of works in Mandarin for digital readers worldwide. The official signing ceramony will take place at the Frankfurt Book Fair, and Good e-Reader will be live on the scene.
Under the agreement, Simon & Schuster will distribute ebooks of a broad cross-section of Yilin Press's Mandarin language titles, making these works available worldwide to the large population of Mandarin readers outside China. The books, which will be available through all major ebook retailers working with Simon & Schuster, include Mandarin translations of both modern and classic works, and also many classic Chinese titles.
The project will launch with a list of approximately 300 titles. Notable translations included in the first wave of releases, which will be available beginning in November, include LIFE OF PI by Yann Martel, AIR MAIL by Tomas Transtromer & Robert Bly, THE FOXES COMES AT NIGHT by Cees Nooteboom, THE CORRECTIONS by Jonathan Franzen, UNDERWORLD by Don DeLillo, THE GOLDEN NOTEBOOK by Doris Lessing, THE COVE by Ron Rash as well as classics by Mary Norton, Amos Oz, and authors of wide-ranging international interest including Julian Assange, Julian Barnes, Mikhail Gorbachev and Michel Foucault.
In addition, the Simon & Schuster trade imprint has acquired from Yilin world English rights to a select list of books. The list will be comprised of nonfiction titles about Chinese culture and history as well as popular and acclaimed fiction, and will feature major Chinese authors including Shen Congwen, Lu Xun, Bing Xin, Ye Zhaoyan, and Su Tong, some of whom have never before been translated into English. Simon & Schuster will publish the first list of eight titles in Spring 2014.
"We are delighted to enter into this agreement with Yilin Press and its parent, Phoenix Publishing and Media Group," said Carolyn K. Reidy, President and Chief Executive Officer of Simon & Schuster, Inc. "This is an exciting, modern marriage of content and technology that will benefit the many millions of Mandarin readers who live outside China and who will now have easy access to many of the best works of our time, from Chinese and western authors, in Mandarin."
"With the increasing level of interest in Chinese language, literature, and culture in both the United States and around the world, we believe that the time is right to offer these classic works in electronic editions that will appeal to both the general reader and the educational market," said Jonathan Karp, President and Publisher of the Simon & Schuster trade imprint.
"Globalization and digitalization are among the top six strategic priorities of the Phoenix Publishing and Media Group," said Chen Haiyan, Chairman of PPMG. "Yilin's cooperation with Simon & Schuster is indeed an innovative project that provides PPMG with a model for the worldwide publishing and distribution of our books. We are eagerly looking forward to the day our books are available on a truly global basis!"
"Yilin Press has for decades been dedicated to introducing top foreign works to mainland Chinese readers through first-class translations." Said Gu Aibin, President of Yilin Press. "Now we think it's time for us to serve a global audience, making Yilin's Chinese language titles available to overseas Chinese readers, as well as translated works of Chinese writers for English readers. Our authors are very much looking forward to reaching this wider audience, and Simon & Schuster's strong position in high quality publishing and ebook channels will help us make all this possible."