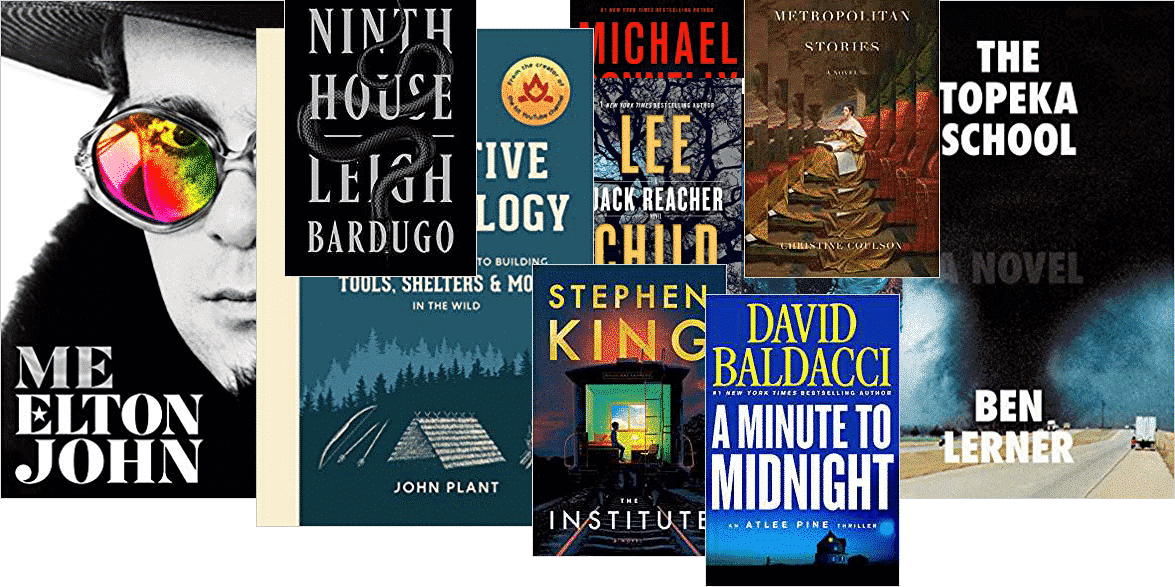 This fall a number of new ebooks are coming out from authors such as Stephen King, John Grisham, Lee Child, Michael Connelly, Janet Evanovich, and James Patterson. In order to make sense of it all, Good e-Reader has rolled out our Fall Reading list, featuring some of the most anticipated books of the season.
The Institute: by Stephen King
In the middle of the night, in a house on a quiet street in suburban Minneapolis, intruders silently murder Luke Ellis's parents and load him into a black SUV. The operation takes less than two minutes. Luke will wake up at The Institute, in a room that looks just like his own, except there's no window. And outside his door are other doors, behind which are other kids with special talents—telekinesis and telepathy—who got to this place the same way Luke did: Kalisha, Nick, George, Iris, and ten-year-old Avery Dixon. They are all in Front Half. Others, Luke learns, graduated to Back Half, "like the roach motel," Kalisha says. "You check in, but you don't check out."
In this most sinister of institutions, the director, Mrs. Sigsby, and her staff are ruthlessly dedicated to extracting from these children the force of their extranormal gifts. There are no scruples here. If you go along, you get tokens for the vending machines. If you don't, punishment is brutal. As each new victim disappears to Back Half, Luke becomes more and more desperate to get out and get help. But no one has ever escaped from the Institute.
The Guardians by by John Grisham
In the small north Florida town of Seabrook, a young lawyer named Keith Russo was shot dead at his desk as he worked late one night. The killer left no clues behind. There were no witnesses, no real suspects, no one with a motive. The police soon settled on Quincy Miller, a young black man who was once a client of Russo's.
The Dutch House by Ann Patchett
Set over the course of five decades, The Dutch House is a dark fairy tale about two smart people who cannot overcome their past. Despite every outward sign of success, Danny and Maeve are only truly comfortable when they're together. Throughout their lives they return to the well-worn story of what they've lost with humor and rage. But when at last they're forced to confront the people who left them behind, the relationship between an indulged brother and his ever-protective sister is finally tested.
Blue Moon: A Jack Reacher Novel by Lee Child
Reacher is on a Greyhound bus, minding his own business, with no particular place to go, and all the time in the world to get there. Then he steps off the bus to help an old man who is obviously just a victim waiting to happen. But you know what they say about good deeds. Now Reacher wants to make it right. An elderly couple have made a few well-meaning mistakes, and now they owe big money to some very bad people. One brazen move leads to another, and suddenly Reacher finds himself a wanted man in the middle of a brutal turf war between rival Ukrainian and Albanian gangs.
A Minute to Midnight by David Baldacci
FBI Agent Atlee Pine returns to her Georgia hometown to reopen the investigation of her twin sister's abduction, only to encounter a serial killer beginning a reign of terror, in this page-turning thriller from #1 New York Times bestselling author David Baldacci.
The Water Dancer by Ta-Nehisi Coates
This is the dramatic story of an atrocity inflicted on generations of women, men, and children—the violent and capricious separation of families—and the war they waged to simply make lives with the people they loved. Written by one of today's most exciting thinkers and writers, The Water Dancer is a propulsive, transcendent work that restores the humanity of those from whom everything was stolen.
Galaxy "Alex" Stern is the most unlikely member of Yale's freshman class. Raised in the Los Angeles hinterlands by a hippie mom, Alex dropped out of school early and into a world of shady drug-dealer boyfriends, dead-end jobs, and much, much worse. In fact, by age twenty, she is the sole survivor of a horrific, unsolved multiple homicide. Some might say she's thrown her life away. But at her hospital bed, Alex is offered a second chance: to attend one of the world's most prestigious universities on a full ride. What's the catch, and why her?
Still searching for answers, Alex arrives in New Haven tasked by her mysterious benefactors with monitoring the activities of Yale's secret societies. Their eight windowless "tombs" are the well-known haunts of the rich and powerful, from high-ranking politicos to Wall Street's biggest players. But their occult activities are more sinister and more extraordinary than any paranoid imagination might conceive. They tamper with forbidden magic. They raise the dead. And, sometimes, they prey on the living.
The Shadow King by Maaza Mengiste
A gripping novel set during Mussolini's 1935 invasion of Ethiopia, The Shadow King takes us back to the first real conflict of World War II, casting light on the women soldiers who were left out of the historical record.
Me: Elton John Official Autobiography by Elton John
In his first and only official autobiography, music icon Elton John reveals the truth about his extraordinary life, from his rollercoaster lifestyle as shown in the film Rocketman, to becoming a living legend.
Primitive Technology: A Survivalist's Guide to Building Tools, Shelters, and More in the Wild by John Plant
John Plant, the man behind the channel, Primitive Technology, is a bonafide YouTube star. With over 8 million subscribers and an average of 5 million views per video, John's channel is beloved by a wide-ranging fan base, from campers and preppers to hipster woodworkers and craftsmen. Now for the first time, fans will get a detailed, behind-the-scenes look into John's process. Featuring 50 projects with step-by-step instructions on how to make tools, weapons, shelters, pottery, clothing, and more, Primitive Technology will be the ultimate guide to the craft. Each project will be accompanied by illustrations as well as mini-sidebars with the history behind each item, plus helpful tips for building, material sourcing, and so forth. Whether you're a wilderness aficionado or just eager to spend more time outdoors, Primitive Technology has something for everyone's inner nature lover.
Michael Kozlowski is the Editor in Chief of Good e-Reader. He has been writing about audiobooks and e-readers for the past ten years. His articles have been picked up by major and local news sources and websites such as the CBC, CNET, Engadget, Huffington Post and the New York Times.