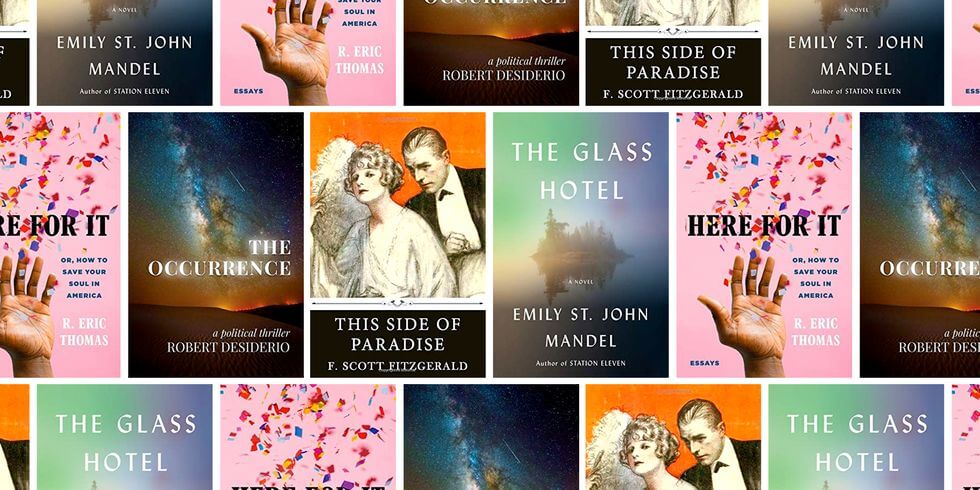 This month there are a ton of great reads in the Fiction and Non-Fiction categories. The best books that are released in March are primarily by new authors or ones you have never heard of before, which makes it great for readers wanting to discover something new.
House of Earth and Blood by Sarah J. Maas
Fans of fantasy writer Sarah J. Maas can finally get their hands on the first of the new Crescent City series, "House of Earth and Blood." Maas's latest romance and fantasy mash-up launches the story of Bryce Quinlan — half Fae, half human —as she seeks to avenge the death of her friends with the help of Hunt Athalar, a notorious Fallen angel.
Deacon King Kong by James McBride
It's 1960s New York. A cranky old church deacon known as Sportcoat shuffles into a housing project in south Brooklyn and shoots the project's drug dealer point blank. In a witty and hopeful tale, McBride shows what happens in the aftermath of the shooting as the neighborhood's many diverse residents discover that hope, faith and compassion just might live in all of us.
We Ride Upon Sticks by Quan Barry
Though the 1989 Massachusetts high school field hockey season hasn't started in earnest, the Danvers Falcons are concerned. The team can't seem to win a game at summer training camp, which makes their goal of reaching the state finals in a few months seem less than realistic. But their luck starts to turn around after members of the squad begin signing their names in what might be a magical notebook, one that features Emilio Estevez's face on the cover. The bizarre premise of Quan Barry's novel evolves into a fresh coming-of-age story as she explores the team's desperation to win — and their growing experimentation with witchcraft.
The Night Watchman by Louise Erdrich
The latest from National Book Award winner Louise Erdrich again delves into her Chippewa heritage, but this time takes inspiration from her grandfather's work as a night watchman in the 1950s. The novel follows the titular character as he works to protect his tribe against Congress' new "emancipation" bill, which threatens their rights to their land. Though it is set decades ago, the story resonates today as Erdrich dissects a native community forced to deal with the ramifications of the government's actions.
Frustrated by how they are treated at their tech startup, Margo, a black programmer, and Lucas, an Asian customer service representative, pair up to steal their company's user data. Shortly after, the duo take jobs together at another startup — but soon Margo unexpectedly dies in a car crash. The debut novel from journalist Kevin Nguyen follows Lucas as he carries the burden of their shared secret, which leads him to discover more about Margo's personal life online. As Nguyen describes his protagonist's struggles with grief and guilt, the author points to frightening realities concerning how information on the internet stays safe — or doesn't.
The City We Became by N. K. Jemisin
The latest fantasy — and the first book in a new trilogy — from award-winning author N. K. Jemisin reimagines a world where human avatars must protect cities against evil. Five characters, each named after a New York City borough, must learn how to work together to save the city. As the avatars showcase their different personalities, Jemisin's initially unfamiliar world grows closer to our own — one contending with racism, violence and gentrification.
The Glass Hotel by Emily St. John Mandel
When Vincent meets her husband for the first time, she's a bartender at the grand and isolated hotel he owns on Vancouver Island. That same night, the hotel lobby's glass wall is defaced with an ominous message: "Why don't you swallow broken glass." In unveiling the meaning of the threat and how it came it be, National Book Award finalist Emily St. John Mandel moves between a cast of characters linked to the evening and its aftermath. Like her 2014 novel Station Eleven, The Glass Hotel inspects how quickly life can change after tragedy, this time by way of devastating fraud.
Lady in Waiting: My Extraordinary Life in the Shadow of the Crown by Anne Glenconner
It's rare that a true intimate of Britain's royal family writes the kind of memoir that truly has something to say. Luckily, this is exactly that kind of memoir. It's a smart, dishy, and truly touching memoir from a woman who was a close friend of Princess Margaret and a maid of honor at Queen Elizabeth's coronation. No wonder it's become a best-seller in the UK and U.S. stores are already clamoring to stock.
My Dark Vanessa by Kate Elizabeth Russell
At the age of 15, Vanessa Wye begins a love affair with her 42-year-old English teacher. Almost two decades later, when he's accused of sexual abuse by a former student, Vanessa begins to re-think and reflect on their past relationship. In a book fitting the #MeToo movement, "My Dark Vanessa" alternates between the title character's past and present, bringing up questions about agency, consent, victimhood and complicity.
A Friend Is a Gift You Give Yourself by William Boyle
A Friend Is a Gift You Give Yourself is one those books that announces itself as a classic in the making by the way it reads as both familiar and startlingly fresh. After mob widow Rena clocks an insistent suitor with an ashtray — perhaps fatally — she steals his vintage Impala and heads for the Bronx, where her estranged daughter Adrienne lives. Adrienne's boyfriend, Richie, has just given several mobsters "early retirement," stolen $500,000 from them, and is preparing to vanish with Adrienne and her teenage daughter. It's a really inconvenient day to try to force a family reunion. As Rena and Richie go on the run, they pick up unexpected flight companions, including the retired adult film star who lives next door and a guy who solves problems with a hammer. What gives this unexpectedly charming, albeit violent, screwball noir tale its heart is the way the women, endangered by the men in their lives, discover that the family you make for yourself may have your back in ways your actual family never will.
Michael Kozlowski is the Editor in Chief of Good e-Reader. He has been writing about audiobooks and e-readers for the past ten years. His articles have been picked up by major and local news sources and websites such as the CBC, CNET, Engadget, Huffington Post and the New York Times.