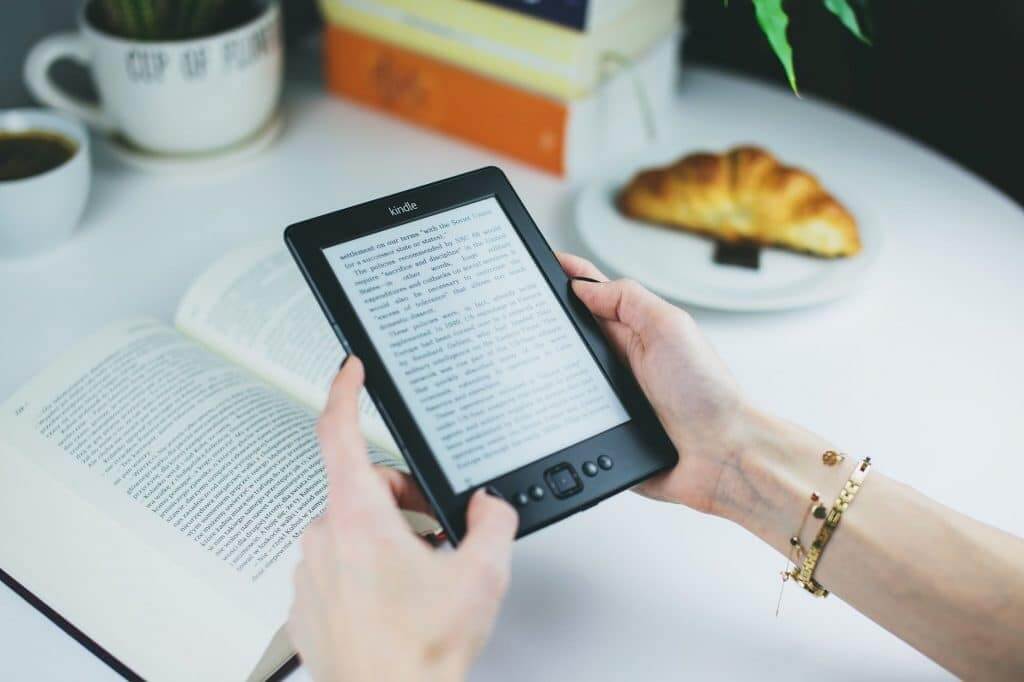 In the age of the Internet, everything has become accessible. Any information that only two decades ago was under seven locks, today can pop up on anyone's computer screen.
Given that the Internet has presented us with an easy access to any data, books have no longer become something that is hard to find. Besides, we also don't have to pay for an actual book, but instead, we can read or even listen to a book online.
For our convenience, many companies such as Amazon Kindle, Airbook or Globex have invented and produced a so-called pocketbook, which has become a handy device that we can take anywhere. Given many factors that influence its price (such as screen width and additional features like WiFi), the price ranges fluctuate from $50 to over $150.
So, pocketbooks are relatively inexpensive, so as e-books themselves, as producing a paper book requires a difficult manufacturing process. Besides low cost, other advantages of e-books include instant delivery of the book and the fact that they are environmentally friendly.
But the best advantage often preferred by students is that e-books portable and extremely versatile. Students can download a textbook or a research. Students can even upload a college paper without having to print it, show it to the professor and make any changes in it immediately.
Technology is always of a great help for students, and using e-books is just one example. But is it always so useful?
Let's take a look at some studies that have researched the effect of e-books on college students.
Encouraging Learning Autonomy
Earlier it has been a norm for a student to search for and read a required list of books for each subject. While students are still required to drill that list of books, they are no longer in need to visit every library in search for a particular book.
According to a study published in Social and Behavioral Sciences, students benefit greatly from using e-books, both in physical and mental aspects. While they don't have to carry an enormous weight of dozens of textbooks, they also have greater learning autonomy, as they can independently download and study the books they're interested in.
The same study also suggests that using e-books makes the learning management process easier, meaning that e-books allow the educators monitor each student's activity, as well as analyze and document each student's success. Besides, using e-books allows the teachers to expand the use of the methods of instruction as well as introduce students to the new learning tools.
Adaptability
E-books are excellent for helping students with disabilities to read. For example, every digital reading device has the ability to change font sizes and other attributes of the text, making the process easier for disabled students.
Some e-books have the ability to convert text to speech, which also can be helpful to engage students with vision impairments. This function allows generating an audiobook, so educators can use it for students who prefer to hear stories in addition to reading them.
Flexibility and Versatility
A study from Johnson & Wales University with over 80 participants has proven that using e-books during classes has granted students with a greater flexibility. And while 56% of the participants admitted that e-book reading device is rather expensive, they also underlined that its cost quickly pays off.
The participants also claim that apps coming with an e-book reader make the process of reading less stressful and more enjoyable. Wi-Fi connection, personalization, and other useful features make the reading process faster.
Also, a few studies suggest that e-book reading devices are harmful to our eyesight. "It's not true that e-book readers strangle our eyes", says Andrew Johnson, an essay writer and a participant of the study. "Amazon Kindle, for example, has produced an e-book reader that has a special protection on the screen, so reading e-books isn't that different from reading a printed book."
Textbook Availability
Some opponents of using electronic readers in the classroom claim that a lack of textbooks in digital format is a significant challenge that has not been overcome yet. However, with the rising popularity of reading using digital devices, this is no longer a problem.
For example, it doesn't really matter what you're studying – math, astronomy, nursing, or physics – there's an electronic textbook for that. Well-known online resources like Amazon offer an immense selection of textbooks for students to download to a computer or another digital device.
Moreover, these online providers of textbooks have already created special offers for students. For example, Amazon offers Prime Student feature (-50 percent off Prime) to promote downloading textbooks via their site getting other exclusive deals and enjoy perks like free shipping.
Chegg Books is another great source of e-textbooks with thousands of titles. Plus it offers renting, which can be a great feature for students who don't want to burn a hole in their pocket while purchasing books for studies.
The best thing about these services that they help you avoid standing in line at the university library or bookstore or waiting until your book arrives in the mail. After purchasing or renting an electronic textbook, you can access it within minutes.
What Else?
For sure, e-books have positive and negative sides. On the one hand, they help make the learning process easier and more versatile. Students don't have to carry tons of books to the classes and it's also easier for teachers to control the learning process and make it more interesting and enjoyable.
However, as technology makes our lives easier, it also makes us lazier. Our brain doesn't get the exercise it needs and our memory suffers as well. Too much exposure to the screens also influences our health in a negative way, as we tend to remain seated or lay down while we're reading.
But for a more versatility, don't forget to read a regular printed book once in a while. This way you'll expand your reading skills and won't forget how to work with a printed book, too.

Lucy Benton is a writing coach, an editor who finds her passion in expressing own thoughts as a blogger. She is constantly looking for the ways to improve her skills and expertise. Also Lucy has her own blog Prowritingpartner.com where you can check her last publications. If you're interested in working with Lucy , you can find her on Twitter.