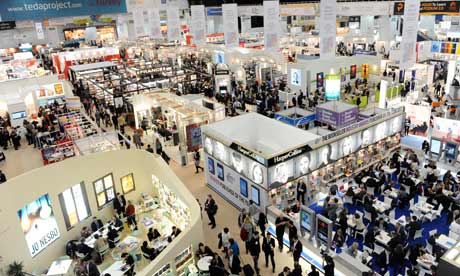 There is certainly a copious amount of negative press surrounding the publishing industry and booksellers all over the world. Major chains have folded in the US, Germany and Australia in the last few years and indie bookstores continue to go out of business. Journalists and public officials constantly single out Amazon, lambasting them for disrupting an entire industry. As it happens, the publishing sector is doing quite well, and even flourishing.
The London Book Fair has just started and it is attracting the global publishing industry to bid on book rights and to talk shop. "Some commentators say the publishing industry is in enormous trouble today. They are completely wrong, and I don't understand that view at all," says Tom Weldon, UK chief executive of Penguin Random House, one of the biggest players in Britain's book world.
Traditional publishing revenue has increased in a geometric rate during the last few years. Penguin, Simon and Schuster, HarperCollins and others all report between 24-32% of their global earnings stemming from digital. "In the last four years, Penguin and Random House have had the best years in their financial history," Weldon says. "Book publishers have managed the digital transition better than any other media or entertainment industry. I don't understand the cultural cringe around books." It would be heartening in some ways to think that the book trade could actually learn from what had happened in other media, instead of simply ignoring, discounting, or blocking it."
When it comes to the transition of the publishing industry into the digital world, there has been numerous case studies to learn from. The music and video sectors saw tremendous growing pains. Piracy ran rampant with Kazaa and then Bittorrent. The streaming technologies were slow and unwieldy and it looks lots of wrangling from Apple and Amazon to get everyone on the same page and develop an industry standard for selling songs individually and convincing executives and artists that they aren't being devalued. This opened up the system for companies like Hulu, Pandora, Soundhound and iHeartradio to develop amazing ecosystems that stand out in a crowd.
This is no denying the bookstores all over the world are in decline. Indigo and Barnes and Noble continue to survive in North America. In recent years these stores have managed to implement lifestyle products such as wine glasses, pillows and bath robes, which have helped offset the decline in book sales. RedGroup, Borders, and Weltbild have all collapsed in recent years as readers switch to digital. This is prompting the publishing companies to put an emphasis on initiating digital discovery features to rope in more readers. Penguin UK already has 700,000 followers on Twitter, while every month 2,500 subscribers open an email from the company. "We might tell our stories many different ways, whether that is books or ebooks, or apps, or toys, or clothes. We are developing a much broader range of intellectual property and exploiting it."
Penguin/Random House takes a gamble on 250 new writers a year in the hopes a few of them will take off. No other industry takes a gamble on young artists in this manner. The real bread and butter though, is the bankable writers with big names. They generate the most revenue for the publishers which allow them to take risks on new ones.
In the end, if you follow the publishing industry there is a lot of doom and gloom. Everyone jumps on the decline of the publishing and book industry bandwagon. Most publishers and mid-level publishers are doing record business and this allows companies such as Amazon to make billions on it.

Michael Kozlowski is the Editor in Chief of Good e-Reader. He has been writing about audiobooks and e-readers for the past ten years. His articles have been picked up by major and local news sources and websites such as the CBC, CNET, Engadget, Huffington Post and the New York Times.