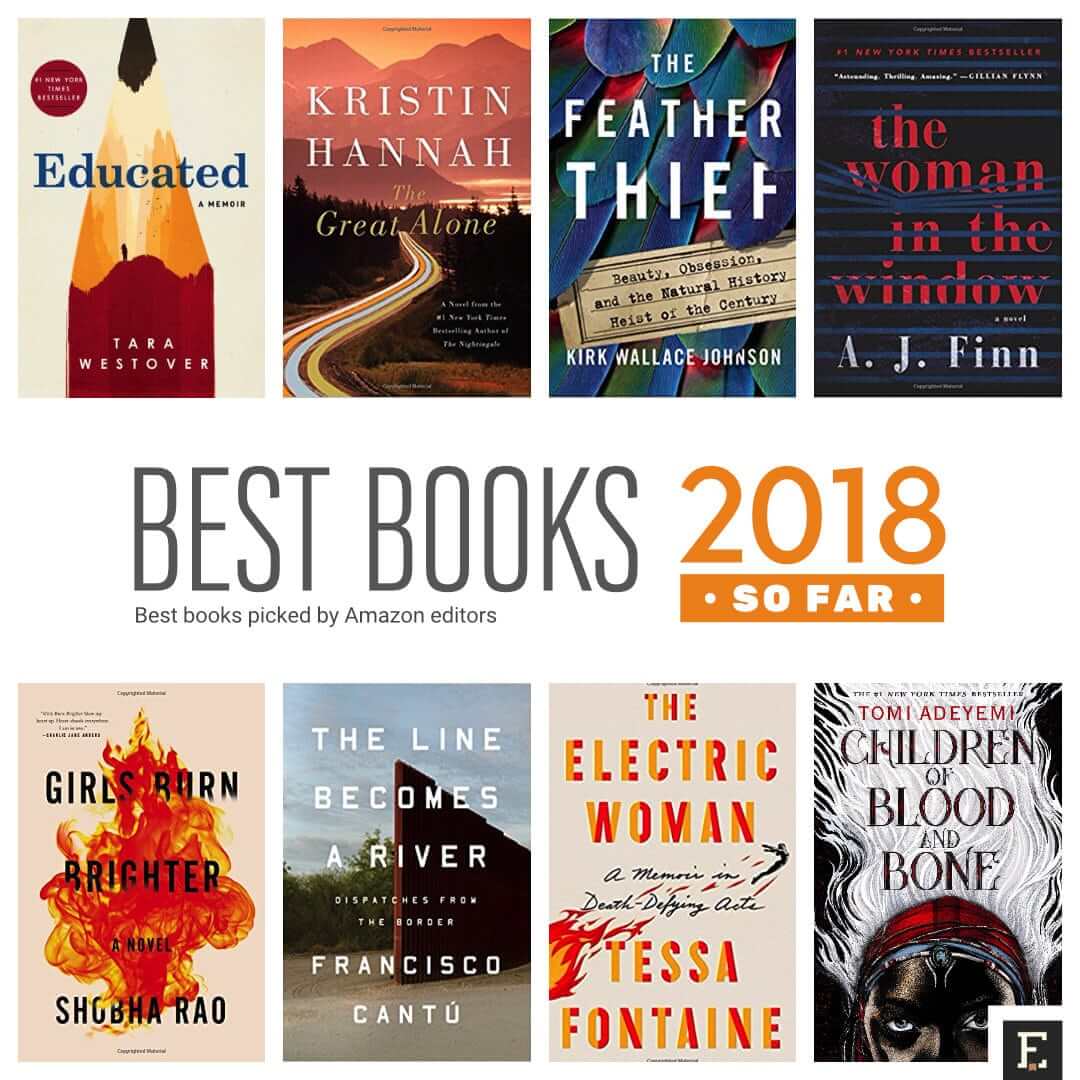 Every year Amazon discloses the best books of the year, as selected by their editors. These are not only books that have topped the bestseller list, but also include titles you might not have heard of before. The top book is Tara Westover's Educated: A Memoir, it chronicles how Tara survived a survivalist upbringing (she didn't see the inside of a classroom until she was seventeen) but then eventually earned a PhD from Cambridge University.
The Amazon list includes the top 10 books of the year from various genres and they also include a top 20 list from all of the major genres, so if you are a fan of cozy mysteries or science fiction, you can check out the entire list.
Top 10 Amazon Best Books of the Year:
Educated: A Memoir by Tara Westover: Tara Westover didn't see the inside of a classroom until she was seventeen, and it was an experience that dramatically changed the trajectory of her life. This extraordinary memoir chronicles how she survived her survivalist upbringing, eventually earning a PhD from Cambridge University. Rather than a story about the making of a scholar, Educated is about the making of a person.
Washington Black: A Novel by Esi Edugyan:When an 11-year-old slave named Wash is picked to serve his master's brother, he is terrified to leave the Barbados plantation where he lives. But what follows is adventure and scientific exploration on a par with the novels of Jules Verne. Esi Edugyan's superb writing and inventive story telling drive this thoughtful, entertaining page-turner.
Indianapolis: The True Story of the Worst Sea Disaster in U.S. Naval History and the Fifty-Year Fight to Exonerate an Innocent Man by Lynn Vincent and Sara Vladic:While readers will be riveted by the four days theIndianapolis crew spent adrift in the shark-infested Pacific, the rest of the Indianapolis's story is equally as tense. Vincent and Vladic include not only the expected tales of heroism under duress but the just-as-human stories of willpower bending and sanity breaking. This is history writing at its finest: shining a spotlight on a wartime tragedy that still echoes within the survivors and the Navy today.
Elevation: A Novel by Stephen King:Here is a short, heart-lifting parable by a master storyteller. When we first meet Scott Carey, he is aware that he is losing weight every day, even if he does not look any different than he did a year ago. Set in the iconic but fictional town of Castle Rock, Maine, his slow disappearance may somehow be the thing that brings the town together.
The Line Becomes a River: Dispatches from the Borderby Francisco Cantú: The son of a park ranger, Cantú grew up in the southwest. When he joined the Border Patrol, he witnessed the complex realities of illegal immigration, and the obligations of his job weighed heavy against his sense of humanity. With its direct, stoic prose, The Line Becomes a River is a weighty and timely document on one of our most divisive arguments.
The Woman in the Window: A Novelby A.J. Finn: The Woman in the Window is a seductive and unpredictable novel about an agoraphobic woman with a tricky past who witnesses a murder. Or does she? With twists that will have you gasping aloud, this Hitchcockian noir thriller is the book to read if you've been waiting (too long) for the next Gone Girl.
Once Upon a River: A Novelby Diane Setterfield: When a man bursts into a riverside inn, covered in blood and carrying an unconscious child, the patrons of the Swan are beyond thrilled to find themselves in the middle of a swiftly unfolding tale. As Setterfield juggles a colorful mob of characters whose lives are upended by the mute and mysterious young girl pulled from the Thames, the joy of storytelling permeates every moment in this lively and wise historical novel.
Children of Blood and Bone (Legacy of Orisha)by Tomi Adeyemi: A fresh new take on young adult fantasy that is just what readers have been waiting for. With West African-inspired characters, magic, and setting, Children of Blood and Bone is non-stop action, enriched with themes that resonate in today's social and political landscape: injustice, discrimination, and a struggle for change. Author Tomi Adeyemi's debut novel is the start of what promises to be an epic, addictive new series.
Virgil Wander: A Novelby Leif Enger: All is not quiet on the Midwestern front in Leif Enger's Virgil Wander, as the quirky inhabitants of a fictional community near Lake Superior struggle with sundry dramas. Not everyone gets a happy ending, but this endearing novel—full of everyday (and not so ordinary) magic–reminds us that small acts of kindness aren't small at all—they have the power to turn a flagging town's frown upside down.
There There: A Novel by Tommy Orange: What does it really mean to be an Indian/Native American/American Indian/Native? Orange's vivid debut novel allows a unique cast of characters—ranging from teenagers to elders living in Oakland, California—to pull this question apart for themselves as they live within an urban ecosystem.

Michael Kozlowski is the Editor in Chief of Good e-Reader. He has been writing about audiobooks and e-readers for the past ten years. His articles have been picked up by major and local news sources and websites such as the CBC, CNET, Engadget, Huffington Post and the New York Times.