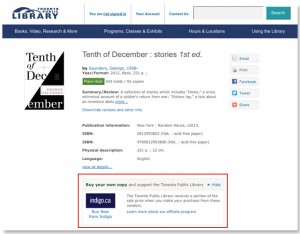 The Toronto Public Library has implemented the ability for customers to buy ebooks via their website through a new affiliate program with Indigo Books. Users will be able to purchase the ebook they had borrowed from the library, or if the book has a long wait list, they can just straight up purchase it. The Toronto Library will earn a paltry 5% commission on every digital copy they sell.
This new program marks the broader push to open TPL up to new revenue sources. In the near future the library will begin printing advertisements on the backs of its due-date slips for a six-month trial period. The library is also investigating the possibility of running ads through its public wi-fi service.
Libraries are building more synergy with selling ebooks, rather than just lending them out for free. In essence, libraries don't make any money from loaning out ebooks and the investment for a solid catalog often run upwards to $20,000. This is also the first time Indigo has partnered with a library and it makes sense they selected the one they did, because Indigo has its headquarters in Toronto.
We reached out to Chapters/Indigo for a comment on this story and they replied, "Indigo is delighted to welcome the Toronto Public Library as an affiliate partner. Booklovers can now enjoy the ease of access either borrowing or buying their books online through the TPL website, which also ensures a percentage of every book sold supports this vitally important community service."