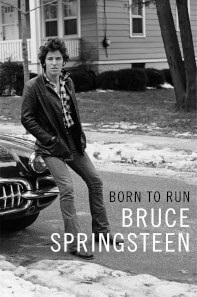 Simon & Schuster has announced that they have paid over 10 million dollars for the global rights to a new memoir by Bruce Springsteen. Born to Run will be released on September 27th, in hardcover and digital.
The Boss has sold millions of records and has been selling out arenas all of the world for decades. The book, according to an S&S statement, will cover the "poetry, danger, and darkness" of Springsteen's New Jersey childhood, as well as his rise to massive stardom.
The big question is, can his book become an international bestseller and will autograph seekers be lining up in droves to see him promoting the title are your local Barnes and Noble?
Many memoirs about famous musicians have not really sold very well in the past few years. The only book to sell over 500,000 copies was Life by Keith Richards that came out in 2010. Top stars like Pete Townshend sold 92,000 copies, Rod Stewart only sold 73,000 and Sonic Youth's Kim Gordon autobiography only sold 29,211 titles.
[ad#After Post 3]