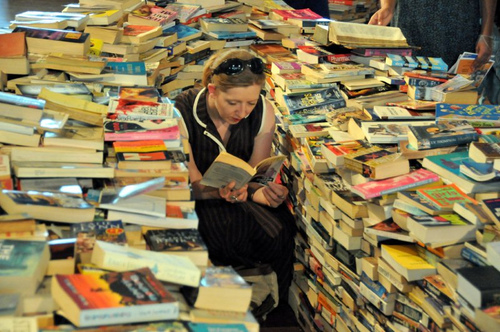 One of the big trends of 2014 was the emergence of subscription services, where you pay a monthly fee and get access to thousands of e-books. Amazon Kindle Unlimited, Oyster, Entitle and Scribd have all gained the support of indie authors and publishers. How viable are their business models and will they continue to grow in 2015, or disappear entirely.
Scribd is the premier subscription reading service with more than 500,000 titles, including New York Times bestsellers, classics, and reader favorites in every genre. A pioneer of the all-you-can-read model, Scribd's subscriptions service allows readers to have unlimited access to more than 500,000 books from nearly 1,000 publishers, including Harper Collins, Simon & Schuster, Open Road Media, Lonely Planet, National Geographic, Rosetta, Workman, Wiley and Smashwords.
The site originally launched in 2007 , but only launched their subscription service in October 2013. The service does not seem to be profitable yet and still relies on external funding in other to continue operations. To date, they have raised over $42 million dollars.
Oyster is the other mainstream e-Book subscription service and tends to only focus on the US market.  The company launched in 2013 and currently has over 500,000 e-Books in their portfolio. They deal with the same publishing companies as Scribd does.  They raised over $14 million dollars from a number of venture capital companies and are not profitable yet and rely on their funding to continue doing business. 
Entitle, formerly named eReatah, allows members to read two books a month  $9.99, $14.99 for 3 books/month, and $19.99 for 4 books/month Members will own and have permanent access to any books they download regardless of their subscription status with Entitle, and these books can be read on up to six devices. Members can read books on the newly-launched Entitle e-reading app for iPad, iPhone and Android devices.
There are over 200,000 titles on the Entitle platform from over a thousand publishers, including Simon & Schuster, HarperCollins Publishers, Kensington Books, Berrett-Koehler, Houghton Mifflin Harcourt, Workman Publishing, Sourcebooks, Open Road Media, RosettaBooks and many more. Entitle is the only eBook subscription company to secure content deals with more than one of the major corporate publishers, and has titles such as Doctor Sleep, Life of Pi, Duck Dynasty's Si-ology 101, Beautiful Ruins, Miracles and Massacres, The Perks of Being A Wallflower, The Storyteller, The Bully Pulpit, Happy, Happy, Happy, Remy, Beautiful Beginning, The Light Between Oceans, A House in the Sky, Hero, Brain on Fire, Hyperbole and a Half and City of Bones. In addition, Entitle offers titles distributed by Ingram Content Group and Independent Publishers Group.
In late 2014 Amazon got into the Netflix for e-books game and launched Kindle Unlimited. The service has over 700,000 digital editions available, mainly from small publishers and indie authors. Major publishers have all expressed trepidation about getting involved in the Amazon system  and instead have backed their competition. Currently, Amazon has the largest footprint in terms of members being able to sign up. They operate in US, UK,  Germany, France, Brazil and a few other countries.
Scribd and Osyster have adopted the pay-per-read system in order to pay publishers. Indie authors and publishers earn 60% list price when a reader opens an e-book and reads more than 10% of the book.  On average, Amazon pays authors $1.39 for each qualifying read. In some cases, Amazon ironed out exclusive deals with Pottermore and Susanne Collins for the Hunger Games and the Harry Potter series.
All of these subscription sites never talk about their data and metrics, in terms of how much revenue they gain and or how many paid subscriptions they have. I do know from talking with many industry experts, is none of them, save Amazon is actually making enough money to stay operational. Instead, they are caught in a loop of constantly raising venture capital in order to stay afloat. It leads me to belive that the average reader is happier buying books, one by one, than having access to an incomprehensible amount. It is far easier, from a readers prospective, to buy titles that just came out, than to browse a huge selection of older e-Books.
Will these sites continue to be viable in 2015? I have a feeling at least one of these companies will go out of business. I don't think the e-reading market can sustain four different companies doing the exact same thing. The public has not accepted this business model yet and major publishers have yet to embrace them in a meaningful way.