Crowdfunding is certainly not a new idea, with sites like Kickstarter and IndieGoGo launching new startups and products every day. But when it comes to books, there's definitely a different mindset behind investing in the creation of a book. Pubslush, the crowdfunding platform specifically for books, has revolutionized the concept of supporting an author's writing and publishing efforts, and has also changed the way consumers view crowdfunding.
Now, a new people-powered literary-themed fudning site has launched, this time using the power of video engagement to support charities. Rather than a simple crowdfunding concept that develops capital for books, Wizeo offers participants the opportunity to video chat with a wide variety of noteworthy people, all for a good cause.
The premise is that participants will make a $3 donation to the charity that is supported by the chat in order to connect live with an author; other chats feature different figures, including artists, musicians, actors, and more. For participating in the chat, users are automatically entered into a drawing for a follow-up one-on-one chat with the author.
Apart from the good that is done for charity, Wizeo sees this as a seamless approach to letting authors connect with fans. Much like the 2011 Spreecast event that Good e-Reader hosted with author HP Mallory for more than one hundred of her fans, this platform basically charges a pittance fee for charity and allows a unique engagement experience between authors and their readers.
As authors and publishers struggle to gain book visibility and foster discovery among readers in a glut of content, Wizeo can be another piece of the puzzle for building interaction and promotion. More importantly, the "feel good" aspect of the concept means authors aren't walking around yet again with their hands out, looking for consumers' dollars to line their own pockets. This is a way to build that promotion without the often-criticized "book pimping" mentality.
While the platform is aimed at established names in the industry, self-published authors are welcome as long as they have the kind of following that would support hosting an event. Wizeo plans to launch with as many as eight 15-minute chats per day, and can only support its model of charitable giving by ensuring large enough participation to make it successful.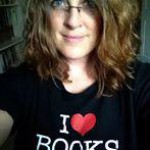 Mercy Pilkington is a Senior Editor for Good e-Reader. She is also the CEO and founder of a hybrid publishing and consulting company.