Yuantai, the largest e-paper manufacturer in the world has announced the launch of its latest technology, the E Ink Kaleido 3 Outdoor color printing e-paper, money.udn reported. This technology is specially designed for Digital Out-of-Home (DOOH) signage applications, featuring a color dynamic display and the texture of a poster display. Moreover, it is suitable for use in a wide temperature range outdoors and provides colorful and informative displays for outdoor public information billboards.
The E Ink Kaleido 3 Outdoor utilizes Print Color e-paper technology, which employs RGB color display principles to produce a warm and rich color display on black and white e-paper film. The technology supports 4,096 colors, resulting in sharp and vivid color images with a clear text display that provides a comfortable viewing experience without glare. The display effect is similar to a color-printed paper poster. The product operates within a temperature range of -15°C to 65°C, thereby eliminating the need for expensive heating or cooling setup in regions with extreme temperatures. This translates to reduced power consumption and hence greater savings.
This is especially applicable in many European countries where new regulations have limited the operating hours of digital signage owing to the ongoing energy crisis. In such a scenario, the E Ink Kaleido 3 Outdoor can be used paired with solar panels to operate with renewable energy, without requiring power from the grid. This allows it to break through power limit regulatory restrictions, replacing energy-intensive digital signage. The color electronic paper can quickly and dynamically update information for outdoor information boards. Compared to traditional paper poster boards, it offers improved functionality and environmental features.
"Under the global trend towards low-carbon sustainable digital development, e-paper's ultra-low power consumption and no light pollution characteristics are the best display solutions for outdoor advertising billboards." said Gan Fengyuan, general manager of E Ink Yuantai Technology: " On the basis of E Ink Kaleido color printing electronic paper technology, Yuantai Technology is committed to developing a wide temperature color electronic paper technology suitable for outdoor applications, which will satisfy customers in outdoor advertising applications, and at the same time have a dynamic display, energy saving, environmental protection and wireless The expectation of light pollution pollution."
With the increasing focus on ESG sustainable development, digital transformation is prioritizing low-carbon and energy-saving solutions. One such solution is electronic paper, which is visible in sunlight, consumes low power, and can be powered by solar systems, making it ideal for eco-friendly outdoor signage. E Ink has conducted a study comparing the carbon dioxide emissions of using 32-inch paper advertisements, LCD screens, and electronic paper screens for outdoor digital signage. Over a 5-year period, the use of electronic paper billboards is expected to reduce CO2 emissions by 500,000 tons when compared to LCD billboards. In comparison to traditional paper-based promotional posters, it can reduce CO2 emissions by approximately 4 million tons.
The revolutionary new E Ink Kaleido 3 Outdoor color printing e-paper technology is all set to be unveiled at the Touch Taiwan 2023 event that will be underway from April 19th to 21st. The technology is set to be showcased on various screen sizes, ranging from 13.3 inches to 42 inches, among others. Moreover, you can also catch it at the upcoming SID Display Week, held from May 23 to 25 at the Los Angeles Convention Center.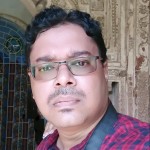 With a keen interest in tech, I make it a point to keep myself updated on the latest developments in technology and gadgets. That includes smartphones or tablet devices but stretches to even AI and self-driven automobiles, the latter being my latest fad.