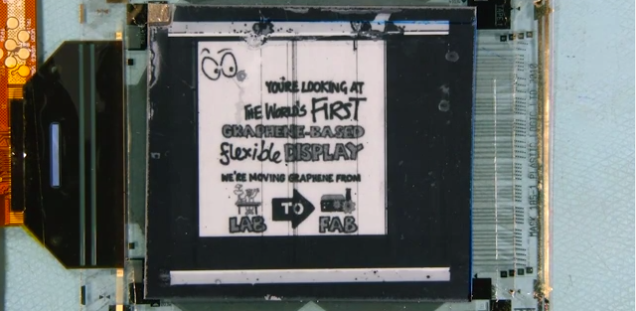 Graphene is one of the strongest materials ever made and is designed to be totally flexible. It is more conductive than copper and it only has a layer of carbon one-atom thick. Discovered just under a decade ago, researchers have fervently been developing practical applications.
Cambridge researchers have just developed a flexible e-paper display screen using Graphene. The new prototype is an active matrix electrophoretic display, similar to the screens used in today's e-readers, except it is made of flexible plastic instead of glass. In contrast to conventional displays, the pixel electronics, or backplane, of this display includes a solution-processed graphene electrode, which replaces the sputtered metal electrode layer within Plastic Logic's conventional devices, bringing product and process benefits.
The new 150 pixel per inch (150 ppi) backplane was made at low temperatures (less than 100°C) using Plastic Logic's Organic Thin Film Transistor (OTFT) technology. The graphene electrode was deposited from solution and subsequently patterned with micron-scale features to complete the backplane.
"We are happy to see our collaboration with Plastic Logic resulting in the first graphene-based electrophoretic display exploiting graphene in its pixels' electronics," said Professor Andrea Ferrari, Director of the Cambridge Graphene Centre. "This is a significant step forward to enable fully wearable and flexible devices. This cements the Cambridge graphene-technology cluster and shows how an effective academic-industrial partnership is key to help move graphene from the lab to the factory floor."
"The potential of graphene is well-known, but industrial process engineering is now required to transition graphene from laboratories to industry," said Indro Mukerjee, CEO of Plastic Logic. "This demonstration puts Plastic Logic at the forefront of this development, which will soon enable a new generation of ultra-flexible and even foldable electronics"