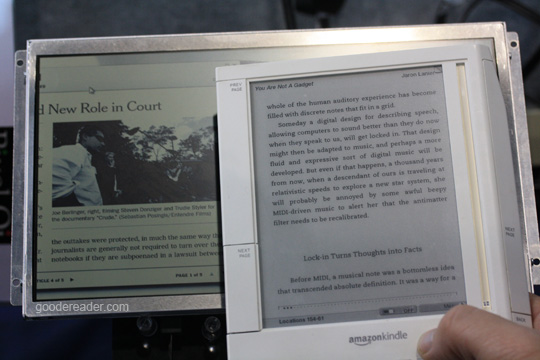 Pixel QI quite famously said in an interview with Good e-Reader a few years ago that the company was abandoning the e-reader and tablet sector, and instead is focusing on military, government, and civil service. Today, we have official confirmation that the current manufacturing plant that Pixel Qi was contracting to provide companies with display screens has suspended its contract and now Pixel Qi must scramble and find someone else.
Pixel QI technology was a spin off from the One Laptop Per Child initiative that was developed by Mary Lou Jepson. The key factors behind the technology was that it was able to be used in direct sunlight and had tremendous battery life. The screens found their way into smartphones, laptops, and tablets. The technology is able to generate high resolution color and does not suffer from the refresh issues that have always plagued E Ink.
Mary Lou jumped ship to Google in early 2013 to spearhead its Display Labs at Google X. Pixel QI never quite recovered from the chief of technology leaving them and has not found anyone new. It seems the company right now is in dire straights.
Floyd and Harris, an IT company in Budapest, outlined the current situation with Pixel QI. "We have been using Pixel Qi displays extensively in our UAV ground control stations and generic field service PCs with much success, so today's news hit us hard about Pixel Qi having to move its manufacturing base from the current subcontractor. Both one of our clients and the European Pixel Qi distributor has called us with the news, so I believe it must be true. Such moves may have very serious implications for the supply chain and the general availability of the only low power sunlight visible solution available for our systems." The company went on to say, "From what I heard so far, Chunghwa Picture Tubes (CPT) cannot offer their services to Pixel Qi anymore. Most of my sources tell me that the production quantities are still too low for them, but I couldn't substantiate this from primary sources. There were already some issues trying to get at least a single piece of the new 1280×800 type screen from them, but I was able to buy one eventually from the other EU distributor, Densitron. One contact at the time said that the first marketable production run of these new panels will only start in September, but again, there was no first hand information about this."
So what exactly is the deal with Pixel QI right now? The company decided in late 2011 that it would not have its own fab, and instead would contract it out like Apple does. Mary Lou even wrote an extensive Blog Post in early 2012, hyping the fact that going fab-less would be the best thing for the business. The tribulation the company is currently experiencing is that it doesn't have enough orders coming in for the fab to produce units at a low enough price to make it worth it. So Pixel Qi's current fab ditched, and now it has to scramble and find someone else.
Pixel QI claims it has sold over 2.1 million display screens since the original inception. The sales were to companies like ZTE, Hanvon, and other minor players. John Ryan and Mary Lou were the figures mainly responsible for the accelerated growth of the company and now John is basically running the company solo. Also, Pixel Qi has not been active on the Display Screen technology circuit since early 2012, and was absent at CES, Computex, and SID Display Week.
Pixel QI technology was very sound! We have had extensive hands-on experience with the company's entire product line since early 2010. The main problem is management; losing your founder who had an electric personality creates a large void to fill. I doubt the company will survive much longer without an infusion of capital and a new fab. I don't see either of these two things happening, and it's likely this was the final nail in the coffin for the San Francisco/Taiwan based display company.
Michael Kozlowski has been writing about audiobooks and e-readers for the past twelve years. His articles have been picked up by major and local news sources and websites such as the CBC, CNET, Engadget, Huffington Post and the New York Times. He Lives in Vancouver, British Columbia, Canada.