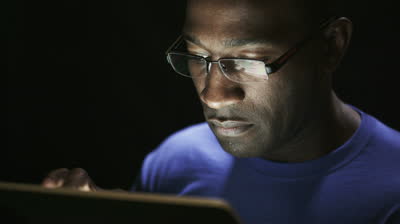 The BBC recently penned their prospective on a new report by the Harvard Medical School that linked the use of tablets at night to an overall sleep onset delay of around ten minutes, and 11 minutes less REM sleep. The report basically equated e-readers, such as the Kindle as using the same screen technology as the iPad.  Mainstream media such as the BBC is spreading a terrible misconception of what an e-reader is.
The Apple iPad and tablets that are cited by the Harvard team use a backlit display that shines upwards into your eyes at around 60 Hz. e-Paper based readers on the other hand use technology provided by e-Ink, which mimics real paper.  The average e-reader does not have a built in lighting system, but the ones that do normally have five small LED lights built into the bottom of the bezel and project light evenly across the screen. This provides a subtle illumination effect, but does not increase pupil dilatation, like a tablet does.
This Harvard report, like many others tackling this subject  matter basically equate the usage of tablets with the suppression melatonin.  So what is melatonin and why is it a big deal? Melatonin is a hormone produced by the pineal gland at night and under conditions of darkness in both diurnal and nocturnal species. It is a "timing messenger," signaling nighttime information throughout the body. Exposure to light at night, especially short-wavelength light, can slow or even cease nocturnal melatonin production. Suppression of melatonin by light at night results in circadian disruption and has been implicated in sleep disturbances, increased risk for diabetes and obesity, as well as increased risk for more serious diseases, such as breast cancer, if circadian disruption occurs for many consecutive years, such as in night shift workers.
What the BBC and this specific report is getting terribly wrong is just because you can read an e-Books on a tablet, does not classify it as an e-reader.  If a mobile device has an LCD or LED display, it is a tablet. If you hear the term e-paper or e-ink the device is an e-reader. The BBC and many people in academia have no concept of the differences between tablets and e-readers and just lump them into a singular category.  They think that a Kindle Voyage is the same as a Kindle Fire. This demonstrates a clear lack of understanding on consumer technology. 
Michael Kozlowski has written about audiobooks and e-readers for the past twelve years. Newspapers and websites such as the CBC, CNET, Engadget, Huffington Post and the New York Times have picked up his articles. He Lives in Vancouver, British Columbia, Canada.