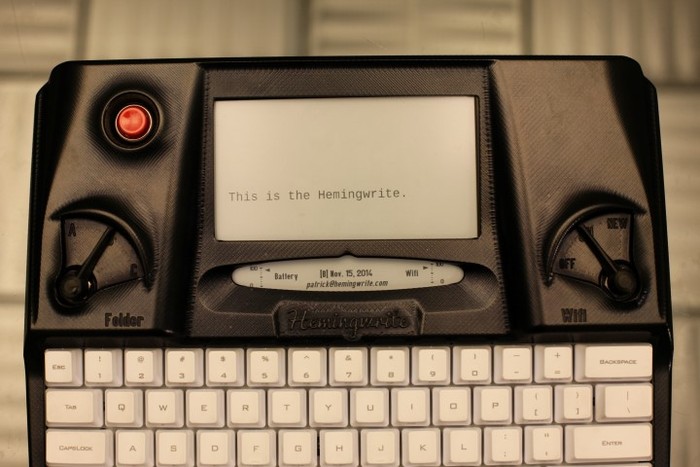 Typewriters burst onto the literary scene in the 1860s's and quickly became indispensable tools for authors to quickly write their next book. They fell out of favor in the 1980's as the world started to embrace digital publishing, which provided the ability to spellcheck their work and send manuscripts quickly to agents and friends. The Hemingwrite, seeks to marry the old school typewriter with a modern digital version, with an e-paper display.
The Hemingwrite is being billed as a distraction free experience, it is meant to write eBooks, without email, or anything else that might get in the way of crafting your next novel. The Hemingwrite has been generating a ton of positive press when it was first announced back in October and has just been listed on Kickstarter to get funding.
Within one hour, the Hemingwrite has received $107,281 in funding and the goal is $250,000 by Jan 23 2015. Likely, it will smash the companies expectations and should generate the necessary revenue in 24 hours.
The huge demand for the Hemingwrite goes to show that there is a market for authors who are looking for an alternative to computers or tablets. The e-Paper display will last for up to 10 weeks