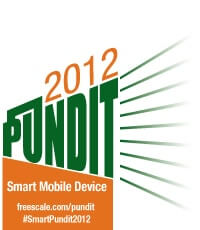 Freescale the company whose processors are in 95% of all e-ink based e-readers has recognized Good e-Reader and put us on the ballet for their Tech Pundit of the Year! This is a great honor for us to be on this prestigious list alongside Wired, Verge, Gizmodo, and the New York Times!
We would like to implore all of our loyal readers of our news source to take a few minutes and nominate us for the top 5! It is super easy, all you have to do is visit http://freescale.com/pundit fill out the form on the bottom left hand side. Simply write your information and nominate Michael Kozlowski of Good e-Reader and write down our blog link!
I would like to thank Freescale for putting together this excellent contest and would like to encourage everyone to vote for Good e-Reader to help take our blog to the next level!