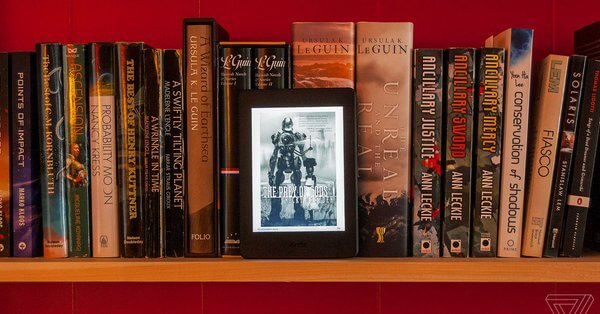 When it comes to e-readers, the Amazon Kindle is a popular choice among students due to its convenient, user-friendly and accessible functions. This tablet harnesses the vast bandwidth of Amazon on a compact mobile touchscreen, so you can find research materials, take lecture notes and catch up on textbook chapters without missing a beat.
With its massive suite of tools, the Kindle is a campus essential, so if you assume it's just for reading, think again! In fact, even the savviest Kindle owners might not realize they aren't using this device to its full potential. It's true—but the hacks and resources below can teach you how to access hidden features that will take your Kindle usage to the next level.
Open a Word Document.
You can transfer more than 10 kinds of file attachments—.doc, .pdf, .jpeg, .png, .gif, .bmp, .html, .rtf and .mobi, among others—from a laptop to a Kindle by sending it to the email address linked to your Amazon Kindle account (yourname@kindle.com). To locate this email address, open "Manage Your Content and Devices," then "Settings," then "Personal Document Settings" and add your address to the "Approved Document Email" list. Next download the Send to Kindle program on your computer, and finally send the document to @free.kindle.com.
Download Online Articles.
If you're gathering sources for a paper or hiring a writer for your essay online and need a quick and convenient way to archive them for later reference, you can download articles from the internet to save directly on a Kindle. One of the simplest and most effective methods of doing this is through a bookmarking app called Instapaper which is available on both Apple and Android platforms. Under the app's settings, choose "Kindle" as the preferred delivery option, and whenever you store an article on Instapaper, it will be forwarded straight to the Kindle for on-the-go accessibility.
Access 3G Web Browsing.
There are tons of different models to choose from, but the Kindle Keyboard edition has a unique advantage in that it allows you to browse the internet free-of-charge instead of having to depend on Wi-Fi. In fact, on this device, you can access 50MB of cellular data from anywhere across the globe without accruing monthly fees. In order to enable this function, just open the dropdown menu, toggle over to the "Experimental" setting, then switch on "Launch Browser."
Take an Image Screenshot.
Next time you're scanning a chapter of that Biology reading assignment and come across a paragraph you need to remember, instead of writing all the information, take a screenshot of the page. This saves time—especially if note-taking is not your forte—and makes studying for exams more organized. To screenshot an image on the Kindle Paperwhite and Voyage models, hold down two opposite corners of the screen simultaneously. On the Kindle Touch, press the home button while tapping the screen. And on the Kindle Keyboard, type alt + shift + G.
Use a Free Lending Library.
From classic literature to modern best-sellers to academic texts to the entire Harry Potter series, the Kindle Owners' Lending Library offers a database of 80,000 books to anyone with a Kindle or Amazon Prime membership. These titles are free-of-charge, and there are no due dates, so keep them as long as you want. To browse this huge selection, just open the Kindle Store, navigate to "All Categories," then "Kindle Owners' Lending Library" and "Borrow for Free."
The Kindle is on top of the e-reader market for good reason—it's functional, practical, and loaded with resources to make academic research more efficient and pleasure reading more enjoyable. This device can transform and expedite those study habits, make finishing a last minute assignment easier and keep your organization skills on-target. Not to mention, with these lesser known hacks in your Kindle usage arsenal, you can tackle the semester head-on, while keeping stress levels to a minimum.

Markus lives in San Francisco, California and is the video game and audio expert on Good e-Reader! He has a huge interest in new e-readers and tablets, and gaming.