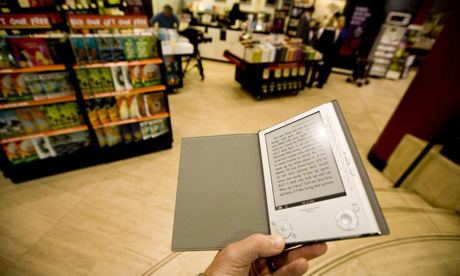 E-Readers have quickly evolved to be the most sought after device for book lovers around the world. And its not without reason as e-readers come with a host of features that make these devices a lot more than just an electronic gadget to read e-books.
However, there is a different pattern that has come to shape the current process of creating an e-reader. Its somewhat like a reverse engineering process in that the manufacturer first gets into creating the e-books and then creates an e-reader that will be compatible with the e-book format that they have created. For manufacturers, its not only the hardware they have created they believe will get them buyers. Rather, a major USP of these e-readers is the book source that will act to feed these e-readers. So e-reader are like spoons to feed consumers with e-books and periodicals that the manufacturers have created.
And Waterstone, the largest bookstore in the UK has exactly this in mind when they let it know that they will begin to stock a Kindle like device within the next few months. They are yet contemplating whether to use an existing e-reader or to make one of their own from scratch. But what can be assumed as of now is that the new e-reader is likely to feature Wi-Fi or 3G connectivity. However, the thing that we can be pretty sure of is that the e-reader will be attached to the Waterstone bookstore in much the same way as Kindles are hooked up to the Amazon bookstore. The obvious reason is to allow users unrestricted access to all their books and periodicals that they have.
This also is not the first time Waterstone has attempted anything of this sort as they had got into a similar venture with the Sony Reader, which were sold at their bookstore.
More details on this are awaited, which you will surely have at our popular e-reader blog along with all the latest e-reader news.
Also, E-Readers along with Tablets or Slates are dealt with extensively in our Good E-Reader magazine. The April edition is currently out. So grab your copy if you are a gadget freak.
Sovan Mandal is the senior tablet and tech corespondent for goodereader.com. He brings a international approach to news that is not just applicable to the North American market, but also Asia, India, Europe and others. Sovy brings his own writing flavor to the website and is interested in Science Fiction, Technology and Writing. Any questions, send an email