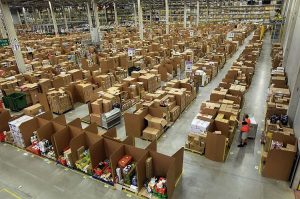 Amazon has expanded globally into markets that have now seen the benefits of e-reading. One such global branch, Germany, is now Amazon's second largest retail market, which is interesting considering that only a few years ago Germany was considered a slow adopter of ebooks due to strange legal ramifications that taxes ebooks at a much higher percentage than print.
But now that Amazon has expanded into Germany and has even opened retail distribution centers in the country, the retailer faces some local opposition from a few people disgruntled with Amazon's practices. Unlike here in the US where Amazon seems to be everyone's favorite whipping boy–while many of those same naysayers have turned Amazon into the empire that it is today–for it's massive growth and the blame for the death of brick-and-mortar bookstores, German critics are taking issue with Amazon's labor practices, many of which fly in the face of the way working citizens are used to doing business.
According to a statement that appeared in a New York Times article on the struggles Amazon has faced with locals, "In Germany, the idea that warehouse workers are going to be getting opposition from an employer when it comes to the right to organize, that's virtually unheard-of," said Marcus Courtney, a technology and communications department head at Uni Global Union, a federation of trade unions based in Nyon, Switzerland. "It puts Amazon out in left field."
This would hardly be the first time that Amazon has been accused of mistreating its warehouse workers, even in the US. For its part, Amazon is working around things like the definition of a "retail" worker and a slow adoption of changes to how the German warehouses send out customer orders, both of which are fairly universal concepts for Amazon markets.
Some of this criticism might seem frivolous, and it might have more to do with EU citizens who are angered over the tax situation that major companies like Amazon, Google, and Apple have all had their names dragged through the mud in various European news outlets for what many feel is skirting local tax laws and driving competitors who have to pay the full tax rates out of business.
Mercy Pilkington is a Senior Editor for Good e-Reader. She is also the CEO and founder of a hybrid publishing and consulting company.