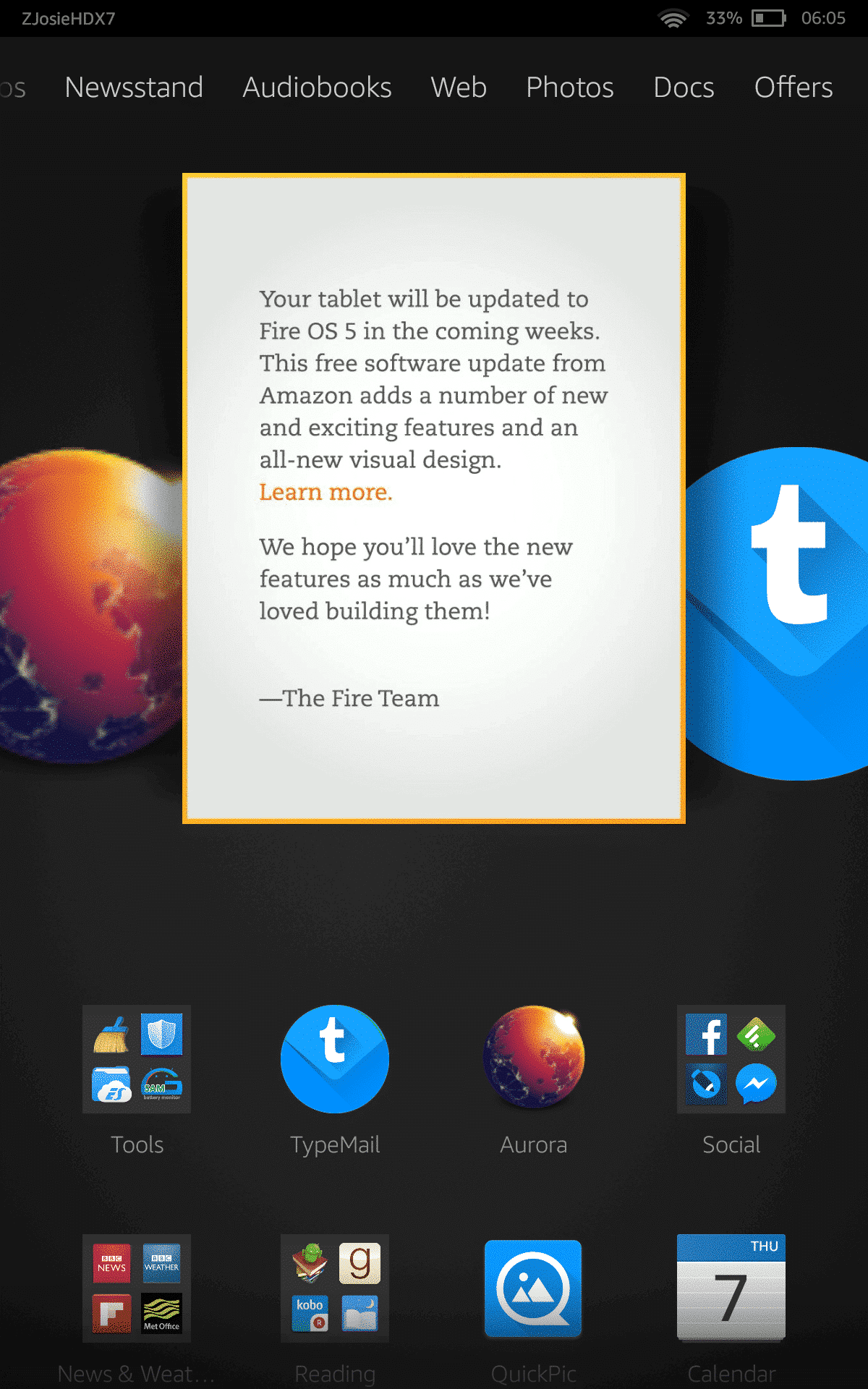 Amazon is in the process of informing customers who have have an Fire HDX tablet that they will receive a new operating system update in the next few days. It will be updated to OS 5, otherwise known as Bellini.
The Fire HDX line of tablets were initially released in late 2013 and this is the first time that a major operating system update will be available.
Here is the complete list of updates that will be automatically pushed via WIFI in the next few days.
Updated User Interface
Fire OS 5 "Bellini" introduces an updated user interface that provides the best entertainment experience on a tablet, making it easy to access your favorite apps or discover new content. The new home screen includes dedicated content pages for books, games and apps, video, music, audiobooks, and periodicals—each page presents an engaging layout akin to the beautiful pages of a magazine and presents your recent content as well as personalized suggestions for new entertainment. If you subscribe to services like Prime, Kindle Unlimited, or Audible, you can easily discover new content that you can access at no additional cost.
On Deck—Ensures You'll Always Have Something Good to Watch
Have you ever forgotten to download a movie ahead of a flight? For Prime members, On Deck automatically keeps your Fire tablet current with popular Prime movies and TV shows, as well as Amazon Original Series, so you always have something good to watch. Importantly, On Deck only uses the available storage on your tablet, opportunistically in a special shadow mode. When you download something, On Deck automatically makes room for your selected content—there's no hassle of needing to clear out space yourself. This feature will be available via a free, over-the-air Fire OS update in the coming months.
Amazon Underground
Many apps and games that are marked as "free" turn out not to be completely free. They use in-app payments to charge you for special items or to unlock features or levels. Fire HD tablet owners have access to a one-of-a-kind app store experience where over $10,000 in apps, games, and even in-app items are actually free. Experience titles from top developers, including Disney, Rovio Entertainment, Gameloft, Zeptolab, and Sega of America without ever having to pay for the app or in-app purchases.
Best Tablet for Reading —Now Even Better with Word Runner
Bellini allows you to initiate a new speed reading function called Word Runner, a feature that brings each word to the center of the screen to where your eyes are already focused. Word Runner has Dynamic Pacing so it gradually builds to your preferred reading speed and algorithmically and automatically slows down for difficult words, punctuation, and paragraph breaks. If you miss something, just tap and hold the screen to activate the brake, which instantly pauses Word Runner and lets you easily scroll back and pick up wherever you'd like.
Activity Center—More Tools for Parents
For parents with kids who have outgrown Amazon FreeTime but are not yet ready to be without parental controls, Activity Center provides an easy way for parents to see how their kids are spending time on their tablet. When Activity Center is enabled, parents can visit a customized, secure page on their smartphone, tablet, or computer to review how much time their kids spend playing games, watching videos, and reading. Parents can also choose to view browser history via Activity Center in order to understand what sites their kids are visiting on the Internet, or can look at which specific apps, books, or videos their kids accessed. Activity Center will be available via a free, over-the-air Fire OS update in the coming months.
Share Even More with Family Library
Family Library now allows families in an Amazon Household to share Prime benefits, including Prime Video, Kindle Owners' Lending Library, free 2-day shipping on millions of items, and many other benefits. Family Library links your Amazon account to that of your spouse or partner so you can easily share apps, games, audiobooks, books, and Prime Video content within your household without changing accounts. Family Library lets family members share their content while using a single Fire tablet with different profiles, or across multiple devices—including Kindle e-readers, Fire tablets, and Amazon Fire TV—as well as on all of the other most popular devices and platforms with the free Kindle, Audible, and Amazon Video apps.
Blue Shade
Amazon explained the essence behind Blue Shade, stating that it "uses specialized filters to limit exposure to blue light. It also offers warm color filters and the ability to lower the display brightness to an ultra-low level for comfortable nighttime reading—even in a dark room," Amazon said in an emailed statement. "Customers can also fine-tune the color settings to their personal preference, with the device intelligently adjusting the color filtering so that at any color or brightness, the blue wavelength light is always suppressed."
"Studies have shown that evening exposure to blue light from tablets may suppress our bodies' production of melatonin," Amazon said in its press release, "which can prolong the time it takes to fall asleep, delay REM sleep, and reduce the level of alertness the next morning." Blue Shade is supposed to fix that issue.

Michael Kozlowski has been writing about audiobooks and e-readers for the past twelve years. His articles have been picked up by major and local news sources and websites such as the CBC, CNET, Engadget, Huffington Post and the New York Times. He Lives in Vancouver, British Columbia, Canada.