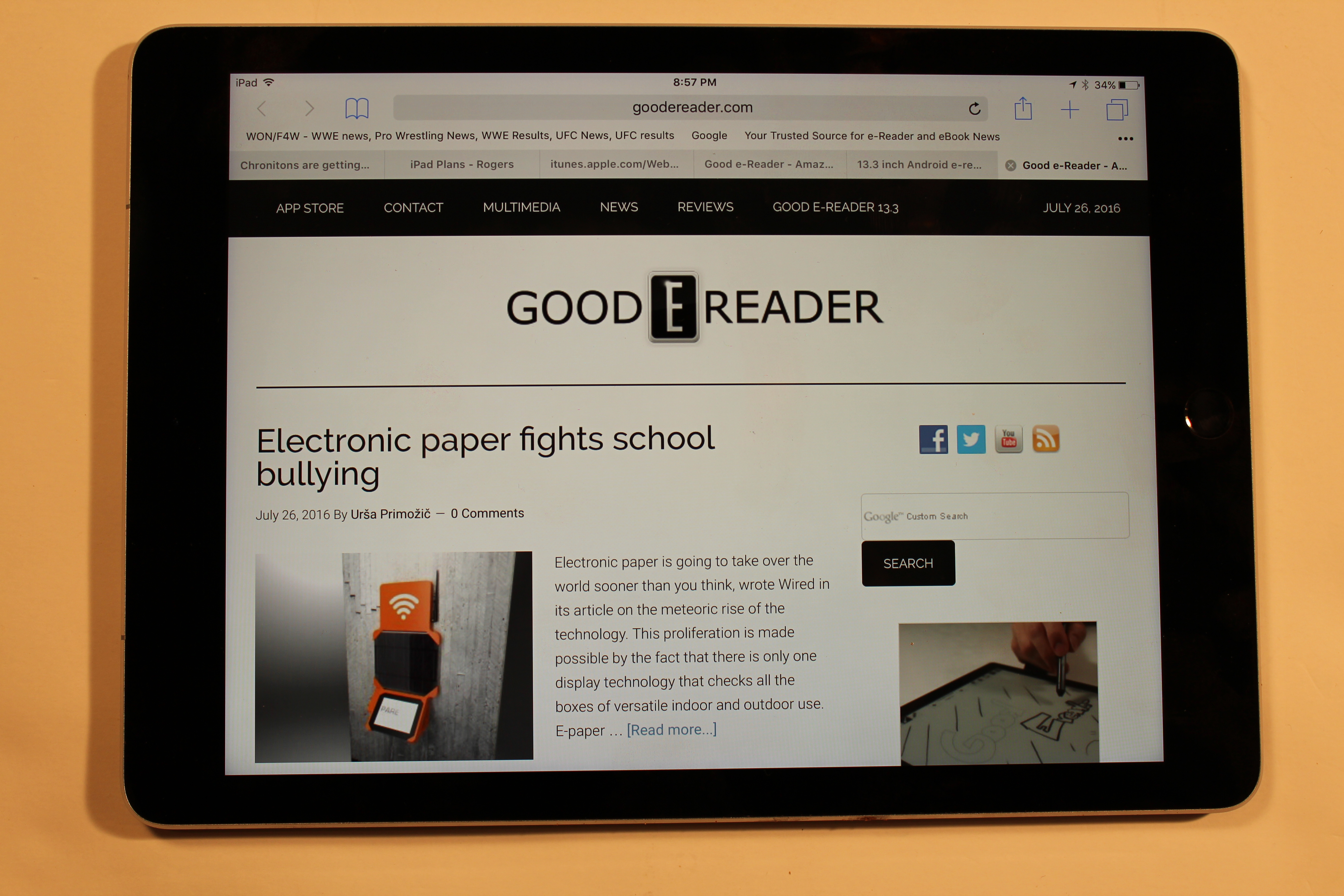 The Apple iPad 9.7 PRO is the best tablet the company has ever made. The big selling points are the four speakers, which makes doing anything audio related a pure joy. Readers will appreciate True Tone technology, which automatically adjusts the white balance, depending on your environment. The end result is a vibrantly white background that insures reading comics, e-books, magazines, manga or newspapers is really solid.
Hardware
The iPad PRO features a 9.7 inch screen with a resolution of 1536 x 2048 and 264 PPI. Not much has changed with the physical display and it rivals prior iPad models.
The big reason why the screen is great is because of True Tone. The 9.7 PRO is the only Apple tablet that has this feature. It has nothing to do with the extra-deep colors that tablet offers, but about shifting how the display looks in different kinds of lighting.
True Tone makes the iPad Pro 9.7 alter the color temperature of its screen so that, relative to ambient conditions, whites will still appear white rather than a "bit orange" or "a bit blue". If your whites don't look white, your colors won't look right either.
Underneath the hood is a Apple A9X 1.2 GHZ dual core processor and PowerVR Series 7 GPU. There is 2 GB of RAM, which is a big upgrade from the iPad Air that I have, which only has 1GB. There is also a 12 MP rear facing camera that shoots video in 4K, and a rather respectable front-facing 5 MP camera. I still remember reviewing a ton of tablets that only had a front-facing VGA camera.
I primarily upgraded to this model because of the four speakers. They are placed on the very top and bottom, which insures if you have the tablet laying on its rear, there is unobstructed sound. There are lots of tablets out there that have the speakers placed on the back of the device, which tends to muffle the sound.
The speaker quality is not as good as the iPad Pro 12.9, which rivaled the Amazon Fire in terms of crystal clear sound and sheer volume.
If you tend to make lots of in-app purchases or carry it with you in a messenger bag or purse, this unit has Touch-ID. You can simply verify purchases by pressing your thumb down. This is not a feature I normally use, but some people do.
One of the biggest drawbacks with all the new hardware features is that the battery life tends to suffer. If Bluetooth and True Tone are turned on, it tends to go down quickly. It also is slower to charge than the first or second generation iPad Air.
Software and e-Reading
The iPad Pro 9.7 turns pages faster and launches apps quicker than any other Apple product out there. The processor and 2 GB of RAM are chiefly responsible for this.
The one drawback about making an Apple product your default reading device is the lack of impulse purchases. Dealing with iBooks is basically the only ecosystem you can buy audiobooks and e-books directly within the app. Amazon, Barnes and Noble, Kobo, Scribd do not support in-app purchases. The reasons is that profit margins are razor thing on selling e-books and there is hardly any money to be made if they have to pay Apple a percentage of each transaction.
Not everyone likes to read content on a tablet, there is a large percentage of people who need an e-ink device. Serious readers often choose a Kindle or Kobo e-reader because its easier on the eyes. There are others though that like a tablet like the iPad because they can read stuff in color and do more things, like play games.
If you look at the review video we posted below you will get a sense of how the iPad performs reading comics, e-Books, RSS Readers and show a 4K video so you can checkout the sound and video quality.
Wrap Up
Not everyone upgrades their iPad whenever a new generation is released. Apple does do small incremental updates, but the same can be said about all the e-reader companies. It is challenging to innovate every year with new display screens and higher resolution. LG has been investing 8 billion into new factories to power future iPhones and iPads.
Apple may not sell the most phones or tablet, but their ecosystem is the best in the world. Developers earn more money and first party apps are normally released on iOS first and Android second. The thing about Android is the OS is too fragmented and there is too much piracy. If I want to pay for things, I do it via my Apple account. Not Samsung Pay, Google Pay and all of the other second party systems.
I think if you have an older iPad like the iPad Air 1 or 4th generation and below this iPad Pro is a good investment.
PROS
2 GB of RAM
True Tone Display
Faster Processor
Apple Pencil Support
Keyboard Dock

CONS
Expensive
Battery Life
Rating: 8.5/10
Michael Kozlowski has been writing about audiobooks and e-readers for the past twelve years. His articles have been picked up by major and local news sources and websites such as the CBC, CNET, Engadget, Huffington Post and the New York Times. He Lives in Vancouver, British Columbia, Canada.