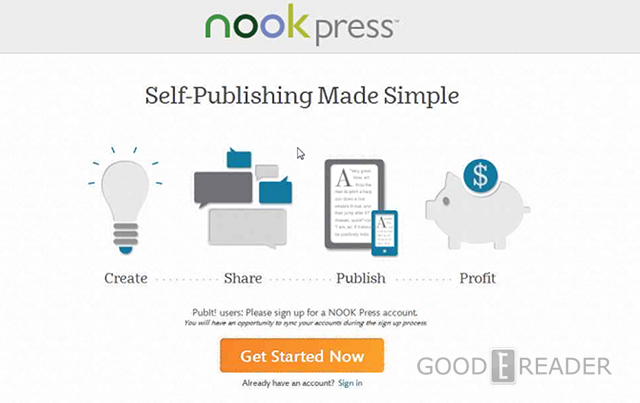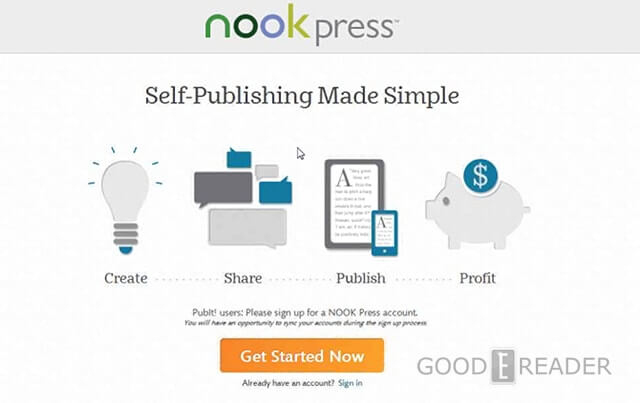 The world of self-publishing is rife with unfriendly, non-intuitive platforms that demand a strong technical knowledge to be able to produce compelling ebooks. Barnes and Noble is hoping to solve this problem with the unveiling of its Nook Press platform. Announced today, it is a direct follow-up to the company's first generation PUBIT initiative that was launched in 2010.
Theresa Horner, the VP of Digital content at Barnes and Noble, explained the company's process in an exclusive interview with Good e-Reader. "When we launched PUBIT, we had no idea how big the community would be," she said, and went on to describe how difficult it would have been forming direct relationships with authors without PUBIT. "If we did not start PUBIT, we wouldn't have been able to get content from all of these great indie authors. We are investing two times into the new platform than we originally did PUBIT."
Nook Press provides an all in one solution that allows authors to upload existing Microsoft Word documents and instantly see how they look in EPUB, or create EPUB documents from scratch using the online tools. One of the barriers to ebook creation is being able to constantly refine your work; many self-publishing platforms do not allow you to make changes in the web-interface and demand you make the changes locally and then re-upload the finished result. Nook Press allows authors to make any changes on the fly and even create an interactive table of contents, something that makes everyone's life a little bit easier.
When you have selected your cover art and added your metadata, it is time to list your book on the Barnes and Noble ecosystem. US publishers and authors can select whether they want the book for sale both in the US and the UK, and establish different prices accordingly. You also have the option to choose whether you want your finished product to have DRM or not. Having the option to avoid encryption and allow your ebook to be free and open will resonate with the segment of outspoken authors that love freedom of information. Another thing most people will love is the ability for all ebook titles to be included into LENDME—Barnes and Noble's social sharing feature—that allows users to loan a title out only once to a friend for up to two weeks.
The entire ebook creation is done in EPUB2 and there is no functionality to include interactive content, videos, or animations with EPUB3. Also, there is no way to export your ebook as a PDF, so self-publishing comic books may not be the easiest thing in the world to smoothly accomplish. The Nook Press program is exclusively available for US residents only and will not accept submissions from any other market. The company may look at the United Kingdom at some point, but does not have immediate plans to make publishing available there.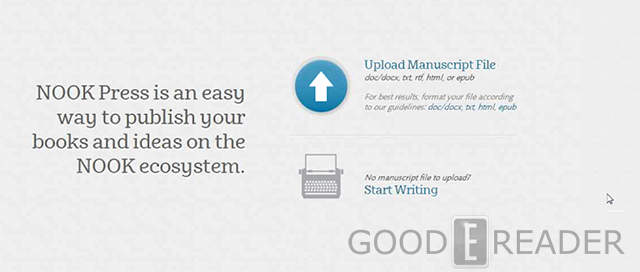 Many authors love to know how their sales and metrics are doing for a title they have just released. Nook Press has new analytical functions that can give you an immediate report on every single purchase made. It is on a 3 hour delay for sales reports, as the company has to verify credit card data and other purchasing information. You can see the raw numbers, or juggle the graph data to show how it is performing over time.
First time authors have lots of questions when they are self-publishing for the first time. Barnes and Noble is making customer support for authors its top priority by introducing a new live chat feature. From 9 AM to 9 PM on weekdays, authors can talk directly to a Nook specialist to get help for anything that they need. Theresa told us that she recognized B&N's support for self-publishing has been very weak in the past, and the company is remedying it with Nook Press.
Many first time authors want to share their books with their friends and family. Whether you have added a new chapter, or are just starting out, there are new tools to involve collaborators. You can invite people via email to get access to your book in the cloud. They can leave their impressions on specific sentences or chapters via the notes tool. Currently, the ability to edit an ebook as a collaborator is not included in the first release, but is on the company's roadmap to introduce in the future.
Speaking of the future, introducing new features is something most people love when they are self-publishing on any given platform. Since PUBIT was first released in 2010, there has not been a single new enhancement added. The entire point of Nook Press is to create a scalable product in which new enhancements can easily be pushed out for everyone to enjoy. Speaking of PUBIT, the entire platform will be retired once Nook Press sees a broader rollout.
Considering where PUBIT left off, there is a night and day difference with the unveiling of Nook Press. The entire process of creating an ebook is actually very intuitive and easy. The platform eliminates anything that would be a barrier to you proudly launching your first title.
[cincopa A8FA-I7HIZrb]

Michael Kozlowski has been writing about audiobooks and e-readers for the past twelve years. His articles have been picked up by major and local news sources and websites such as the CBC, CNET, Engadget, Huffington Post and the New York Times. He Lives in Vancouver, British Columbia, Canada.