The Barnes and Noble Simple Touch with Glowlight is a new breed of e-reader that allows you to read in the dark. It maintains the same e-ink display found in previous models of the Nook Simple Touch, which makes it very easy on the eyes during long reading sessions. Unlike LCD screens, it does not burn your eyes when you are reading in the dark. Is this new form of e-reader just a gimmick or does it raise the bar?
Hardware
The Barnes and Noble Simple Touch with Glowlight features a six inch e-ink pearl display. The resolution of 800 x 600 is comparable with most other e-readers on the market, like the Kindle Touch and the Nook Simple Touch released last year. Underneath the hood is a 800 Mhz processor with 2 GB of internal memory. If you need more space to store your books and other media you can expand it up to 32 GB via the Micro SD Card. Most of your daily functions tend to zip along fairly fine with the processor and 256 MB of RAM.
The Nook Simple Touch with Glowlight is a full touchscreen e-reader that is one of the most responsive devices on the market. It features an infrared display that is on the side of the bezel. This allows for pin-point accuracy in terms of interacting with the menus and keyboard.
The big draw on this new e-reader is the Glow function that allows you to read in the dark. Instead of having the light appear from underneath the screen like most tablets on the market, it emits from the same area as the IR display. There are a total of eight LED lights that are spread around the bezel that provide a fair amount of light. In some cases, because they are spread out, I found that some lines of text are darker than others. The glow feature is not always on by default, but you have to hold down the N button for around two seconds to turn on the light. In the settings menu there is an option to change the different levels of luminosity.
Honestly, the glow feature is one of the best new technological advances to hit the e-reader scene in a long time. If you wanted to read your ebook reader in the dark you would have to purchase a bulky aftermarket light or a case with a built in light. This drastically increases the cost and often becomes bulky and cumbersome.
The Nook Simple Touch with Glowlight is noticeably thicker than a Kindle Touch, at 0.47 inches (11.9mm) to the Kindle's 0.40 inches (10.1mm). It's a little lighter than the Kindle or the Nook Simple Touch, weighing just shy of 7 ounces. I think its rather impressive that they managed to actually shave off a bit of weight while adding a new light display. In terms of battery life you can get over 1 month with the GlowLight functionality on, based on a half hour of daily reading time, or over 2 months with GlowLight off, based on a half hour of daily reading time. One of the cool things with this model is Barnes and Noble is actually including an AC adapter right in the box. The previous models only had a USB cable to charge your unit on your PC.
Like most other e-readers on the market, this has a dedicated Wi-Fi interact connection. You can easily connect up to your own local network and download new content from the B&N online store. You can also take your e-reader into any Barnes and Noble store location and read books. Many online stores only allow you a small sample of the book if you are downloading it online. When you are actually in a physical store location, you can read the book in its entirety as long as you stay in the store. When you leave, the book simply disappears from your library, but at least you can try before you buy. This is one of the cool aspects of running a physical retail store; they can do little things like this that make a world of difference.
I would take the Nook with Glow over the Kindle Touch any day of the week. The physical page turn buttons really give it the edge because they are slim and optimized for right or left handed people. It may not have all the extra features like "Send to Kindle" or "Instapaper," but I find on a hardware level it is lighter and gives you a better e-reading experience than any other device currently on the market.
Software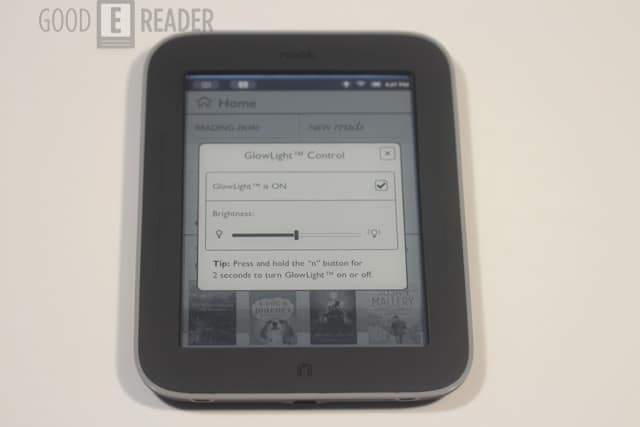 The Barnes and Noble Simple Touch with Glowlight is running Google Android 2.1 as the main operating system. Every single e-reader that the company has ever produced runs this OS, which allows more speed and flexibility then the standard Linux OS that almost all other e-readers on the market use.
Barnes and Noble really makes their e-ink based devices a social reading experience. They have various programs like Nook Friends, LENDME, and social media integration. This is a total advantage, because you can borrow an ebook for up to two weeks from your friend and even browse their entire reading list to see what books they are reading. If you don't really know anyone that uses the Nook and want to borrow books for free, you can visit various ebook lending sites like Lendingbook. You can also share select passages and quotes via Twitter and Facebook, once you connect your accounts.
Barnes and Noble provides a wide and expansive ecosystem for you to buy and read books. The store is built right into the e-reader and is organized in a very intuitive fashion. It is optimized for swipes and gestures and all of the text is large enough that you won't often click on something you didn't intend. The store is divided into many sections with popular categories like the New York Times Best Sellers, Editors Picks, and various genres/sub-genres. You can also download plenty of newspapers from various publishers, such as the New York Times and many local papers. Currently they have over one million books that are both paid or free.
I really like the responsiveness of the Nook Simple Touch with Glow! Navigating menus and settings are super fast and there is little wait time for menus to load. Books tend to open very fast and page turn speeds are out of this world.
e-Reading Experience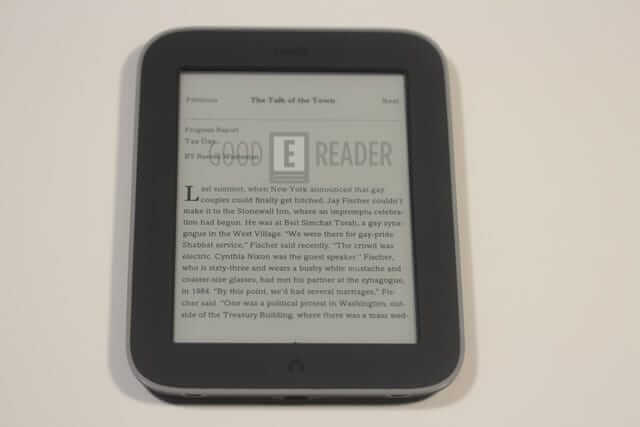 There are only a few book formats that the Nook is compatible with, such as EPUB and Adobe PDF. EPUB is really the internet standard for electronic books, and allows you tremendous flexibility in changing the fonts, line spacing, and margins. When you buy the Nook you are not just limited to buying books from Barnes and Noble, but you have the freedom to buy from wherever you want. When you purchase a book from another store, you simply need to download Adobe Digital Editions to transfer it over to your device. The only store you cannot do business with is Amazon, because they use their own proprietary format.
More libraries are starting to use the Overdrive system to facilitate the lending of digital books. This allows you to use your Nook to borrow books from your public library. The only thing you need is a library card and a 4 digit pin number. Check with your local library branch to make sure you can borrow books from them.
If you are the type of person that downloads a ton of books from the internet or dives into the shady underworld to get your content, this e-reader is for you. You can download any book in EPUB format and then use a 3rd party program like Calibre to manage your library. I really like Calibre because it allows you greater control to edit your books. When you download books online, often the title of the book or author's name is misspelled or the file has the book title, authors name, and series all in the title. With Calibre you can change all of this information and even change the cover art if you want. If you don't want to use any third party programs, you can simply use Windows Explorer to copy the books into your books or documents folder.
The Nook line of e-readers allows you more flexibility than most other devices on the market to tailor your reading experience the way you want it. There are over eight different fonts you can choose from when you are reading a book. The default options are Caecillia, Malabar, Amasis, Gill Sans, Helvetica, Trebuchet, and a few others. You also have seven different options to physically change the size of the font. This is very useful to optimize the size of the font based on your own personal needs. There are also plenty of options to change your line spacing, margins, or abide by the publisher's defaults.
Nighttime Reading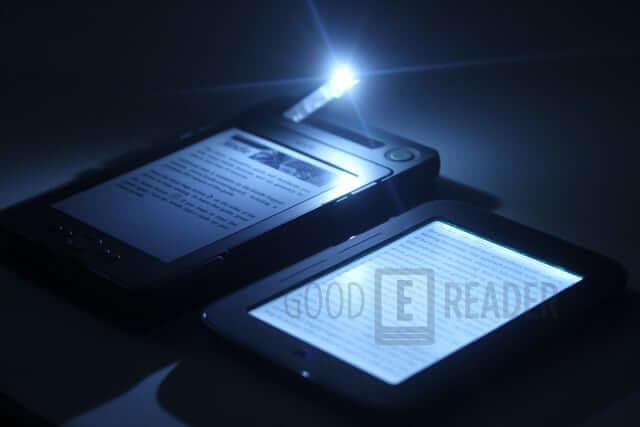 The Nook Simple Touch with Glowlight is designed to be read under any circumstance and its priority is reading at night. We ran a battery of tests to compare it against LCD tablets like the iPad 3 and Nook Tablet. We also compared it to the new SolarFocus case with built in LED light and the official Barnes and Noble Booklight.
When you have a dedicated e-reader like the Kindle Touch, or even the 1st generation Barnes and Noble Simple Touch Reader, the only way to read in the dark is with a booklight. We found from our tests that these lights only illuminate the top half of the screen and in many cases give you a LED glare on the screen. In testing the Nook Glowlight against various booklights the new Barnes and Noble e-reader simply blew them all away. If you have a normal e-reader and decide to invest in a booklight, the costs dramatically increase.
LCD based tablets like the iPad 3 and Nook tablet are designed to read in low-light conditions and have many options to change the brightness of the screen. In many cases they also have nighttime reading mode that will change the background to black and the text to white. This is supposed to prevent headaches and not burn your eyes during long reading sessions. There is obviously a fundamental difference between e-ink technology, which mimics real paper, and an LCD screen.  In most of our tests the LCD screens performed fairly well at night but lacked outdoors in the sun. The Nook Simple Touch was the clear winner in terms of being a pure e-reader both indoors and outdoors.
Our Thoughts
The Nook Simple Touch with Glowlight really raises the bar on e-reading in 2012. It is the only device on the market that allows you to read comfortably in low-light conditions. Personally I do most of my reading at night when I am going to sleep. In the past, I needed the lamp to be on and be positioned in such as way that the e-reader was facing the light source so I can read without any shadows. When you have a family or are sleeping with a significant other this could cause drama with them wanting the light off. You could obviously bypass this by purchasing a book light or a case with a built in light. I was never a fan of these because it took away from the essence of an e-reader, in that they are supposed very light and portable.
One of my main concerns with this new lighting system is what happens if one of the LED lights burns out? I have yet to find any kind of replacement lights on the market and B&N has been fairly mum on the matter. It also goes without saying that Barnes and Noble does not actively sell their e-readers or tablets outside the USA. If you live in Canada, Australia, Europe, or anywhere else your best option is the premier e-reader store Shop e-Readers, that has plenty in stock.
In the end, this is a great e-reader for the price and the only one with a built in light. It really allows you to read anywhere and anytime. Unlike an LCD tablet, it will not burn your eyes and is the closest experience you will get to reading a real book. Digital content is also way cheaper than buying the physical book. Often a new release in hardcover format will cost $25 to $45, while the ebook often costs $9.99. Any book you buy from Barnes and Noble can be read on their official apps for iOS, Android, and many other operating systems.
Pros
The ability to read in the dark
Expansive ecosystem of books and newspapers
Lots of options to change your reading experience
Fairly affordable
Cons
Most B&N stores are completely out of stock
No internet browser via the Search Menu

Rating 9.5/10
[cincopa AAAAI6qECVRE]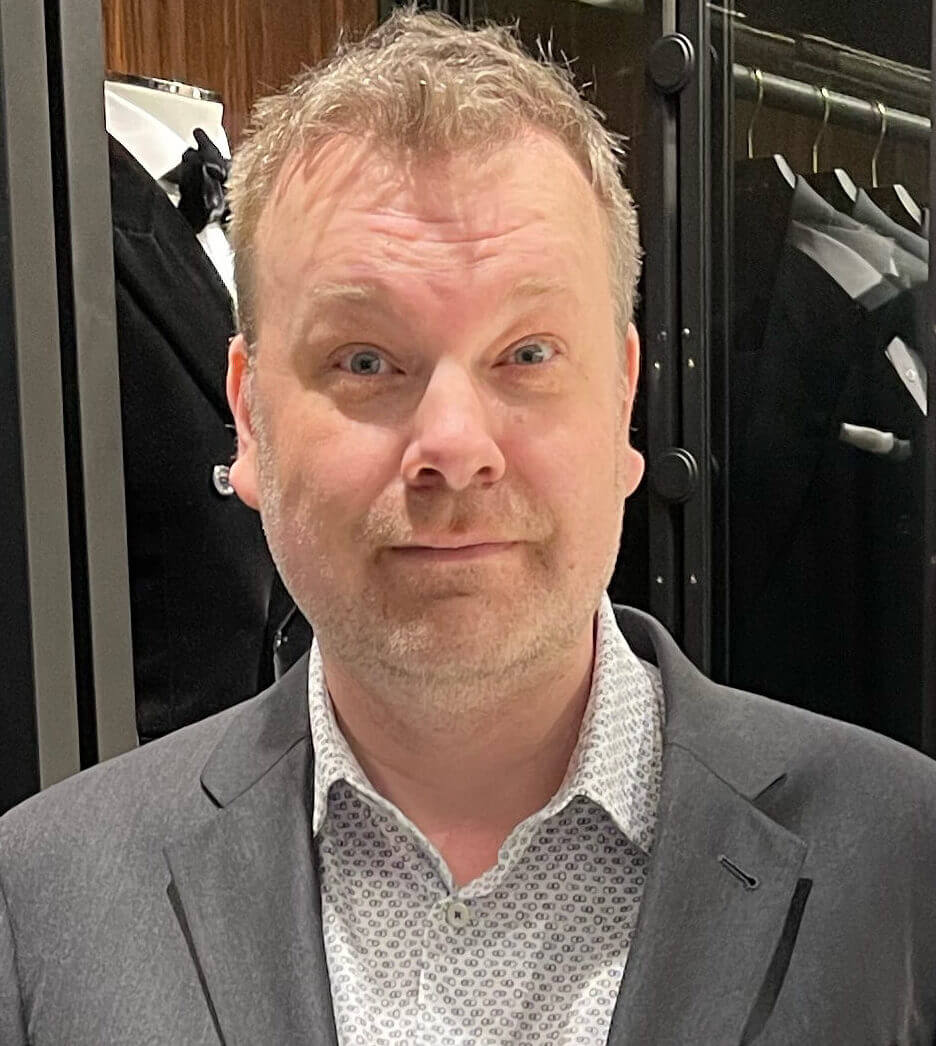 Michael Kozlowski has been writing about audiobooks and e-readers for the past twelve years. His articles have been picked up by major and local news sources and websites such as the CBC, CNET, Engadget, Huffington Post and the New York Times. He Lives in Vancouver, British Columbia, Canada.