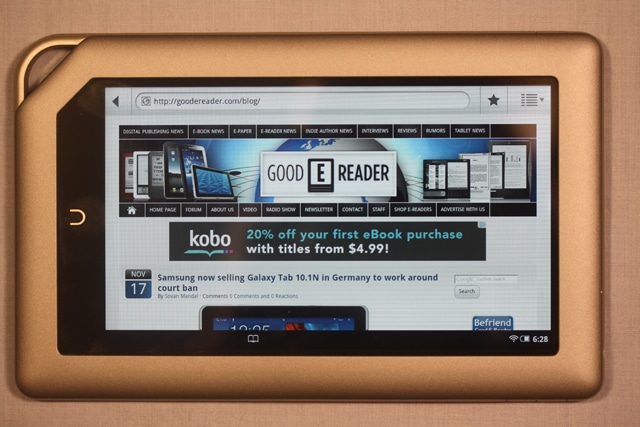 The Barnes and Noble Nook Tablet is the second iteration of the original Nook Color. The original tablet was a huge success for the company and has been their most bestselling device of all time. It spawned an entire Textbook and Kids Book area that matured over the last two years. Since the second generation version launched a few days ago many people have been wondering how it stacks up against the original and the factors that make it distinctive.
Hardware
The Nook Tablet features a 7 inch multitouch display with a resolution of 1024×600 pixels. Underneath the hood it is running a dual-core 1GHZ processor and 1 GB of Ram. Internal storage bestows upon you a whopping 16 GB and you can further enhance it via the Micro SD up to 32 GB.
The hardware specs alone are double the original Nook Color and in most comparison tests we ran outpace it in every way. Switching the device from landscape to portrait mode is almost instant and the navigating around the interface is quick and robust.
The form-factor of the new Nook Tablet bears striking similarities to the original Nook Color. It is simply lighter and slimmer which enhances the portability factor. On the front of the device is a small built in microphone which allows you to record your voice in certain ebooks that have the 'read and record' feature and benefits new applications such as Skype. There is also the ubiquitous "N" on the front which bring you back home when you are exploring apps, menus or reading books. The new feature this key brings to the table is that it calls up the main menu. This is handy because all it takes as you hitting the key and you have full access to your library, web browser, store, and applications. This makes life simpler then the original Nook Color because it only brought you back to the home screen and required a touch area to bring up the main menu.
The sides of the Nook Tablet have physical volume buttons and a 3.5mm headphone jack on the top. The bottom of the device is simply the Micro USB port that allows you charge it via your PC and transfer media to it. Finally on the left hand side is the power button to lock the device or turn the power off. I love the physical buttons on the Nook Tablet because the Kindle Fire is entirely software driven and you need to interact with the touchscreen in order to accomplish anything. This is important because frequently late at night I will be listening to an audiobook and at certain moments I want to turn up the volume. This is much easier accomplished with physical volume buttons instead of having to turn the screen on and turn up it up, like the Kindle Fire mandates you to.
Speaking of Audio and Volume, the Speaker is still on the bottom of the device and this is a matter of contention with many users. A fair number of people find the speaker gets muffled when you are holding it in landscape and portrait mode because your hand overlaps it. The volume level quality is fine but the Kindle Fire did a superior job with its dual stereo speakers.
The Nook Tablet allows you to browse the internet with the built in WIFI browser. It has full Adobe Flash integration to play games and watch embedded Youtube Videos. The internet experience has not really changed since the original Nook Color. You really notice the enhanced processor and RAM when you are scrolling around web pages and pinching/zooming. There is no artifacting or checkered background of notice that ever happens. This carries over all other aspects of the device, programs instantly load and there is little to no wait-times involved.
In the end, the Nook Tablet is a solid second generation device in terms of the hardware. It doubles everything the original Nook Color had and if you were a fan of the original you will be completely sold on the second iteration. I was very impressed that they did not make sweeping changes that made the chassis feel completely different. Instead most of the enhancements were made underneath the hood and on the software side of things.
Software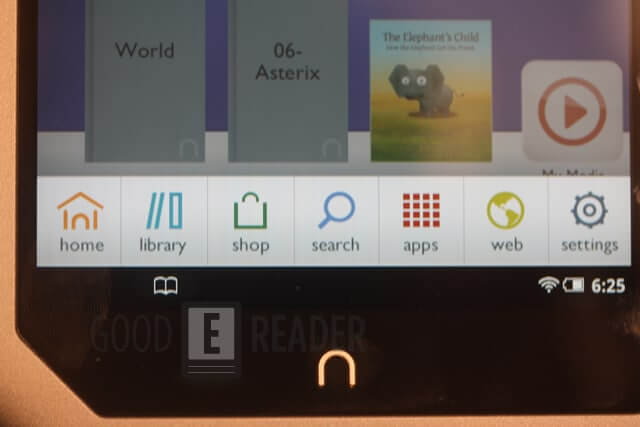 The Nook Tablet is running Google Android 2.3 which is a more current version of the OS then the original Nook Color had. There are many benefits of the new updated operating system including faster loading time on major UI elements.
The menus and settings features have a fair bit in common with the Nook Color but they have expanded on many of the Graphical elements that make it feel like a more current device.
Most Android Tablet being billed as e-readers give you a very standard Android experience. Barnes and Noble has always crafted their own unique appearance that made it their own. This has promoted Amazon to overlay their own distinctive interface with the advent for the Kindle Fire. The GUI B&N has employed is one of the major selling factors and presents it as a innovative device in the current market.
Hitting the N button on the front the unit brings up the main menu now which makes accessing common tasks much easier then ever before. The main options are Home, Library, Shop, Search, Apps, Web and Settings. The only thing different in the Nook Tablet, in terms of setting is the inclusion of the Home Button.
The home screen is very customizable and allows you to hold down on a book or app and manually place it wherever you want on the main screen. There are three different sub-screens you have access to aside from the main one which can allow you to make one dedicated to apps, another books and the last one for magazines, newspapers or kids books. The decision is ultimately yours and I dig the fact they made it more dynamic. In retrospect the Kindle Fire is very static and does not allow you to change very much.
The top of the main home screen on the right hand corner is a new option called "More." It is divided into 3 different areas for you to quickly pickup where you left off in a particular book, access the files you used last and check out past videos and TV shows. When you sign into your main Barnes and Noble account it will also present new content for you based on your reading or viewing habits.
Your main Library shelf has undergone a revision in terms of the way things are laid out and has new navigation entries. It feels much more initiative then the last model because before you had to jump through various hoops to access kids books and apps. Now you have Books, Magazines, Newspapers, Kids, Apps and My Stuff on the very top. You can easily make your own collections and organize your purchased content.
Lets talk about each shelf individually to give you a sense on how it changes from the original model and give you a sense on what you can do.
Books
This is your main shelf for reading the electronic versions of books. Your user manual and guide are all here by default and whenever you buy books from the store they will be automatically synced. If you have made former purchases with another model of the Nook, your entire library can be imported in with ease. The books have large cover art and tapping on them will open them up. You can then read the books in either landscape or portrait mode. If you close a book and decide to open it up again at a later date it will pick up where you left off. Alternatively because the Nook Tablet has cloud functionality if you left off on Page 33 and pick up your Nook Simple Touch and read the book at work, if you are in a WIFI area it will sync it to the last page you left off on your Tablet.
Magazines
Magazines on the Nook Tablet look amazing and your main shelf allows you to easily call up purchased content or books you loaded on yourself. One of the big things this device has going for it is the length of time its ecosystem has matured. In two years they have major content publishers locked up and offer some of the most extensive libraries in the business. ESPN The Magazine and The Economist to Food & Wine and Us Weekly Esquire, Maxim, Men's Health, Rolling Stone, Newsweek, Popular Science, PC Magazine, Elle, O, and The Oprah Magazine are some of the publications that are available.
Apps
Barnes and Noble has been running their very successful App Store for at least almost a year now. They have a ton of free and paid ones that are sure to impress. Bundled with the Nook Tablet is Hulu+ and Netflix which allow you to watch streaming video. It also has a few games, email, music player, media, and Nook friends.
I thought it was great for Barnes and Noble to include video streaming services right on the device at launch. This is something that was absent from the original Color and warranted manual downloads.
Kids
This is another new section which makes it easier then ever before to read and buy your kids books. There are two free ones that come with the unit by default; The Elephant Child and Fun Facts about Pets. These are full color editions and have narrated voices that accompany them. These two books really show off the new "Read and Record feature the company has been heavily toting. This gives you the unique ability to record your own voice narrating the book instead of relying in the the default one. I can see this catching on with parents who travel or work and even grandparents that live far away. How cool is it to have your Grandma read a book to you as your going to bed?
Nook Kids has been one of the success stories of the B&N brand. It has hundreds of books available and exclusive content partners locked up to provide unique content all the time. When we chatted with the VP of Product Management Doug Klein he said that 65% of all Nook owners are parents and tap into the Nook Kids ecosystem to share more time with their young ones.
My Stuff
This is the section devoted to browsing your device in a Windows Explorer type format. You can check out directories and click on books to add to your main menu or create collections. This is especially useful if you are loading in your own content lots and want easy access to documents, books, media and more. This is also where you can tap into the Lendme part of Barnes and Noble which allows you to lend purchased ebooks to your friends for 14 days. This has been a very successful program and currently over 30,000 books in their library have been flagged as lending enabled. This has spawned a slew of different websites on the internet popping up that connect users up with each other that have the same taste in books. Websites such as Lendingebook.com give people the ability to meet people with the same taste in books to borrow/lend for free.
Many e-readers and tablets do not let you easily create your own shelves devoted to specific authors or genres. This makes you rely on 3rd party programs such as Calibre in order to do it correctly and takes a bit of advanced knowledge to setup properly. Barnes and Noble makes it fairly easy to set up simple or advance collections. If you share the e-reader with more then one person in the family you can actually make it so each person has their own shelf.
The Store
One of the big changes with the advent of the new Nook Tablet was the refinement and changes in layout to the main store. Many of the changes included a new List View which makes the entire shopping experience optimized for the 7 inch screen so you are not endlessly scrolling up and down to find the sections you want.
The main areas of the store include; Books, Magazines, Newspapers, Kids, Apps, Music+Video Apps. Below that are popular lists such; Top 100, Cool Nook Books, Free Trials, New York Times Bestsellers, Coming Soon, PUBIT Authors and much more! I love the way the main store is designed and makes the interface clean and elegant. The icons for the dedicated sections are much larger and makes it easier to hit when interacting with the touchscreen element.
When you enter a dedicated section such as Books you are created by a List View at the top of the screen that prompts you to refine your search. There are countless genre selections to make it easier then ever before to find your preferred niche. With the original Nook Color it gave you all of the Genres in a big list view on the side of the screen that got very overwhelming. The new way of proving genres via the list view and scrolling up and down within a confined area is for the better.
Below the list views you have scrolling library shelves that you can swipe from left to right to see the latest books. In almost all cases you can get free samples and issues to most books, magazines and newspapers.
One of the best new aspects in the entire shopping experience is the new way the kids section has been done. While the Amazon Kindle Fire recently introduced their own kids store everything is piled into one section. Barnes and Noble has introduced new features to sort books by specific ages! Really you can search by how old your child is to find books designed and geared for that specific age group. In some cases they even have a way to browse by gender to make sure you little boy is not reading "My Little Pony."
Finally, shopping for applications has undergone a revision and again, makes it simpler to find the content quickly. Most of the popular apps that are free like Angry Birds, Scrabble, Weather and Showtime are available and then you can refine your search to look for more. There are thousands of free and paid apps currently available in the store. The company makes it very easy for developers to submit content and their store is very well developed. It certainly does not have the sheer amount of apps that the Amazon Android Market has and I think the lack of quality apps is a shortcoming.
Reading Experience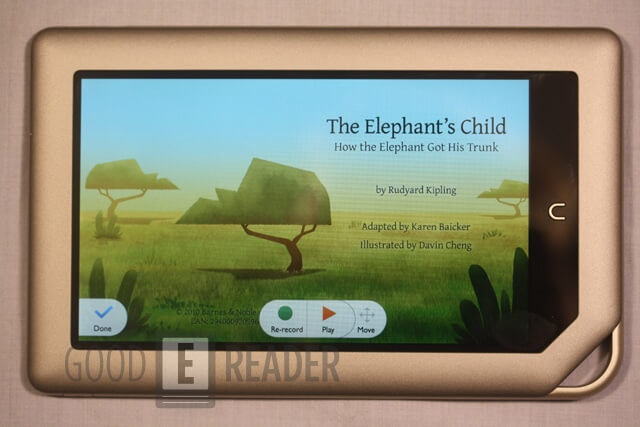 Reading is the primarily aspect of this device both to purchase books and also spend quality time reading the books.
The Nook Tablet allows you many options in tailoring your reading experience to your specific tastes. If you single tap the screen while reading a book you will be promoted to select a myriad of options. The main setting you should be concerned about is Text. You can dynamically change your font size 9 options to make it larger or smaller. There is also a number of FONTS to actually change them altogether. It also popular ones such as Ariel, Georgia, Sans, and Dutch.
By default when you read books it is black text on a white screen. With the new theme manager you can customize this so its easier on your eyes. You have many different colors to select to change the background, this is handy late at night when you can turn the white screen to something like "Cream." Finally, you can change your Linespacing and Margins.
When you are reading the book you have many options to highlight words, associate notes with them and all of this is saved in the cloud. You can press your finger on a specific word(s) and be greeted with a menu to do a number of things. You can add a highlight, take a note with the onscreen keyboard, share it via Facebook and Twitter, and Lookup the word. Normally on devices you are relegated to looking the word up with the built in dictionary. You can do the same thing with the Nook Tablet but it takes it one step further and you can find out meanings via Google and Wikipedia.
Overall, the reading experience on the Nook Tablet is how all tablets being billed as e-readers should function. A deep ecosystem to purchase content and a dedicated reading program that allows you to craft your own individual reading experience. Many companies such as Pandigital and Aluartek can take notice on how to make a tablet and bill it as an e-reader.
Our Thoughts
The Nook Tablet is a solid second offering by Retail book giant Barnes and Noble. It gives you hardware wise a real bang for your buck with the dual-core processor, 1GB of RAM and 16 GB internal storage. All of the main aspects of the shopping experience has been tremendously refined and is a breeze to find anything you want.
This new device is the same cost of the original Nook Color at $249 in the USA. Considering most other tablets are a little bit more or less, I would strongly to implore you to buy this unit if you live outside the USA.
The Amazon Kindle Fire is primarily a USA only device with it locked you out of buying apps, videos, music and most magazines unless you have a USA Credit Card and USA Address. With Barnes and Noble you can easily get ANYTHING by just saying you have a USA billing address and using your own credit card. There is a ton of demand for these multimedia tablets with rich ecosystems in Canada, Australia, UK, and New Zealand. If you do live in those countries your better off getting the Nook Tablet over the Kindle Fire.
In the end, this is a great device and the customization factors are one of the most endearing factors. You can craft your own experience from the way the homescreen is displayed to the way you setup your shelves. Battery life is solid at about 9 hours and the internet experience is rich and deep.

Rating 9/10
[cincopa A0LALz6E20bh]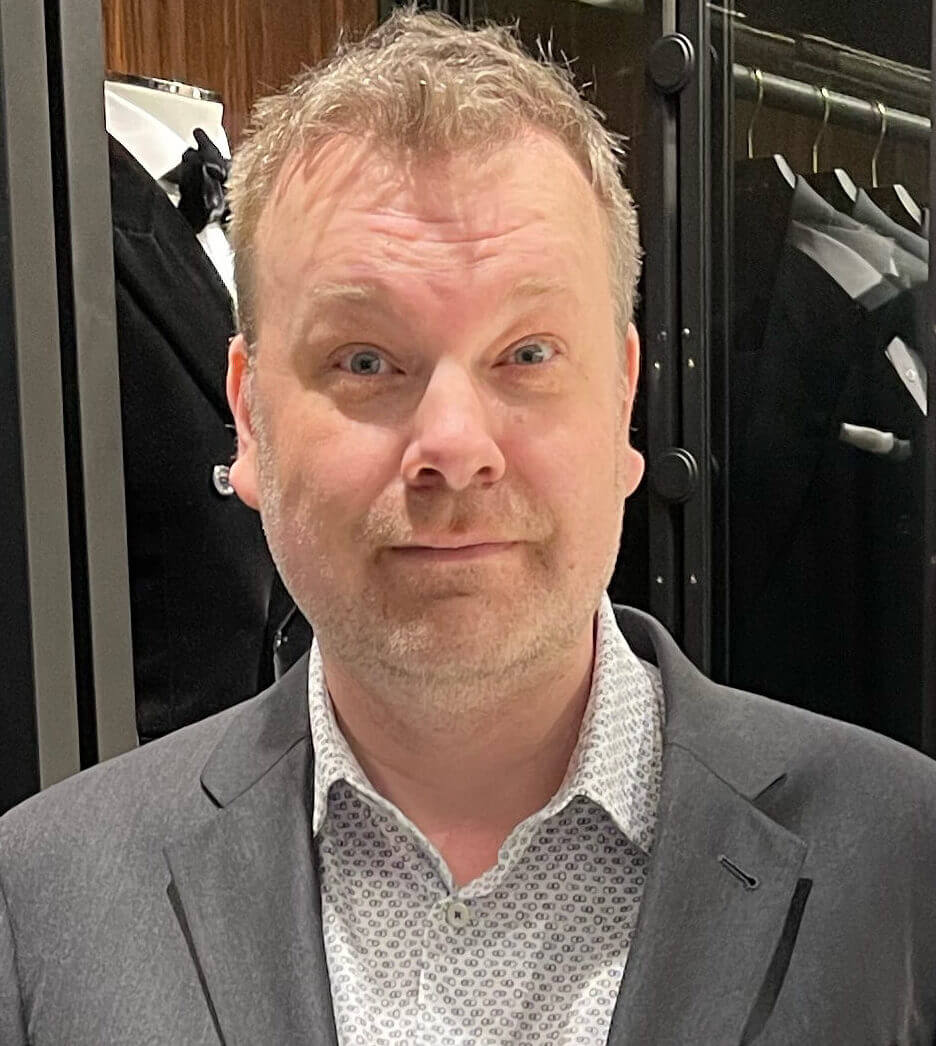 Michael Kozlowski has been writing about audiobooks and e-readers for the past twelve years. His articles have been picked up by major and local news sources and websites such as the CBC, CNET, Engadget, Huffington Post and the New York Times. He Lives in Vancouver, British Columbia, Canada.