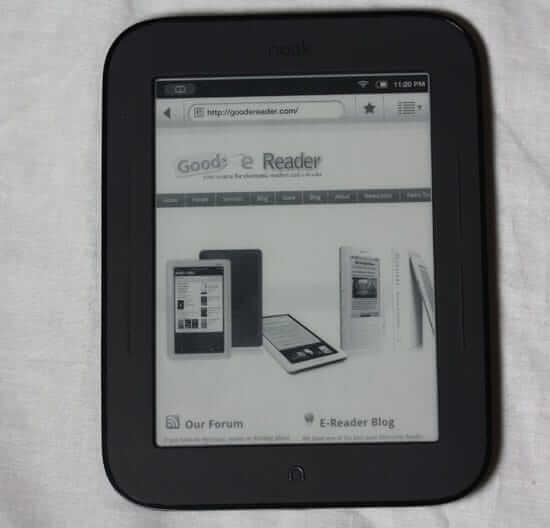 Today we give you a comprehensive review on the newest e-reader from bookstore giant Barnes and Noble. The Simple Touch Reader, or the Nook 2, is the first touchscreen e-ink reader the company has released. We first saw this new gadget when we were at Book Expo in New York and got a spontaneous invite to the big unveil at Union Square. We were one of the first sites to give you  a preview on the new device and now that it is officially released we give you the highs and lows of this brand new e-reader.
Hardware
The Barnes and Noble Simple Touch Reader features a six inch e-ink Pearl display. The new display that the Nook 2 uses is similar to the Amazon Kindle 3rd generation, Kobo Touch and Sony PRS-650. The screen gives you a solid resolution of 800×600 pixels and displays 16 levels of greyscale. One of the benefits of the new screen they use is that it has 50% sharper contrast than previous versions of the Nook WIFI or Nook 3G.
Underneath the hood is a 800 MHZ CPU processor and 2 GB of internal storage. The storage is where all of your ebooks and pictures are housed and if that is not enough you can increase it via MicroSD up to 32 GB.
The Nook 2 employs WIFI in order to surf the internet and has a built in web browser in order to visit webpages. It has the ability to display your password as you are typing in, but we found it does not have support for wireless N routers.
When you look at the hardware in general, the e-reader is smaller and lighter than the Amazon Kindle and other competing devices. This is partly because the  keyboard and all of your buttons are virtual and not built into the device. Another reason is because there is no audio functionality which makes it lighter to carry around and helps reduce the cost to the end user.
On the device is a simple "N" which is your homescreen button that can be  pressed from any menu or while reading a book. It also has a power button and MicroUSB. The USB port is used to facilitate a data connection to your computer to transfer content to your device or to charge it.
In the end, the Simple Touch Reader is lighter and is a tremendous upgrade from previous iterations of the Nook e-ink based e-readers. One of the drawbacks is the lack of audio, which may be a deal breaker for some people. There is also no accelerometer or gyroscope so you cannot switch the device from landscape to portrait mode.
Software
The Nook 2 – Simple Touch Reader runs Google Android 2.1 as the backbone to the device. Barnes and Noble was the first company offer a pure e-ink based reader running this OS. Normally, most readers run Linux. Additionally, past iterations of the Nook, such as the 3G and WIFI, both ran Android 1.5.
The ability for the Simple Touch Reader to run an updated version of Google Android gives advanced users a little bit more flexibility in "rooting" or adding alternative apps and games.  Older versions of Android do not have the type of support to run modern day games and applications, but the new version allows it. We have even seen Angry Birds ported on the STR, although it suffers from some frame-rate issues.
One of the features on this new device that did not officially get announced, but is available for the e-reader, is the web browser. The browser is only available via the Search button, but then you can access webpages if you write a proper website address in the search field. For example you can write http://goodereader.com and you will open the internet browser to our website. Once you visit a few websites you can really tell the app is unrefined and lags while you scroll up and down a website. It also does not render the entire website when you load one up, instead only loading a certain area, such as the top right hand corner. Whereas the Kindle e-reader will render the entire website customized to the six inch display. Hopefully in the future they will fix the internet browser and make it more stable for regular use. The fact that they did not announce it as an official feature of the STR is probably a result of its tremendously sub-par performance.
The Barnes and Noble Store is a very solid content delivery network and there is no shortage of new books to read. When you load up the store application you get a small home screen that shows you the current New York Times Bestsellers, Magazines, and Newspapers. You can also expand these listings for a more comprehensive listings, such as book genres and so on. The nice thing is that you never need to really go beyond 2 sub menus to find anything that you want. You can also preview books for the first chapter or two to get a sense of what the book is about before you buy it. Although newspapers and magazines look way better on the Barnes and Noble Nook Color, they are indeed readable on this e-reader.
Reading ebooks on the Nook 2 is a great experience and I liked it better than then the Amazon Kindle. The device has manual page turn buttons sunk right into the unit, but I found it was easier to just tap on the left or right hand side of the screen to flip forward or back. Page turn speeds are also tremendously robust and suffered from no e-ink refresh problems that plague other ebook readers.
When you read books you have a ton of customizing options! You can choose between six different fonts and they change in real time. You can also scale the font size up or down, which is handy if you need bigger fonts to read. The ability to change line-spaces and margins is also tremendously handy and something most other e-readers lack.
I love the ebook reading experience with the Nook 2. Making notes and highlights was super easy! All you have to do is tap a specific word with your finger and you are good to go! If you make a ton of highlights and notes on specific words and passages you can hit the menu button and get a uniform list of all your edits on the book. This is perfect if you are in a bookclub or reading a textbook.
One thing that the Simple Touch Reader does very well is allow you to load in ebooks you have purchased from other stores via Adobe Digital Editions. Since the new Nook reads EPUB and PDF files you can easily shop at other bookstores such as Borders, Kobo, Smashwords, and Bookbaby, and then load those books into your e-reader.
The new Nook 2 has a feature called "Nook Friends" that allows you to share recommendations for books and also sends the books you dig to Facebook and Twitter. They also have developed a new website called "mynook.com," giving customers a new and unique experience to buy and download ebooks online.
In the end, the software side of things with the Nook felt very refined for a new product. Considering there is hardly any firmware updates available, everything just seems to work. The only problems I have is the web browser being tremendously sub-par and the settings menu does not have many options to configure your device. There is also no current integration of popular Barnes and Noble programs such as "Lendme."
Our Take on the Nook 2 – Simple Touch Reader
This new device from Barnes and Noble certainly is an upgrade from previous iterations of their pure e-ink line of readers. Not only are page turn speeds better, but the entire navigation and simplicity of use is a boon.
There are some flaws on this e-reader, such as the web browser not rendering the full page and the lack of options to customize your online experience. I also do not like the lack of support for wireless N networks. The fact that it didn't offer any audio capabilities was, for me, another big disappointment. This means audiobooks and listening to songs will never be a part of the Nook 2 experience, but since many people only buy e-readers for a pure reading experience and do not care about the bells and whistles, lack of audio doesn't have to be considered a flaw. I found the absence of Lendme and other pivitol B&N experiences to be unfortunate, and hope that in future firmware updates they will rectify that. Right now there is no comparison between Barnes and Noble STR and the Kobo Touch with their much elevated "Reading Life" social media application.
The benefits include the entire touchscreen experience! Although in our side by side tests the Amazon Kindle was faster in page turns and other things, it ended up proving itself to be slow at times due to the requirement of manually scrolling to highlight words and access settings. The Nook 2 makes your everyday tasks more robust and efficient and you will ultimately save more time, which means you will get to do more reading.
I think Barnes and Noble did the right thing with the implementation of the touchscreen and they sure needed it. Many of their competitors, such as Kobo, Sony, and Hanvon, have all released touchscreen readers and B&N needed to keep pace. They are presenting a very slick device that weighs next to nothing and is one of the best e-readers we have reviewed all year. The build quality is not as high on this device as the Kobo Touch, but fundamentally it is a superior e-reader.
8.5/10
[cincopa A8JA8pqPkkaQ]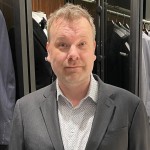 Michael Kozlowski has written about audiobooks and e-readers for the past twelve years. Newspapers and websites such as the CBC, CNET, Engadget, Huffington Post and the New York Times have picked up his articles. He Lives in Vancouver, British Columbia, Canada.